Immigration, Wealth Inequality Key Points At 3rd Congressional Democratic Debate
07:21
Play
This article is more than 3 years old.
At least a dozen Democrats are currently vying for the seat of Rep. Niki Tsongas, who announced last summer she would be retiring from Congress once her term in 2018 expires. Twelve of the would-be representatives for the 3rd Congressional District met at UMass Lowell Sunday for their first debate.
The candidates range from a national security expert to political insiders to a former U.S. ambassador.
The group includes eight men and five women, including nine white candidates and four people of color. There's also a transgender woman and an openly gay man.
But their views aren't as diverse as their demographics. Their politics were very similar on two key issues: immigration and wealth inequality.
On Immigration
Dan Koh is a former chief of staff for Boston Mayor Marty Walsh. As the child of Korean and Lebanese immigrants, he says the climate around immigration is deeply personal:
If my grandmother's family tried to come to the country today, Donald Trump would have stopped them at the border. That is what this campaign is about. What kind of America do we want to be? Do we want to be in America that pushes away immigrants? Or did we want to be the America that we all know and love that's an inclusive America?
Attorney Leonard Golder says Democrats need to be willing to compromise in order to achieve their goals:
If we can get more Democrats in Congress, we will have better leverage in terms of getting something passed, but if we still have to deal with this individual in the White House, we may have to do a little bit of horse trading, and if it means we may have to admit a few more Norwegians with Ph.D.s in exchange, that's a deal I can live with.
Keith St. John of Marlborough is a self-described entrepreneur. He says it's a no-brainer that those who immigrated to the U.S. as minors should have a pathway to citizenship:
A lot of these people were brought before they had much language skills, they don't really, if any of them, remember much of their home countries at all. I mean, they're American. They want to be here. They're active, they are bettering our community. Pay some back taxes, maybe a fine, get through the system and become citizens.
Rufus Gifford is a former ambassador to Denmark. He says the congressional race is about defining the country by its policies toward immigrants:
Are we a country that remembers what is written on the Statue of Liberty? 'Give us your tired, your poor, your huddled masses yearning to breathe free,' or or are we a country that sends ICE agents into American cities and towns and tears countries apart, which one are we?
Growing up in Lowell, candidate Lori Trahan says she learned lessons about the importance of diversity:
When you grow up in a city like Lowell and you attend public schools, you don't read about diverse cities or learn about it in a classroom. You're embedded in an inclusive society that understands that so many of their neighbors are folks who came from all over the world and that's what this election is about, it's about restoring our shared values.
There are actually 13 Democrats running for the seat, though debate organizers say Don Bradley of Andover never responded to their invitation. The other 12 engaged in two separate debates, six candidates at a time.
Wealth Inequality
The question of income inequality was another point of unity for the field.
Abhijit "Beej" Das is a small business owner who lives in Lowell. He listed a number of ways working people are struggling in today's economy:
I know daily the impact of government regulations on my employees. I know the high cost of health care and access to affordable education, because those are the issues that are affecting our employees, my fellow small business owners and our friends.
State Rep. Juana Matias of Haverill wants to become the first Latina to represent Massachusetts in Congress. She says the roots of inequality are in the school system:
We need to do more to invest in our K through 12 education system — give families access to universal pre-K and if you want to go to college and you're willing to work hard in this country, that could should not come with decades and decades of debt.
State Sen. Barbara L'Italien called herself a "mom on a mission. Part of that mission in Congress, she says, would be to keep entitlement programs intact, especially after Republicans passed a massive tax cuts bill late last year:
Within a day, Paul Ryan was talking about entitlement cuts, something he's been talking about for many years but finally felt he had the justification to create. I am very concerned with what will happen to Social Security, SSI, disability, Medicaid, Medicare.
Alexandra Chandler is a transgender woman who identifies herself as the sole candidate who has worked in national security. She says inequality can be tackled by requiring companies to extend profit sharing to all workers:
Profit-sharing: Force companies that give their top executives the best profit-sharing program, to give that to their line workforce or else take away those tax breaks, because that's the way that we will force wealth into the hands of the working and the middle class again.
Banking executive Bopha Malone wove together the threads of immigration inequality. Born in Cambodia during the Khmer Rouge dictatorship, Malone talked about living in a Thai refugee camp before she was allowed entry into the United States:
As a refugee that came here at the age of 9 with nothing but the clothes on my back and speaking no English, I was very, very blessed that America opened that door to me and my family. My parents always taught me the value of hard work and persistence, but I know that we wouldn't have made it with those alone. But the sad reality is that the American dream is out of reach for many people.
Other Topics
In a question about the opioid crisis, labor organizer Jeff Ballinger pointed to the economic difficulties facing American workers, like the impending closure of thousands of Toys R Us stores as example of a system that treats workers as an afterthought:
It's just an indication of how bad of businesses in America make it impossible for people to have a brighter future, and this is why I think a lot of people are addicted and we don't have the jobs that we had when I was growing up.
Despite all the challenges, former health care executive Patrick Littlefield of Boxboro says he thinks the country will come out stronger:
We've got a lot of problems that we need to tackle, but one of the things that is central to who we are as a people is our ability to create, to innovate and to build a better future for ourselves and for our children,
The 13 Democrats vying for the seat will face off in the primaries in September. One of them will go up against Pepperell Republican businessman Rick Green in the general election in November.
This segment aired on April 30, 2018.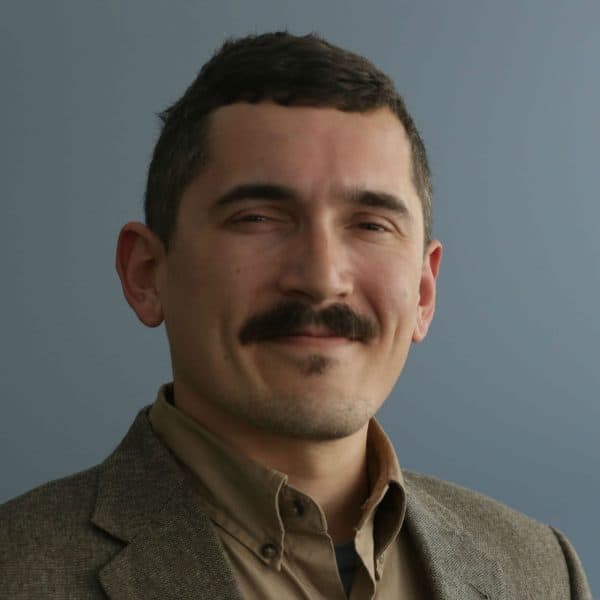 Simón Rios Reporter
Simón Ríos is an award-winning bilingual reporter in WBUR's newsroom.