Celebrating 100 Years Of Leonard Bernstein, Boston Pops Showcase 'On The Town'
This article is more than 5 years old.
April 1944, a year before the end of the Second World War, marked the premiere of an extremely contemporary ballet called "Fancy Free," about three sailors on a one-day leave in New York. Leonard Bernstein wrote the score, with choreography by Jerome Robbins. It was a landmark for both of them and is still in the repertory of countless dance companies around the world.
It was so successful that before the year was over, it had been turned into a full-length Broadway musical comedy titled "On the Town," with additional music by Bernstein and book and lyrics by Betty Comden and Adolph Green (who also performed in the original cast). Bernstein himself wrote the double-entendre lyrics to the comic number "I Can Cook Too" ("I can bake, too, on top of the lot,/ My oven's the hottest you'll find./ Yes, I can roast too,/ My chickens just ooze,/ My gravy will lose you your mind").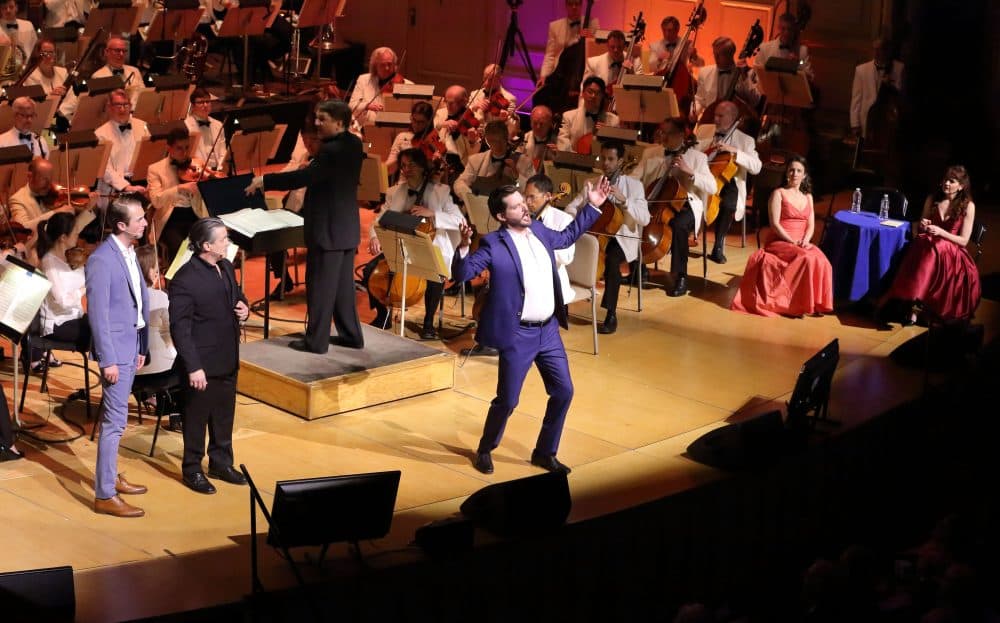 As they begin their leave, the sailors sing "New York, New York, a helluva town,/The Bronx is up but the Battery's down,/And people ride in a hole in the ground./New York, New York, it's a helluva town!" And that anthem has remained a popular tribute to our most populous city.
In the 1949 MGM film version, shot on location, Gene Kelly, Frank Sinatra and Jules Munshin are the sailors. The shocking "helluva" had to be changed to the less offensive "wonderful" to suit the production code.
The show is mainly comic, but as one of the sailors sings, "A town's a lonely town." And the show also captures the poignance of the war years, with all its separations and partings. If I had to choose a favorite song, it would probably be "Some Other Time," a song of wistful regret and not entirely convincing optimism, giving the underlying possibility that these sailors might not return.
Just when the fun's beginning
Comes the final inning
But let's be glad for what we had and what's to come

Can't satisfy my craving
Never have watched you while you're shaving
Oh, well, we'll catch up some other time

There's so much more embracing
Still to be had, but time is racing
Oh, well, we'll catch up some other time
Here's an extraordinary clip of Leonard Bernstein himself accompanying the great soprano Eileen Farrell:
The Boston Pops presents a complete concert version of "On the Town," featuring Keith Lockhart conducting an interracial cast of (mostly) young and award-winning and award-nominated Broadway pros (Brandon Victor Dixon, Laura Osnes, New York City Ballet soloist Georgina Pazcoguin, and longtime favorite Andrea Martin), with choreography by three-time Tony Award-winner Kathleen Marshall.
There will be two Boston performances at Symphony Hall, on Thursday, May 31 and Friday, June 1, plus an additional performance, with the same cast, at Tanglewood, on July 7. The Tanglewood season features some 18 Bernstein works, including an all-Bernstein program with Andris Nelsons conducting a fully staged "Fancy Free" with members of Boston Ballet, on Aug. 18.
Other notable Bernstein events are three performances of "West Side Story in Concert" led by Keith Lockhart, at Symphony Hall (June 15 and 16, matinee and evening) and programs at Tanglewood include a semi-staged version of Bernstein's 1952 satirical one-act opera, "Trouble in Tahiti" (just done here by the Boston Lyric Opera), directed by Jamie Bernstein, Bernstein's daughter (July 12), and a fully staged version of its more serious autobiographical 1983 sequel, "A Quiet Place," in a new chamber version, with the Tanglewood vocal fellows (Aug. 9). Also scheduled are two fully-staged performances of Bernstein's fiendishly witty operetta "Candide," with the hot New York-based orchestra collective The Knights led by Eric Jacobsen (Aug. 22 and 23).