Boston Calling Recap: Here's What We Thought Of The Festival
This article is more than 4 years old.
Boston Calling pulled off its ninth musical festival this weekend — its second at the Harvard Athletic Complex in Allston. (Check out our photos from the weekend here.) Here's a few thoughts from The ARTery on everything from the lineup, new music discoveries, food, lines and the New England weather.
Andrea Shea, Arts Reporter
It seems Boston Calling is settling into its Allston digs. The festival's physical flow and overall vibe felt more controlled and relaxed than last year. Complaints about the frustratingly-long security and food lines appear to have been addressed with sensical solutions like more entrances and more food vendors.
The millions of dollars it takes to pull off a music festival of this scale was on full display. Corporate participation came in different shapes and sizes. Partner Delta Airlines had the Blue Stage. The speaker manufacturer JBL's logo graced a bigger Ferris wheel that raised money for the local organization Music Drives Us. IKEA introduced a "Music Lab" featuring Swedish hip-hop artists, space for fans to lounge with hanging plants and a "Food Lab" promoting the value of fermented foods and the company's 100-percent veggie dog. The masses walked around with cans of beer from local partner Sam Adams.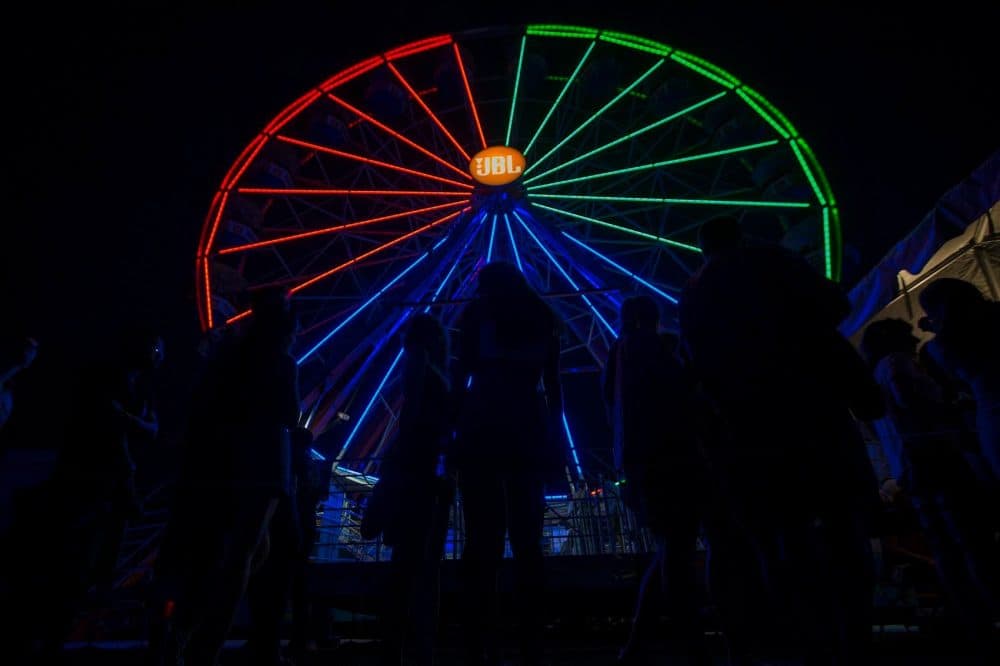 The bands on the bill attracted dedicated followers, peaking each night with headliners The Killers, Jack White and Eminem. I spoke to folks of various ages who said they came to the festival specifically to see these acts — their musical heroes. So do those big names sell general admission, three-day passes that cost nearly $300, single day GA at $105, and single day VIP tickets for $229? Maybe they do.
Questions along these lines rolled through my head this weekend. The necessary, often-conflicted relationship between art and commerce is made manifest before our very eyes at a music festival like Boston Calling. It's a complex beast with many moving parts. Opinions abound.
On the artistic end of the equation, there was a notable political thread connecting a slew of acts. From The Decemberists' lead singer Colin Meloy calling the president a "white supremacist" to the once-imprisoned, all-female Russian art collective Pussy Riot's lengthy condemnations of Putin and Trump.
Nadya Tolokonnikova took the stage in a DayGlo green ski mask, her body covered head-to-toe in track-suit gear. One Pussy Riot song married poppy dance beats with lyrics about morning exercise routines in prison. Another stated, "Bad Apples are good for something when they're six-feet underground." At one point, audio from a dramatized newscast reported Trump had been impeached. The marriage of hard-core political messages with upbeat music, video game-like imagery and dancing delivered a novel juxtaposition.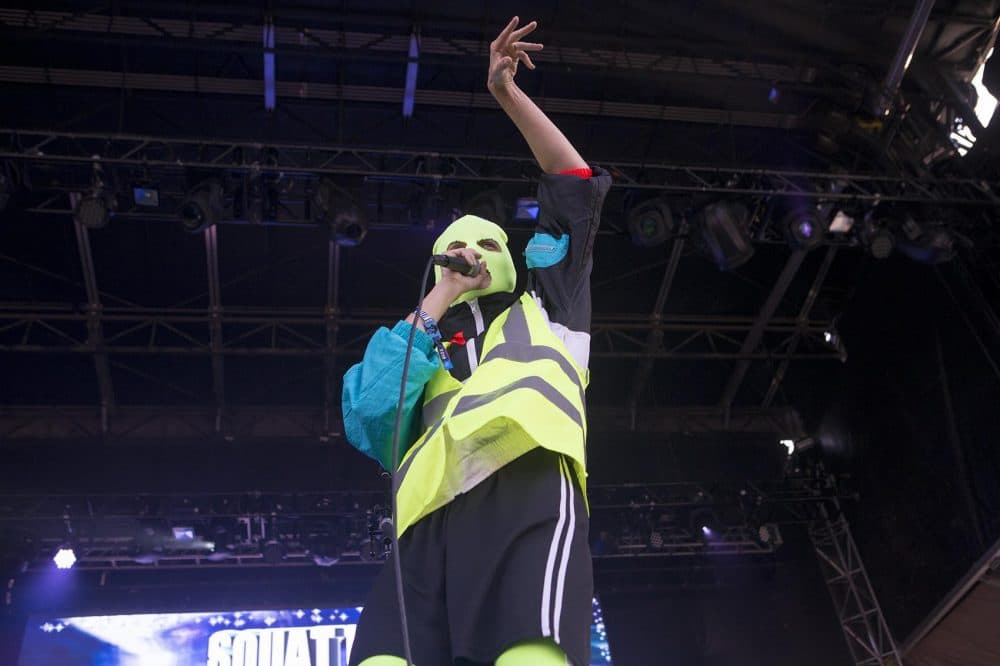 For me, Pussy Riot offered some counterbalance to the all-white male headliners. One song's chorus reminded us, "Don't play stupid, don't play dumb. Vagina's where you're really from." It was encouraging to see other bands with gender parity including Alvvays, the Dirty Projectors and reunited Rhode Island-bred band Belly whose new song "Shiny One" also rails against patriarchy.
Earlier this month, sexual misconduct accusations emerged against Ameer Vann, a member of the all-male hip-hop collective Brockhampton. On stage at Boston Calling Saturday, the Brockhampton members stood in silence during spots where Vann would have sung. His absence was explained the next day when the group tweeted a statement saying he was no longer part of the group. It read: "We want to sincerely apologize to the victims affected by Ameer's actions. We were lied to, and we're sorry for not speaking up sooner."
Then there's the enduring issue of overall diversity on the festival's bill. Industries across the board are struggling to be more inclusive. Can we/they do better? Yes, of course. But the obstacles are systemic. And true change takes time. This would be an important conversation to have looking ahead to next year.
People bring their own points of views to a massive, catch-all festival like Boston Calling. The organizers, the artists and the fans. It's a complicated recipe. Toss in big bucks, competition with other festivals, logistics including three stages, sound systems, lighting and video screens, city input, the police, Harvard's land, the surrounding community, vendors, toilets, water, security, customer expectations. That list just skims the surface of what it takes to build a festival in 2018. The details and stakes, when you consider them, are daunting.
It's challenging to synthesize a three-day music festival in a few hundred words. There is something about being outside surrounded by musicians and music lovers. During Thee Oh Sees set Saturday afternoon a mosh pit welled up and a community formed to lift and float folks across a sea of hands. There was trust there.
"The fans make the crowd," Jamie Davilla, who came from LA, told me after the set. Strangers high-fived each other around us like old friends. Davilla flew to Boston with his brother, John Charlie Posada, and rattled off a dozen bands they were stoked to see.
There's a privilege that comes with being able to spend a whole weekend at a music festival. The tickets are out of reach for so many, but there's an audience that can plunk down hundreds of dollars for festival passes and travel from far-flung places (I spoke with more than a few Canadians, some hailing all the way from Manitoba).
As I walked the grounds, passing adults blowing bubbles, riding the Ferris wheel, eating doughnuts and lolling about on the AstroTurf, I was reminded of the power of communal play. For the past few days, thousands of people were bound together by their love of music. Perhaps even their need for it. They experienced sublime moments watching their favorite artists together — under the sun, the stars and even in the rain.
---
Amy Gorel, ARTery Editor, Producer
Logistics were remarkably smooth. None of the lines were exhausting. Festival-goers were well-behaved. The weather was hot, then cold — there was something for everyone at this year's Boston Calling. Five years in, that seems to be where the festival is taking up residence: a large-scaled, well-organized event, that safely has something for everyone.
Clearly, a large portion of the crowd (particularly on Sunday) was there for the headliners: The Killers on Friday, Jack White on Saturday and Eminem on Sunday. While the sets after the sun went down were mostly catering to nostalgia-seeking crowds, the lineups earlier in the days showed a lot of creativity. The emphasis on indie rock, pop rock, emo rock and folk rock was balanced by some interesting vocalists, R&B sets and impressive hip-hop performances. Friday night, The National played in the main area while the pop punk darlings of Paramore drew a crowd to the other end of the festival grounds. Same was true with Tyler, the Creator Saturday, while Queens of the Stone Age set up for Jack White across the way. Sunday, the choice was between the electrifying Khalid and the sweet melodies of Fleet Foxes.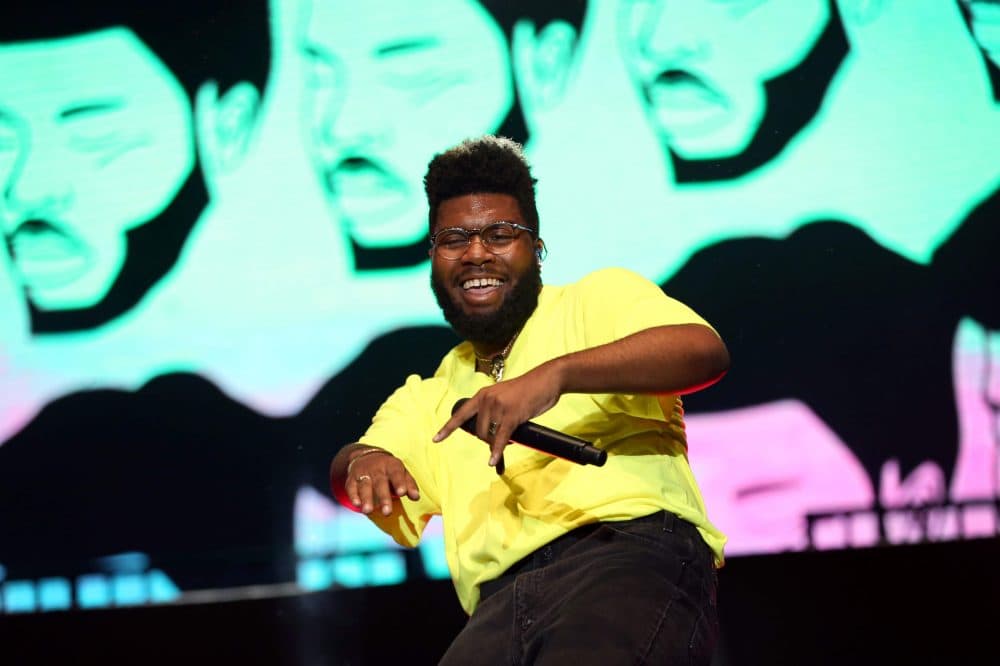 I appreciated seeing some hometown acts: STL GLD, Weakened Friends, Cousin Stizz and Belly. I wonder if in future years there could be a bigger emphasis on acts that originated in the city to drive home the Boston-ness of the festival. To be fair, the organizers did an excellent job of cultivating a local feel. A majority of food vendors were local — is there any other festival where you could eat so well? — and walking through the gates of Harvard helped. This was certainly reflective of many people's Boston.
The non-music lineup inside the arena on the festival grounds seems to be working out well. The comedy lineup (David Cross, Cameron Esposito, Martin Urbano) was on par with the music. The podcast team of Pod Save America filled the arena to capacity, as did Natalie Portman's film fest time slot. On Sunday when I went, she read a poem to a silent black and white film. As great as it is to expose new audiences to different types of art, I don't think it landed with the crowd. Pod Save America's progressive politics certainly did, though.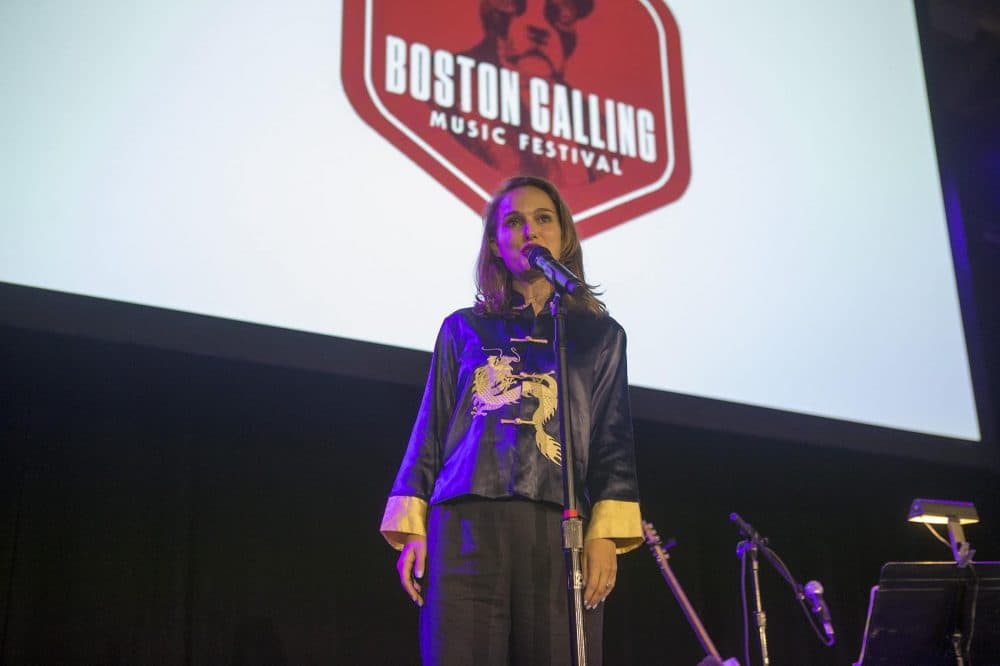 Overall, it's an impressive organizational feat to conjure a festival of this size in just five years. In that time, the festival hasn't been afraid to switch gears and stretch their legs -- going from twice a year to once a year, moving locations, trying out a comedy lineup. Branching out to an offsite film festival curated by Portman at The Brattle shows the organizers might have some broader aspirations in mind. Still in its adolescence, the festival has a chance to decide what it wants to be — and I could see it taking bigger risks as it becomes more established.
---
Lisa Creamer, Digital Producer
My undying affection for pop punk and indie artists makes me useless at IDing don't-miss acts at a general interest music festival. But, these type of gatherings reward the open-minded. There are always pleasant surprises — even downright incredible ones — up on those stages. I left Boston Calling happier for knowing about Leikeli47, Thee Oh Sees and Dirty Projectors.
When there are choices to make and distances in the hot sun to traverse, festivals are way cooler when pals with objectively solid know-how do the hand-holding. Thanks to my friends' prodding, I decided to leave The Menzingers' set (which was excellent and a big draw for my fellow pop punk lovers) a bit early to catch Leikeli47. She closed with her single "Money." Between her energy and that of the crowd's, you'd have to be dehydrated not to dance.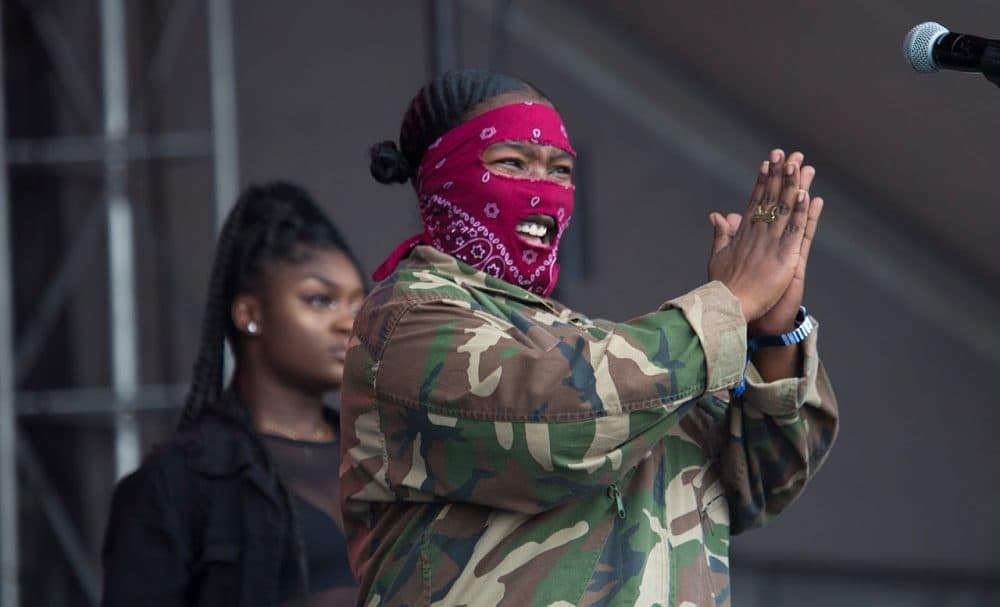 To that end, thank you so much, reasonably priced lemon seltzer. You allowed me to keep bouncing to St. Vincent's mesmerizing set without passing out. This was my first time at the new venue, and while the brick and concrete of Government Center would have done little to protect me from Saturday's oppressive humidity and heat, I wish there were shadier spots at the new digs — especially for people to eat under. A lot of the food was hot food, and I almost threw up at the thought of taking a bite of the deep-fried chicken parm cheeseballs. The sunshine also brought out stereotypical festival fashion — crop tops, forehead bands, wild tie-dye flowy pants. A woman struggled to blow bubbles and got soap in my hair. There were people furtively smoking joints. I joked that there were probably enough predictable festival-goer moments to make bingo cards.
Rain picked up during Julien Baker's set Sunday, which was OK if you dressed for it. Mostly, the rain made me appreciate Baker's uninterruptible talent as a heart-wrenchingly beautiful singer/lyricist and intricate guitarist/pianist, and the wetness let me hide my emo tears. I met a superfan of hers, standing front and center. She told me she'd seen Baker five times in the last month, showing me a tribute tattoo and a photo of her and Baker, the two of them beaming.
Those moments are the ones I liked best at Boston Calling, where you and strangers can speak excitedly together. That's not exclusive to Boston Calling, and let's not forget: Many people in this city are turned off by its cost or a lineup/attendee makeup that doesn't shine with cultural diversity. Still, if you've got some pluck, you can make friends in a city that's not known for its friendliness — and that also makes me dance.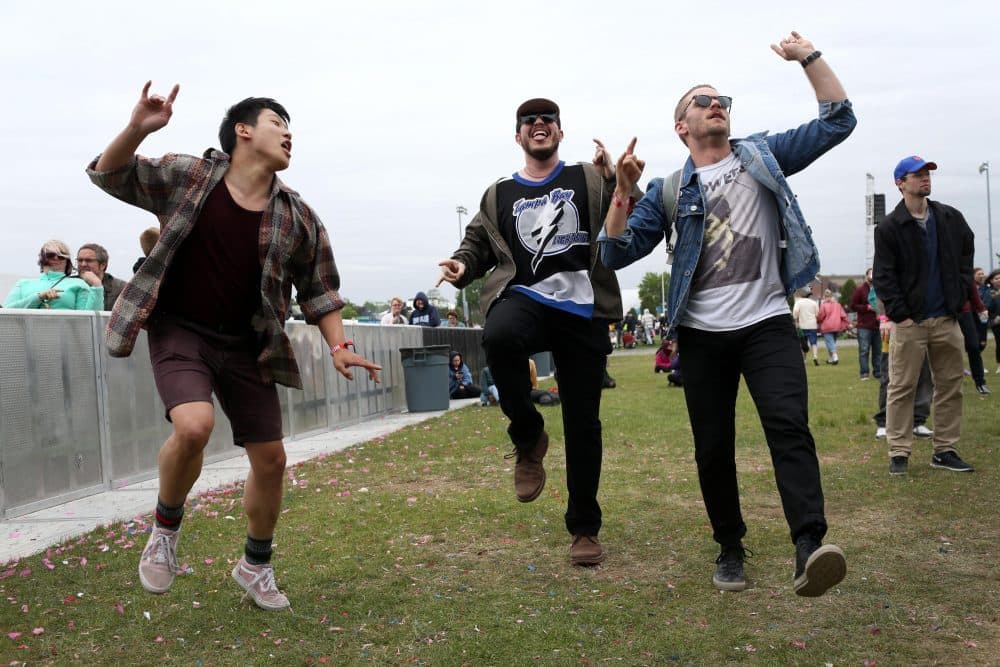 ---
Alexa Vazquez, Social Media Producer

I went to Boston Calling twice when it was still held at City Hall Plaza. There, it felt more like an outdoor concert than a festival. But when I walked into the Allston location this year (my first time attending this location), that wasn't the case.
There was merch, coveted selfie-opportunities and the telltale sign of any large festival -- a neon Ferris wheel. Despite the size, the space still felt manageable. If I was ever overwhelmed by the crowds, I could always find a nice patch of grass to relax on.
With lots of beer, bathrooms and (local) food vendors, I didn't have to wait in much of a line for anything. And that's something any festival-goer can appreciate.
This is a unique event in Boston. And the turn out and excitement I saw at the new location shows that people in the greater Boston area are eager for festival to keep growing.
---
Readers, did you got to Boston Calling this weekend, or in the past? Add your thoughts in the comment section. We'd love to hear from you.