Jay Gonzalez: Baker Is 'Dragging Massachusetts Backwards'
Play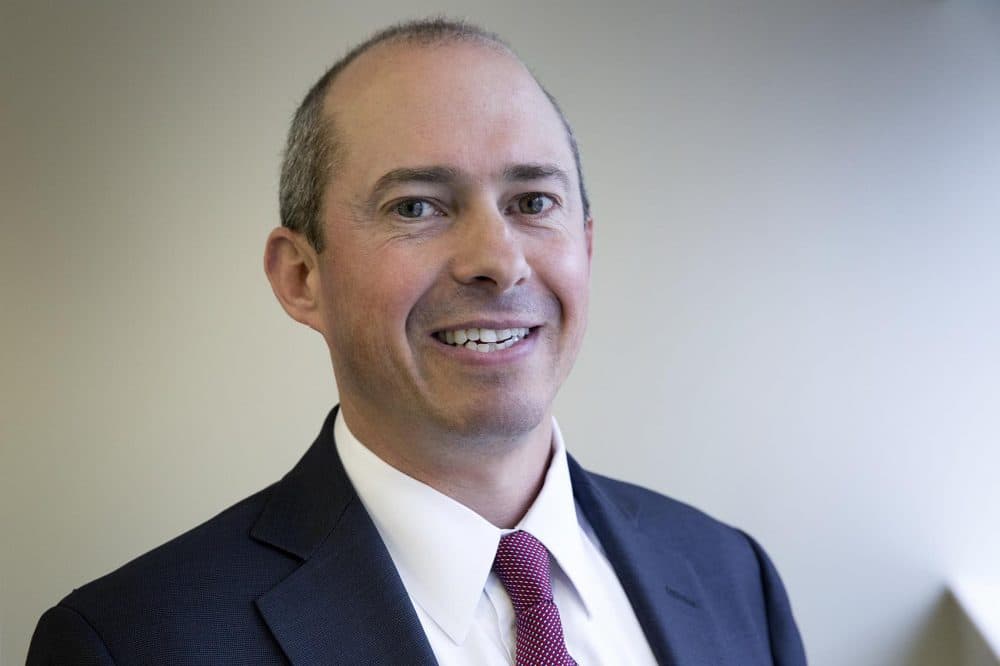 This article is more than 4 years old.
It's the last day to register to vote in the Sept. 4 state primaries. Gov. Charlie Baker is widely expected to win the Republican primary race against pastor Scott Lively.
If he does, Baker would then run against one of two Democratic challengers: environmentalist Bob Massie or former Deval Patrick budget chief Jay Gonzalez.
Both Democratic candidates spoke to Morning Edition, starting with Gonzalez. (Here's the interview with Massie.)
Interview Highlights:
Gonzalez: There's going to be a very clear choice in this election. It's a choice between a governor right now who's only in it for the privileged and the powerful versus someone who's going to be in it to fight for the little guys out there; a governor who is literally dragging Massachusetts backwards [versus] someone who's going to work with a sense of urgency to make Massachusetts a leader again. And I think people are going to choose [the latter].
Oakes: But Governor Baker, as you know, leads the polls. He has higher approval ratings among Democrats than with his own party. How do you plan to sway Baker's ostensibly Democratic fanbase?
Most people really haven't focused on this race yet. When we get them to think about this race for more than five seconds and get past the 'Charlie Baker seems nice. I'm really glad he isn't crazy but can't tell you one thing he did' and talk about some of the issues that are affecting people's lives, like they can't afford childcare, preschool for their kids, or can't depend on the transportation system to get to work on time, we're earning a lot of support.
You've emphasized your insider credentials as an advantage over Massie, a self-professed outsider, but policy-wise, you don't really differ from each other very much. Why are you the better choice?
It is true Bob and I are both advocating a progressive, ambitious agenda. The big difference between the two of us is that I have leadership experience in state government getting big things done. I was one of Governor Patrick's cabinet secretaries, oversaw the state budget, and was often Governor Patrick's point person for negotiating a lot of the big things we got through the Legislature. I know how the process works, which is why I think we've got a much stronger campaign.
How are you going to pay for some of the programs you're proposing, like high quality affordable preschool and daycare, and revamping the public transportation system?
I will immediately propose a progressive way to ask those doing well in this state to pay a little bit more so that we can make some of these critical investments we need to make.
Hike the state's 5.1 percent income tax?
I don't have a specific proposal yet. I'm going to be asking the Department of Revenue to immediately give me options for how we raise revenue in a way that is asking those doing well — not those struggling to get ahead — to pay a little bit more in taxes.
We have a regressive tax structure in Massachusetts right now, where those who earn the least pay the highest percentage of their income in taxes and those who earn the most pay the lowest. One example is all of these business tax credits that we've given away to big corporations over the years. If we look at some of these and they aren't working, we should get rid of them.
Give me an example of something that a Gov. Jay Gonzalez would tackle right away with the MBTA.
The first thing I will work on is getting additional resources. The other thing is I will fire Keolis, the private operator of the commuter rail system. It is a wrong approach to privatize a core public service like that that people depend on, where you separate the responsibility for delivering the service from the elected officials who are accountable to us for making sure it works. When I'm governor, I'm going to own both the blame and the responsibility over the solutions.
This segment aired on August 15, 2018.