Turnaround Hopes Are High As New STEM School Opens In Boston
Resume
The centerpiece of the new Dearborn STEM Academy is a light-flooded, four-story atrium encased in glass and steel.
In a couple of weeks, about 450 students will fill these hallways. In the meantime, about five dozen teachers and staff are getting acclimated to this high-tech home.
"There's all of the community learning spaces out everywhere. Whiteboards everywhere," says middle school principal Shelley Olsen as she ushers a group of teachers past transparent classrooms.
Each space has glass windows facing the hallways and streets, and an accordion whiteboard wall that can be pulled back when teachers want to collaborate.
"Your classroom is not bounded by the four walls that you're in," says Olsen. "You've got all of this space. The whole school is that building and that classroom for you to be able to use."
The idea is to have as much flexibility as possible to rearrange furniture, separate into groups and use every inch of the space. The grades of the 6-12 school are divvied up by floors: middle school on the fourth, freshman and sophomores on the third floor and juniors and seniors on the second.
It is a dramatic change from the traditional brick-enclosed hallways and straight rows of desks.
"We finally have a place, a safe space that we can call home," says Dean of Students Josh Fidalgo, grinning broadly. "And it's been awhile since we've been able to say that."
For the last three years, students and staff have been shoehorned into the fourth floor of the Jeremiah Burke High School two miles away. Before that, they were faced with crumbling walls and leaky ceilings in the old Dearborn school.
"I've never been able to see at least three 3D printers in a school before," marvels 18-year-old Elias Arroyave. He's a rising senior who's been helping set up the computer science rooms. He says the gleaming classrooms will have a big effect on learning.
"The school was actually built for the students," he says. "And that helps us gain more confidence that we're going to be able to do whatever we want in this school."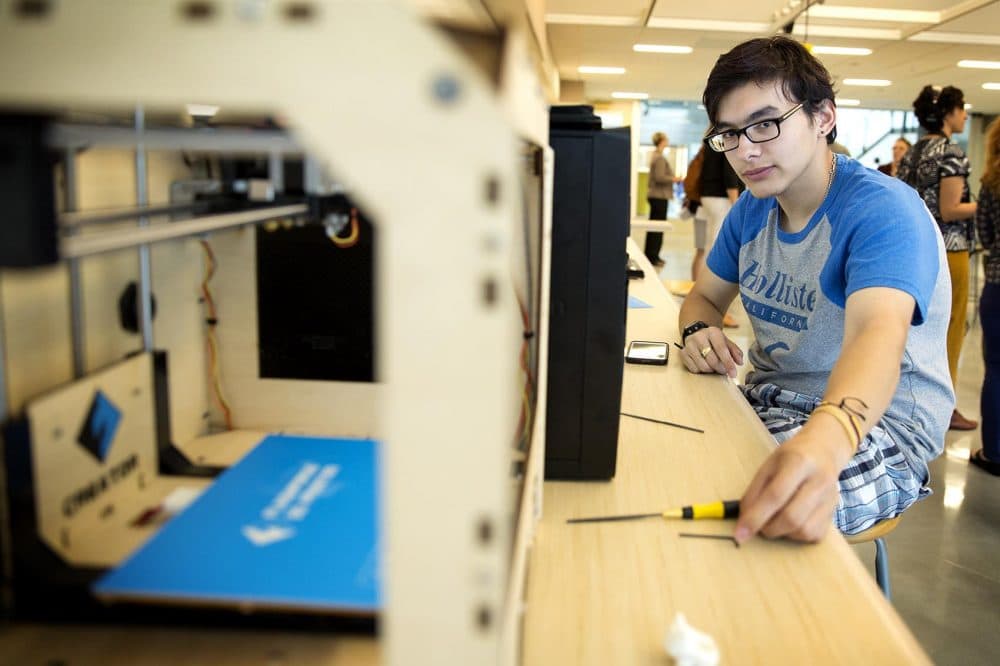 Every teacher WBUR spoke with talked about what a huge opportunity this building offers for students, both academically and psychologically.
Nearly 80 percent of the Dearborn students are considered economically disadvantaged. Now, Roxbury will have a building that's on par with schools in Newton or Winchester. What's more: a school specifically focused on college and careers in STEM — science, technology, engineering, and math.
"Our kids deserve this, and it's saying they are worth this," says sixth-grade sheltered English immersion math teacher Natalina Mendes. She was once a student at the old Dearborn, and among the teachers who pushed for the upgrades.
While the building is a boon for the community, some groups like the Greater Boston Interfaith Organization say they are concerned that the new Dearborn still doesn't have everything it needs to operate successfully.
"For this school to really succeed, we think it needs lots more than just a building," says Rev. Liz Walker, senior pastor of Roxbury Presbyterian Church, which has been involved with the school for over a decade. "We're not so sure that we have everything we need to get this school off to a good start."
That wish list includes more social-emotional supports, such as a full-time psychologist, and a director to run the fab labs — two classroom/workshops outfitted with 3D printers, laser cutters and other tools. Boston Public Schools posted that position in the last week-and-a-half.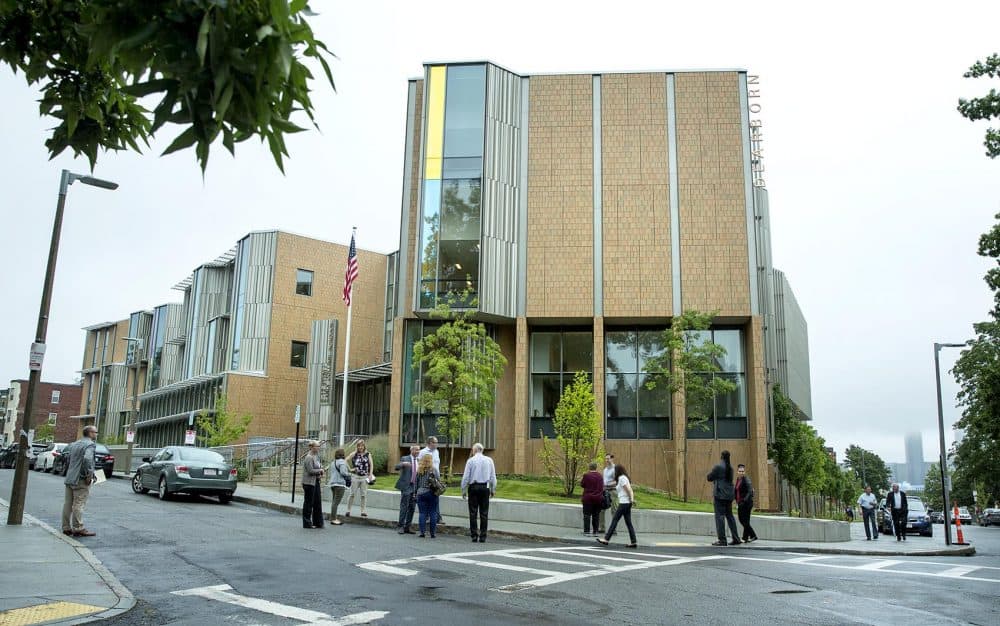 Beyond the gleaming facilities, the stakes are high for the Dearborn and a lot of people are watching closely. State education officials categorized the Dearborn as a Level 4 turnaround school in 2010. That's the second-lowest level and puts the school at risk of state takeover.
"We're going to concentrate on making this a safe and supportive school. We're going to concentrate on making the instruction rigorous in every classroom," says the new high school principal, Dana Brown. He points to research about the importance of school climate as part of a turnaround.
"When students feel good about where they are, and feel safe and comfortable about where they are, indicators start to improve. Attendance starts to go up, discipline goes down. So as those things happen, lo and behold: achievement starts to go up," Brown says.
Community members are hopeful that the Dearborn can live up to that promise, particularly for those kids who have already suffered a lot of trauma and broken promises already.
While teachers sound hopeful and excited about those opportunities, they're also keenly aware of what's at stake.
This new building is the model for other Boston Public School building projects. And the hope is that the Dearborn can also be a prototype as a successful turnaround — and how to prepare students for the future.
This segment aired on August 23, 2018.