Well-Intentioned Theater People Take On 'Well Intentioned White People' At Barrington Stage
The American Repertory Theater and ArtsEmerson can relax. Their presentation of Claudia Rankine's "The White Card" is no longer the clunkiest play about race relations professionally staged in Massachusetts. That would be Rachel Lynett's "Well Intentioned White People," receiving its world premiere at Barrington Stage Company's smaller St. Germain Stage in Pittsfield (through Sept. 8).
The play centers on Cass, a black professor at a "hip and liberal town in a red state. Maybe Austin or Orlando or northwest Arkansas." She is on a seemingly strong tenure track until the N-word is keyed onto her car. Viv, her white ex-partner insists that she go public with what happened. When Cass refuses, Viv gives the story to her sister, a journalist, who publishes it without even bothering to get comment from the university. It's not even clear that she tried to get any comment from Cass.
This is not something that would happen on a professional newspaper. Maybe even on a high school newspaper. Is life at the college any more credible? I haven't been in academia for almost 50 years and if this is an accurate depiction of it, I have no desire to go back. The play is filled with white people who think they know what's best for Cass and their attitudes are certainly worth satirizing, but dialogue like this, from the white dean, is neither believable nor deftly satirical:
"I thank God every day I went to Howard University for a semester. White people just don't get it. I really had my eyes opened. I understand the struggle. How traumatizing this must be for you."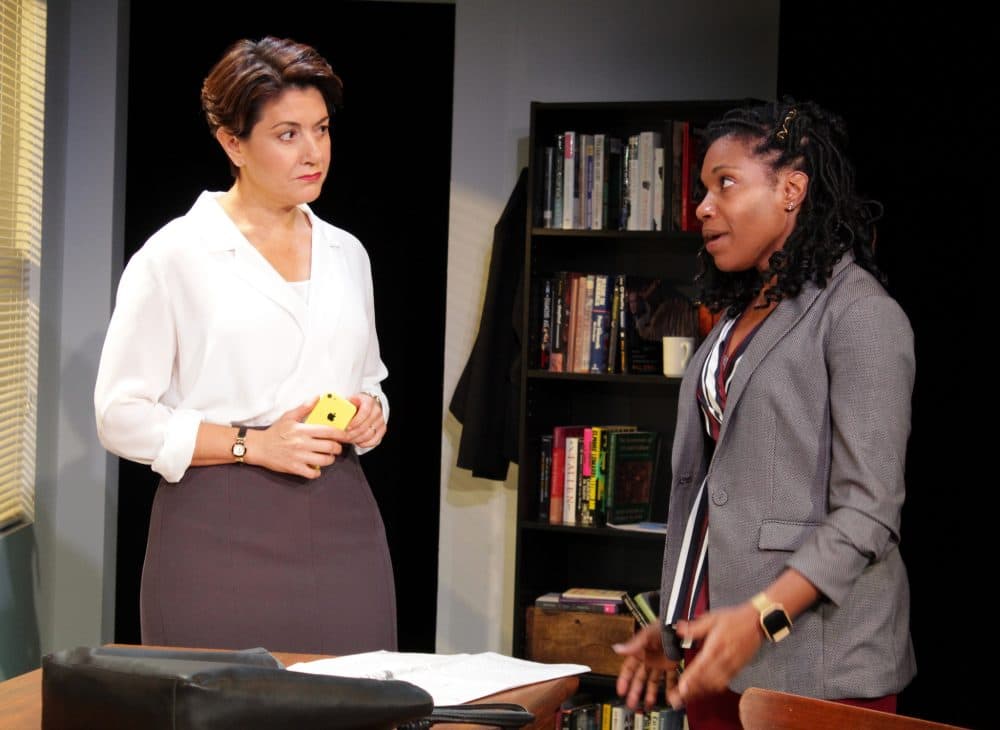 Cass herself is hardly splinter-free. Her tirade toward the end of the play is as hollow as the white folks' determination to try to fix things with an Equality Day.
The acting is not good, either, but I'd be tempted to give the cast a pass and lay the blame at the feet of Lynett and director Tiffany Nichole Greene. And at the feet of Barrington Stage Company, which does no one any favors by programming based on a desire to extend the conversation without an equal determination to insist on theatrical excellence. The company got the balance right with "American Son" and "The Chinese Lady."
Not this time. As in the play, it's not enough to be well-intentioned theater people.