'Hamilton' Triumphs In Boston — The Opera House Is The Room Where It Happens (Finally)
Since "Hamilton" entered the collective consciousness three and a half years ago it's easy to forget what a revolutionary musical it is. As it alights into the Boston Opera House (through Nov. 18), ticket prices are enough to make King George proud, Lin-Manuel Miranda is serving coffee to George Washington — in an American Express commercial — and even people who haven't seen the show are steeped in all things Hamilton.
Let's stop for a moment, as we take in the excellent touring production from Broadway in Boston, and appreciate the work of genius we have in front of us. Miranda took a 750-page history book by Ron Chernow, infused it with first-rate hip-hop rhythm and rhymes, commissioned choreography to match and cast the story of the white founding fathers with a largely non-Caucasian group of actors. All the while not only honoring the source material, more seriously than perhaps any Broadway musical that preceded it, but also creating a commercial juggernaut that might keep going into the 22nd century.
With all that in mind, it's hard not to love the touring production at the Opera House. The road has not always been kind to touring shows or, more accurately, theater producers have not always been kind to the road. But from all reports, Miranda has been as cognizant of maintaining the quality in the colonies, not just in New York.
Whether the two main protagonists, Austin Scott's Hamilton and Nicholas Christopher's Burr, measure up to Miranda in the title role and Tony-winner Leslie Odom Jr. is somewhat beside the point — and one that I can't answer, only seeing them on video. For the record, the estimable Washington Post critic Peter Marks thinks they do.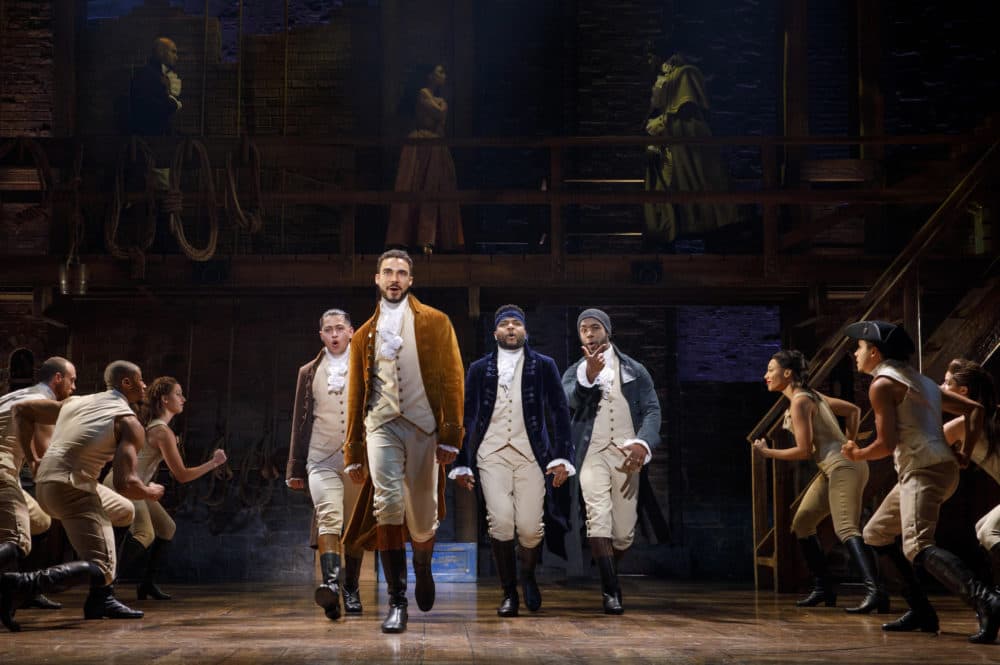 Given Miranda's stature and Odom's Tony, it's understandable why people focus on the two roles. But this is an ensemble piece if ever there was one and to focus on Hamilton and Burr misses the forest through the trees. "Hamilton" only succeeds as far as the whole ensemble takes it, and this ensemble takes it very far indeed. It's Hannah Cruz (Hamilton's wife Eliza), Bryson Bruce (Jefferson and Lafayette), Paul Oakley Stovall (George Washington), Peter Matthew Smith (King George) and the remarkable dancing under Andy Blankenbuehler's choreography that move this production along with Austin Scott and Winchester's own Nick Christopher.
Miranda — in case you've only been watching Fox News for the past few years — wrote the book, the music and the lyrics, giving the lie to my assertion that Stephen Sondheim was the only living composer who could write both lyrics and music. Sondheim's style is hardly Miranda's, but even that master lyricist would have to bow down to the profusion of rhymes in "(I'm Not Throwing Away) My Shot" — fraught, taught, got, hot, lot, pot, not and, snap, Lancelot. And just as Miranda is true to history, he's true to the spirit of rap while making the genre palatable to people who don't know Jay-Z from Kanye West. A rap slam between Jefferson and Hamilton is perfect.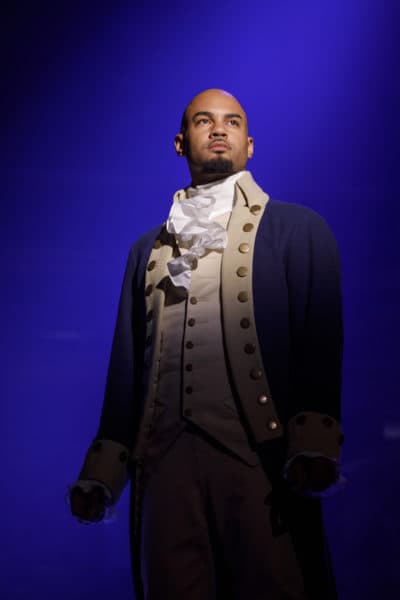 While some of the softer numbers aren't memorable, others are wrenching, particularly when Cruz and Christopher are belting them out.
The Boston show comes fully alive, though, when the rhythms burst into high-octane ensemble numbers like "(I'm Not Throwing Away) My Shot" and "The Room Where It Happens" — the decision-making room that Burr craved to be in, but that only Hamilton, through his smarts, determination and convictions, could enter, whether it was with his mentor, Washington, or his foe, Jefferson. The scenic design of relatively bare wooden scaffolding and exposed brick by David Korins of Mansfield, Massachusetts, pushes the action forward where director Thomas Kail and the choreography take over.
Hamilton was a believer, unlike Jefferson, in central government, big banks and abolitionism. He was also an immigrant, which of course puts the show in symbolic opposition to the guys with the MAGA red hats as well as the Brits with the red coats. Sometimes more than symbolic, as when the vice president was lectured to by the "Hamilton" cast.
For all the contemporary eloquence of "Hamilton" you have to tip your hat to Miranda for swaddling King George with the tamest echoes of '60s British invasion music, like Herman's Hermits or Freddie and the Dreamers. By contrast, the ensemble's singing and dancing constantly remind us of Miranda's attempt to capture what was best about the revolution, even if Hamilton and others couldn't ward off slavery. And everything about "Hamilton" is a constant reminder about what's best about American musicals.
---
"Hamilton" is at the Boston Opera House through Nov. 18. If you don't have tickets yet, you have a slight chance of scoring $10 tickets. There's a lottery for 40 tickets per performance through the end of the run.