1,500 Workers At 7 Marriott Hotels In Boston Go On Strike
Resume
More than 1,500 workers at seven Marriott International hotels in Boston went on strike Wednesday, after months of unsuccessful contract negotiations.
The workers include housekeepers, doormen, cooks and dishwashers who say they want better wages and benefits so they can afford to live in the city. They took their grievances to the street early Wednesday morning, walking out of the Ritz Carlton, the Sheraton Boston, the W Hotel Boston, Aloft Boston Seaport District, the Element Boston Seaport District, the Westin Boston Waterfront and the Westin Copley Place.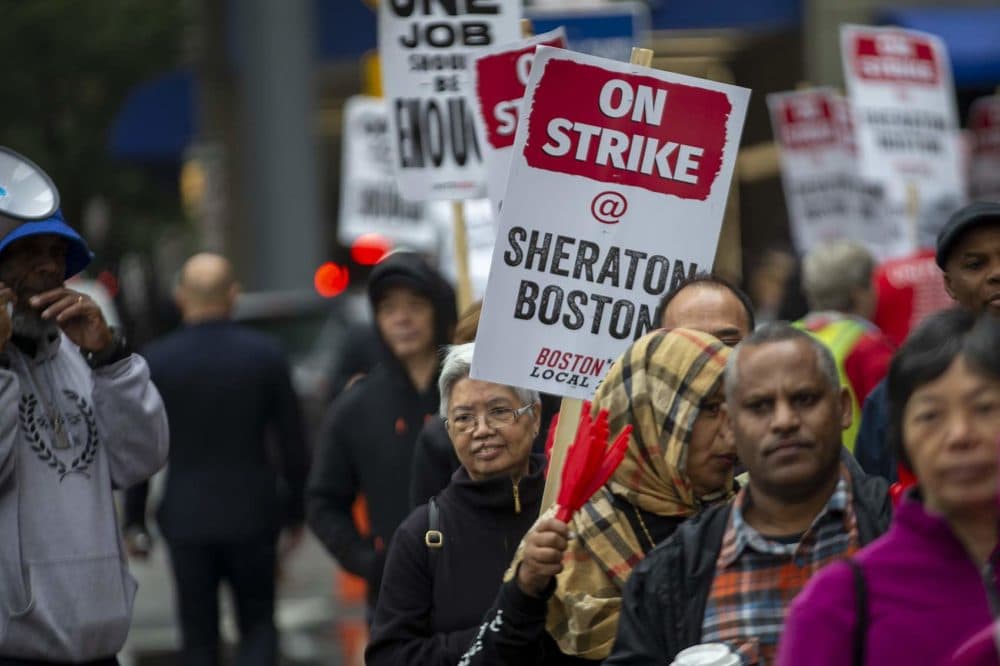 The union representing the workers, UNITE HERE Local 26, said it's the first hotel strike in the history of Boston.
"We built this company, and they are not willing to give us nothing," said Rahel Adugna, who has worked as a banquet server at the Sheraton Boston for 14 years. "They just count us as dumb, you know, a lot of foreigners and they don't see us as, you know, we're strong enough to do this."
Adugna, who was part of the negotiating committee, said workers felt compelled to strike because Marriott "wouldn't budge with us." She was among dozens of workers marching in front of the Sheraton Boston, banging on bright orange buckets and shouting through megaphones.
Many of the workers also held signs that read "One Job Should Be Enough" — it's the main message from UNITE HERE Local 26.
"In spite of Marriott's rhetoric that they value their employees, after six months of talks they haven't been willing to demonstrate that by helping to create jobs that are enough to live in the city, to raise a family in the city and to retire with dignity," said Brian Lang, president of the union.
Retirement was top of mind for Mei Leung, who has been working as a housekeeper at the Sheraton Boston for more than 30 years. She said she's striking to get better benefits.
"I'm looking for my retirement," Leung said. "I'm 71 years old. I cannot afford the insurance."
Union Demands Input On Hotel Tech
The union also wants to have a say in how new technology is introduced into the hospitality industry. According to Lang, self-check-in kiosks and robots that deliver room service are already being used in some hotels. And ride-hailing services like Uber and Lyft, which have already disrupted the taxi industry, have impacted the incomes of hotel workers.
"Before Uber and Lyft, cabs would pull up, the doormen would open the cab door and often would get a tip," Lang said. "Today, with Uber and Lyft, that doesn't happen."
The union wants higher hourly wages for doormen, bellhops and other hotel employees so they don't have to rely on tips, which have been dwindling as people use technology to secure their own rides and other services.
"It's not like it used to be, and day by day, whatever we're making is less and less," said Al Bonisa, who has worked as a bellhop at the Sheraton Boston for 33 years.
"It's not like it used to be, and day by day, whatever we're making is less and less."

Al Bonisa, a bellhop at the Sheraton Boston
As hotel services continue to go tech, Bonisa said he's mostly concerned about job security. The union is pushing for that for all employees, too.
"We are not opposed to technology or the introduction of technology," Lang said. "We simply want to be able to negotiate so our members are trained to use it and that it's introduced in such a way that these jobs continue to be good jobs for hotel workers."
In a statement, a Marriott spokesperson said:
We are disappointed that Unite Here has chosen to resort to a strike at this time. Marriott's current economic proposal matches the economic terms in the parties' last contract, which included the largest increases in the parties' bargaining history. We have not proposed any changes to our associates' health, welfare or retirement benefits. During the strike our hotels are open, and we stand ready to provide excellent service to our guests. While we respect our associates' rights to participate in this work stoppage, we also will welcome any associate who chooses to continue to work.
The hotel chain could potentially face strikes from UNITE HERE members in other cities, including San Francisco, Detroit and Seattle, as those workers go through their own contract negotiations.
Marriott — the world's largest hotel company — says its hotels will remain open during the strike in Boston.
This article was originally published on October 03, 2018.
This segment aired on October 3, 2018.