From Beadwork To Black-On-Black Pottery, MFA Receives Native American Art From Rockefeller Collection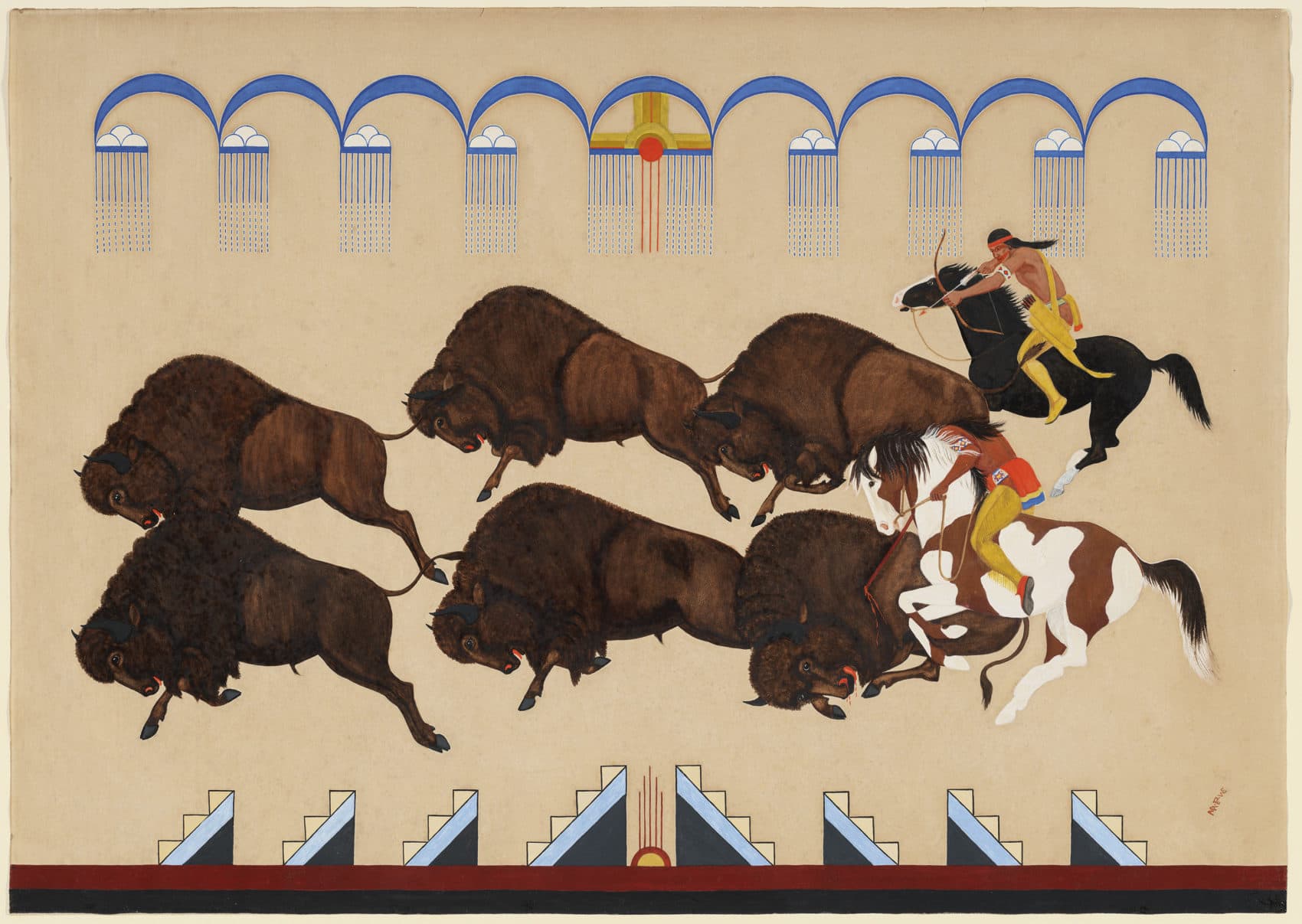 This article is more than 3 years old.
A storied and stunning trove that includes baskets, beadwork, ceramics and paintings predominantly by Native American artists has a new home at the Museum of Fine Arts in Boston. The 52 intricate works are said to represent 13 tribes and nations including Lakota, Dine (Navajo) and Western Apache. The collection includes work by seven known Native artists, many unidentified artists, and one painting depicting an indigenous man by a non-Native artist.
Most were amassed by John D. Rockefeller Jr. and his wife Abby Aldrich Rockefeller in the southwest during their travels and work there in the 1920s and '30s. The gift comes from their son David Rockefeller's estate. He and his wife Peggy also collected Native American art.
A gift like this means different things to the people and institutions connected with it. For the museum, American decorative arts and sculpture curator Dennis Carr said it fills a gap in its holdings that, all told, amount to about 500,000 works.
"We're delighted because these objects build upon our existing Native American collection in very interesting ways," Carr said of the gifts. "They add new categories of objects to the collection, and they also represent a time period of collecting in the 1920s and the 1930s that we did not represent well at the MFA."

The new gift adds to the MFA's more than 800 works made by Native American people. A grouping is currently on display at the MFA's Art of the America's wing in the exhibit "Collecting Stories: Native American Art." Other pieces can be seen in several galleries in the museum's American wing.
According to Carr, the museum began acquiring Native American art in the 1870s and continued, in earnest, for decades. But after the turn of the 20th century he said interest in collecting waned "because Native American art was often thought of as ethnographic art rather than fine art."
Recently encyclopedic art museums like the MFA have been re-framing their views of indigenous art. In 2002, the Boston institution displayed Native American works with other American pieces for the first time as curatorial leadership designed what would become the Art of the Americas wing. When that major expansion opened in 2010, the MFA was among the first major art museums to integrate art by Native Americans into the broader story, according to Elliot Bostwick Davis, head of the Art of the Americas department.
"At the time, it was a new paradigm to include Native American art of all media, produced from the prehistoric to the present era, within the context of Art of the Americas. This approach represented a major shift for the MFA, which previously featured Native American art in a gallery called 'The Peoples' Gallery' together with folk art, for example," Bostwick Davis wrote in an email to WBUR.
The Rockefeller gift is part of an ongoing commitment to preserving and interpreting indigenous American culture on a deeper level, the museum said.
Museum director Matthew Teitelbaum said in a statement, "As the MFA continues to diversify the narrative we tell about the art of the Americas, we strive to be inclusive of the wide range of artists who have contributed to these histories. By strengthening the museum's collection in this critical area, this gift marks an important step forward."

The gift to the MFA comes as the Metropolitan Museum of Art in New York, another encyclopedic institution is evolving its views on the contributions Native Americans have made to art and culture. Earlier this month the Met opened its first-ever exhibition of indigenous art in its American wing. It features 116 pieces from a gift by philanthropists Charles and Valerie Dike. The collectors promised the donations with a condition that they be presented as American art rather than tribal art.
While curators at the MFA weren't paying much attention to Native American art in the early 20th century, the Rockefellers were. David and Peggy purchased an array of colorful, earthy, highly-crafted pieces by local artists as they worked with the land conservation movement.
"John D Rockefeller Jr., Abby Aldrich Rockefeller and other family members often bought these objects either directly from artists or from some of the trading posts that were active in the American Southwest and the American West," Carr explained.
Along with hand-woven blankets, tanned-hide bags and ceramics, the couple purchased and donated thousands of acres of land to the National Park Service. The Mesa Verde National Park Museum is also receiving 100 pieces from the Rockefeller estate.
When asked, Carr said the museum is confident that none of the pieces in the Rockefeller gift are sacred or were misappropriated.
"We looked carefully through the collection and we chose a group of objects that we felt would not be controversial to add to the museum's collection," Carr told me. He also elaborated, saying, "We want to use these objects to enhance our educational mission, to improve our displays of Native American art, and to think more broadly while finding different ways to incorporate Native American art into our existing Art of the Americas galleries to tell a richer, deeper story."
Some well-known artists represented in the collection include watercolorist Velino Shije, who also painted murals for the U.S. Department of the Interior in Washington, D.C., and Tonita Peña, whose mediums were pen and ink on paper with watercolor.
Peña was one of several Pueblo artists championed by an anthropologist named Edgar Lee Hewett in the early 20th century. Another person he collaborated with was pioneering potter Maria Montoya Martinez (Tewa), whose ceramics sold as fine art, rather than utilitarian objects. Four of her black-on-black creations — three jars and a bowl — are also in the gift to the MFA.
As the story goes, Hewett discovered fragments of jet-black, ancient ceramics during an excavation at the Frijoles Canyon and brought them to Maria Martinez, a local artist known for fashioning remarkably thin and smooth vessels. The anthropologist — who also founded the Museum of New Mexico — hoped Martinez would be interested in recreating an aesthetic he believed was at the risk of being lost.
After painstaking experimentation with different firing methods, Martinez and her husband Julian began producing high-luster, all-black ware. Maria made the pots, Julian painted the matte decorations on their shiny surfaces.
"Rockefeller acquired some of the earliest pots in the style that were made by Maria Martinez and her husband Julian," MFA curator Dennis Carr said.

Martinez was widely recognized for her signature technique. She was invited to the White House by the Roosevelts and maintained a decades-long relationship with the Rockefellers. Her works can be found in museums across the country. But she also paved the path for future generations.
The artist's great-granddaughter and other descendants continue Martinez's legacy in New Mexico.
Reached by phone, Barbara Gonzales said she's thrilled to know her great grandmother's work is joining the MFA's collection. Gonzales herself has a bowl at the Boston museum. It's titled "New Moon."
"I've got four sons who also do art and pottery," she told me proudly, "and grandchildren as well."
Gonzales lived with Martinez as a child and recalled never really understanding that her loving, great-grandmother was famous. When asked about the techniques developed by her forebear, Gonzales replied, "black-on-black was always done at San Ildefonso Pueblo but it wasn't done to perfection. So that was the key feature to what they [Martinez and Hewett] did to promote black-on-black ware."
Gonzales learned the methods of working with clay, including the signature polishing from a very young age working alongside her great-grandmother, grandmother and mother. "You know, it was always there," she recalled.
Her grandparents Adam and Santana Martinez also mastered the techniques, and Gonzales said the family's pottery production helped her earn money to pay for her high school and college tuition. These days Gonzales, her husband Robert and their children sell their pottery and paintings at their shop, Sunbeam Gallery.
When asked what the MFA's acquisition of her great-grandmother's work means to her, Gonzales said, "as far as knowledge about the pottery itself — maybe more could be added to emphasize the process or what benefits have been derived from the pottery making."
She believes the enduring benefits Martinez's groundbreaking artistry seeded haven't only been cultural, but also economic.
"There are a lot of potters here that sell and earn their living from it," Gonzales said, "I mean, less than 10, but there are still quite a few."
David Rockefeller also learned from Martinez when he was a child while visiting the artist with his parents. He wrote about it in the book "American Indian Art and Paintings by Taos Artists: The David and Peggy Rockefeller Collection."
"At the time we children did not at all realize what a great artist Maria was," he wrote. "She showed us how to collect dried cow turds in the fields and how to build a little oven in which to fire the pots we made."
David and his wife Peggy visited Martinez again in 1974. The artist died a few years later in 1980 and Rockefeller wrote, "she will always remain a legend among Indian potters."
Gonzales said she looks forward to seeing her great-grandmother's pieces at the MFA when they go on display. The museum plans to install a selection from the Rockefeller gift later this year with more on rotation in the galleries in the future.