Robots, Hydroponics, 'Hands In The Dirt': A Look At Who — Or What — Will Feed Us In The Future
Play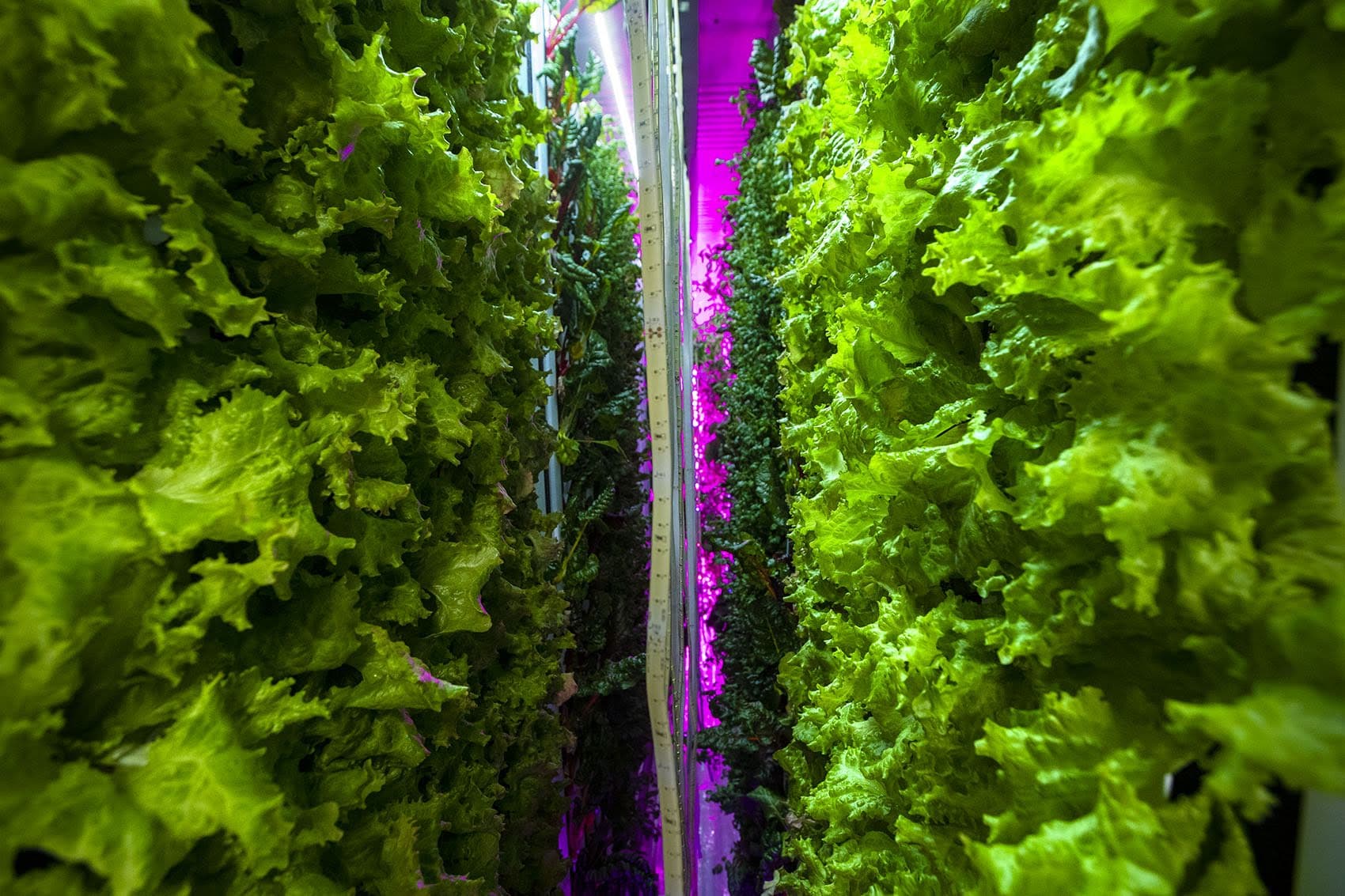 This article is more than 4 years old.
This is the first in our series "Lab to Table: The Future of Our Food" exploring the future of food. Stories will publish every Monday from now until Dec. 17. In the spring, the series will continue with another week of stories. 
---
When you picture a dinner plate 20 or 30 years from now, what do you see? Lab-grown meat? Gene-edited crops? Superfoods? Or, something like Soylent?
Will fresh produce be part of that imagined future, or could agriculture end up forgotten, like in the movie "WALL-E" where a human character in 2805 thinks farmers once grew crops of pizza in the ground?
That scenario might not seem like science fiction if you consider the growing body of research on the threats of climate change. A recent U.N. report predicts temperature increases will cause extreme flooding, fires and drought that would impair our global food systems. Innovators across the food industry, including here in Massachusetts, are working hard on high and low tech solutions for feeding the planet.
Robot Farming
"We are building robots that care for crops and harvest their fruits," Joshua Lessing, founder of Root AI, explains as he buzzes us through a set of doors at Greentown Labs in Somerville. It's a "clean tech" incubator — the largest in the U.S. — that supports entrepreneurs focused on solving environmental problems.
"People are predicting CO2 levels are going to rise faster than we ever thought, ice melt is going to happen faster than we ever imagined," Lessing says, echoing studies and conversations happening across the food industry. "The needs for food are larger than we ever conceived."
There will be a lot of mouths to feed in the future. The world's population is expected to reach 9.8 billion by 2050.
"I think a lot about what we can do here in Boston with all the talent we have," Lessing says, "looking outward into the world: 'Are these problems that I myself can sit in my lab and fix?' "
He hopes so, and he thinks his robots can help.
Lessing shows me a video of a Root AI prototype "bot" in action. It's a buzzing, mobile, white metal box with a 3D-mapping camera and a unique arm. It's got a gripper designed to delicately pluck fruits and veggies — like cherry tomatoes and strawberries — off vines without damaging their delicate flesh. The bot's robust artificial intelligence can collect and analyze crop data to determine ripeness and reduce waste.
"Its nutrition, its disease, its yield forecasting, its harvesting," he says. "Instead of having artificial intelligence figure out if there's an adorable cat in your friend's photo, it can see food that you want to eat."
Lessing foresees robots like his working 24/7 — year-round — rolling along tracks in huge, indoor farms made of glass and polycarbonate. He points to vast greenhouse complexes in the Netherlands as models for the future. Dutch innovators have been wildly successful in carrying forward that country's commitment to increasing agricultural production with advanced, sustainable growing systems.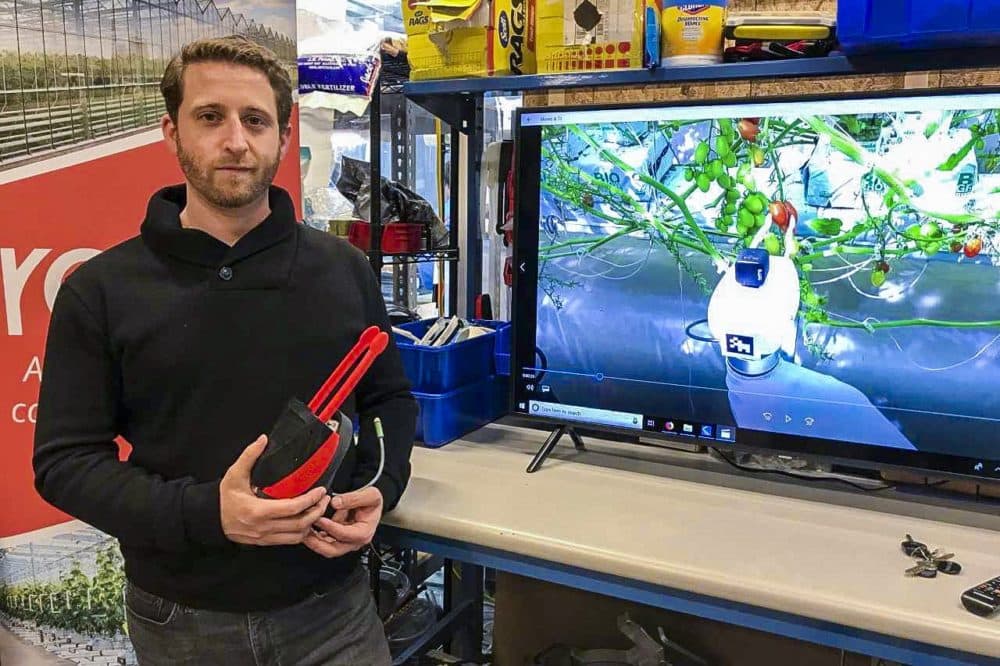 Indoor farms are scattered throughout Canada and the U.S., too. Lessing thinks all metro areas should have versions of them.
They're climate-controlled and impervious to weather, AI would make them smarter, and they'd supply regional distribution centers that he says would help reduce CO2 emissions on a massive scale.
But talk of robots raises the inevitable question: Will robots replace humans?
Lessing says no, they'll help alleviate agricultural labor shortages. He cites the worker crisis California farms have been experiencing because of immigration policy. Lessing's robots have been tested in that state, and he says Root AI will deploy its first wave of full-time AI workers next year.
It's not the only Boston-area company bringing high tech to farming.
Hydroponic Farming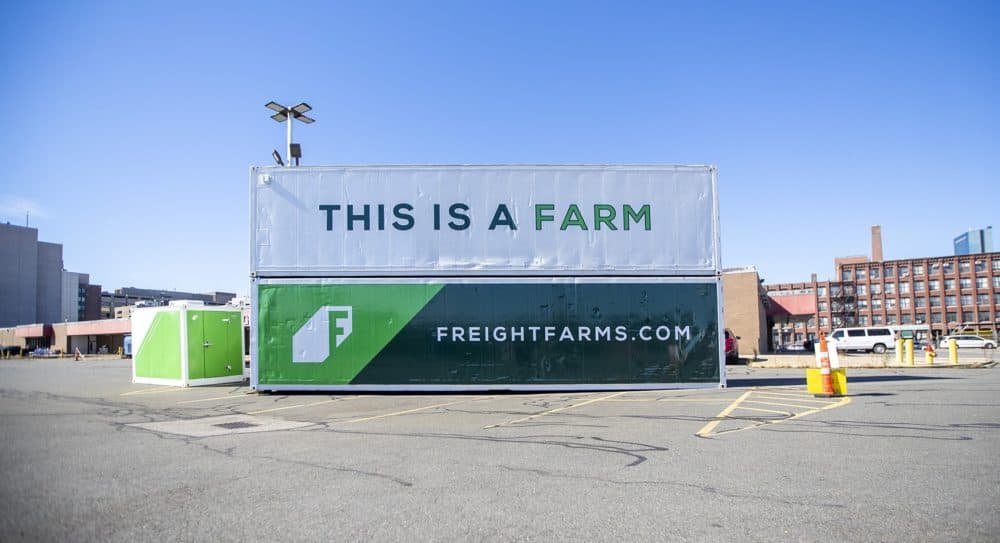 As you drive on Route 93 adjacent to Boston's South End you can spot two white and green shipping containers in a parking lot, one stacked on the other. The top box has the words, "THIS IS A FARM," in capital letters painted on its exterior. Brad McNamara, CEO of Freight Farms, acknowledges it makes a novel, 40-foot-long billboard for his South End operation.
As he pulls open the door we are met with a chilly blast of ventilated air.
"This is a Leafy Green Machine," McNamara says, "you step through the door and all of a sudden you smell it, you feel it, you taste it — you're in a farm growing acres' worth of produce."
The hydroponic farm is filled with rows of vertical columns packed with vibrant, edible greens – kale, arugula, Swiss chard. McNamara and his partner launched Freight Farms in 2010 to connect more people with farming on a micro-level, year-round.
"What we saw was an opportunity to allow more people to grow food locally, and reinvent or recreate the food system for the future," McNamara recalls.
Everything can be managed within the turn-key farm's four walls — from seeding to harvesting to feeding.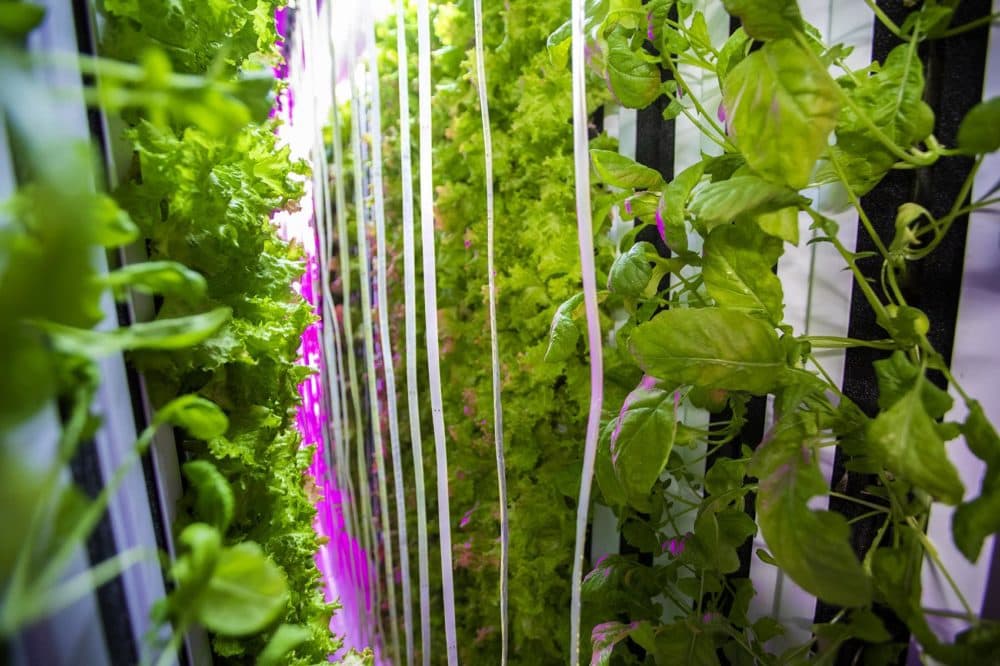 Containers of colorful, liquid nutrients flow through tubes to plants growing in polymer mesh, not soil. Energy-efficient LED light strips hang from the ceiling and water is recirculated through a drip irrigation system that can feed up to 5,000 plants with less than 5 gallons of water a day.
And there are growing "recipes" that Freight Farms COO Jon Friedman says can be custom-designed to perfection.
"Say you wanted a more purple color in your lettuce, you would have the blue lights on for longer. If you wanted them to grow faster you might put the red lights on for longer," he says. "There's a lot of tuning you can do to get a desired effect."
Then Friedman opens an app on his phone called "farmhand." It controls the system remotely.
"Right away you'll see cameras that are placed in certain spots of the farm," he points out. "So if you wanted to just see a quick view of how the lettuce is doing you could just pop in and see, 'Do I need to transplant today or could I wait 'til tomorrow?' "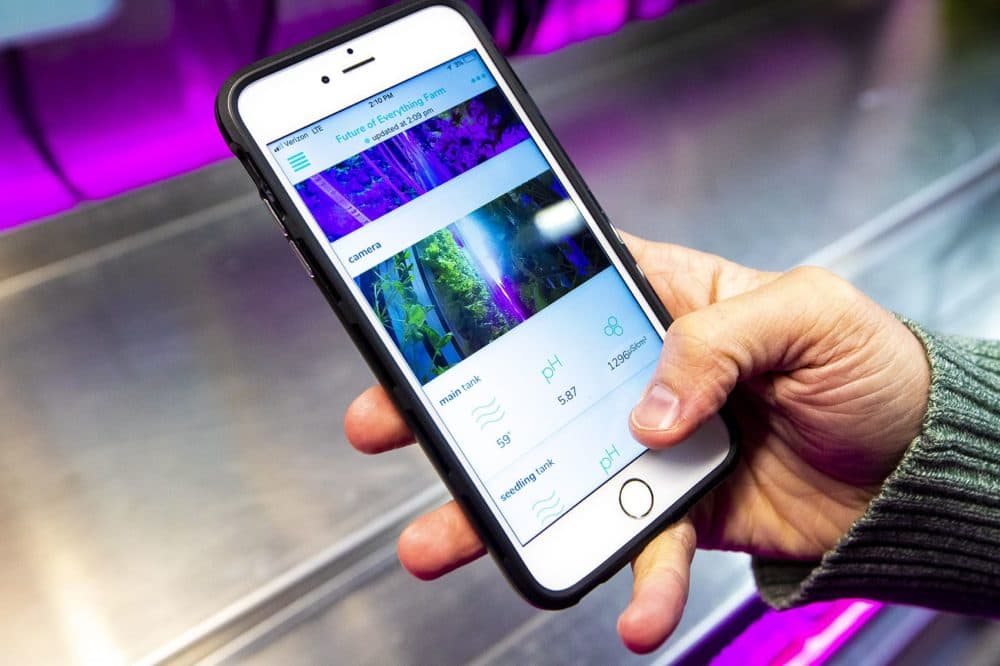 So you could monitor crops from, say, the couch on a snowy day. With the app, farmers — be they citizens or professionals — can adjust settings and crunch data. It even offers a Spotify playlist with nature sounds and stimulating music.
The founders say their mission is to educate and get people excited about farming. But it's also to help small, commercial farmers evolve into the future by adding hydroponic greens to their existing soil-based operations — like Karma Farms did in Maryland.
More than 210 Leafy Green Machines can be found around the world in 14 countries — in places like a farm in Guam that sells its greens to a couple of Wendy's on the island; a pioneering urban farm in Brooklyn; Google's campus in California; and at schools in Boston, Salem and elsewhere in Massachusetts. And this year, the company launched a program called "Grown By Freight Farms" that even adds a farmer to help with daily maintenance 20 hours a week.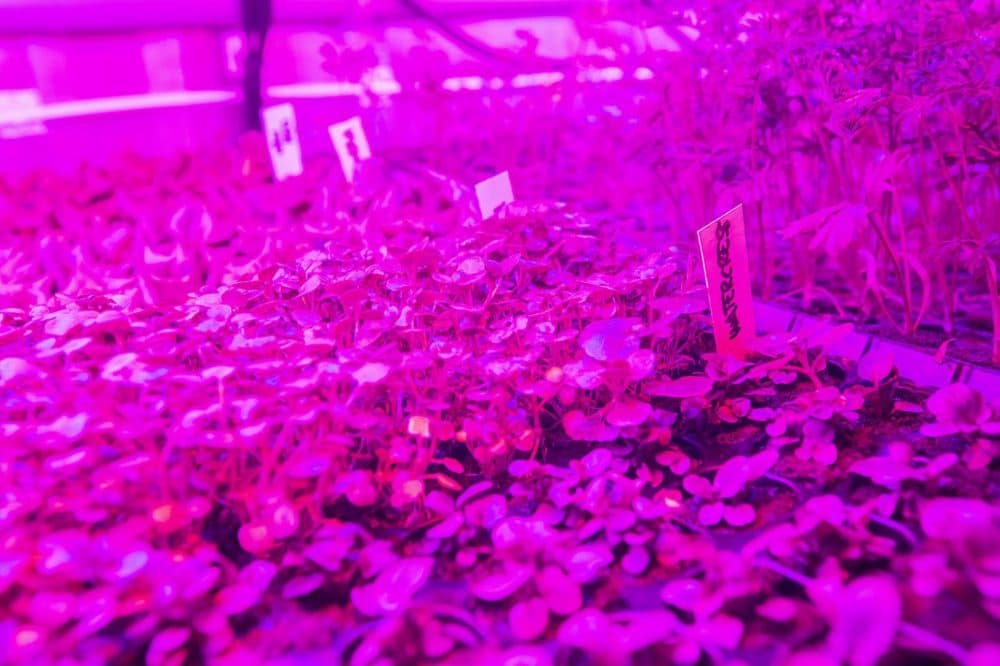 The cost of the shipping containers, like other farming equipment, is tax-deductible, but you'd need about $85,000 to buy one. Even so, Friedman sees a future where every workplace, urban neighborhood and farm could have one.
"In our earlier phase of agriculture, as a society, we built everything around it, but now we've gotten so distant from it at the same time," he muses. "It's going to be interesting to see how technology helps bring it closer to us and make that more of our experience."
But technology is only part of the solution for Jennifer Hashley.
"To what end are we going to have all this great technology if we don't have people that can afford to start these businesses?" she asks.
Soil Farming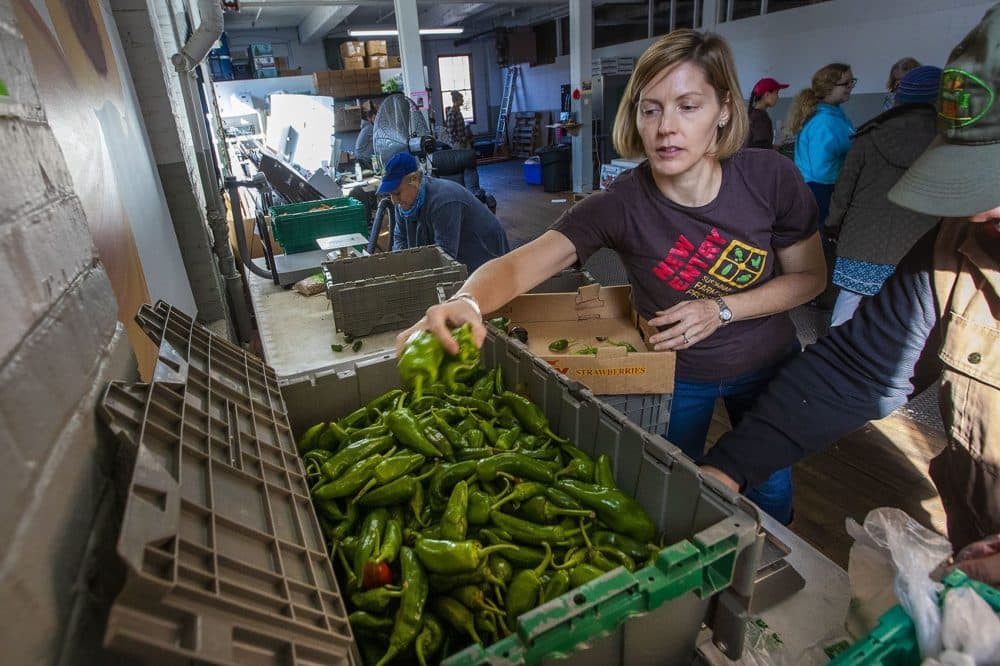 Hashley runs the New Entry Sustainable Farming Project at Tufts University where future farmers learn all aspects of the business of local agriculture.
"We still need people to have their hands in the dirt," she says. "As much as we want to rely on technology for advances in productivity and knowledge and data and efficiencies and to save labor — all those things are wonderful — but we're still going to need people to understand natural ecosystems."
Standing in a warehouse on the outskirts of Lowell, some of the students in the program, alongside volunteers, box up all kinds of fresh veggies, from carrots to jalapeños. They were grown on incubator farms the students manage. Some are for CSAs (Community Supported Agriculture farm shares) and others are being packed to go to homes for the elderly and other partner institutions.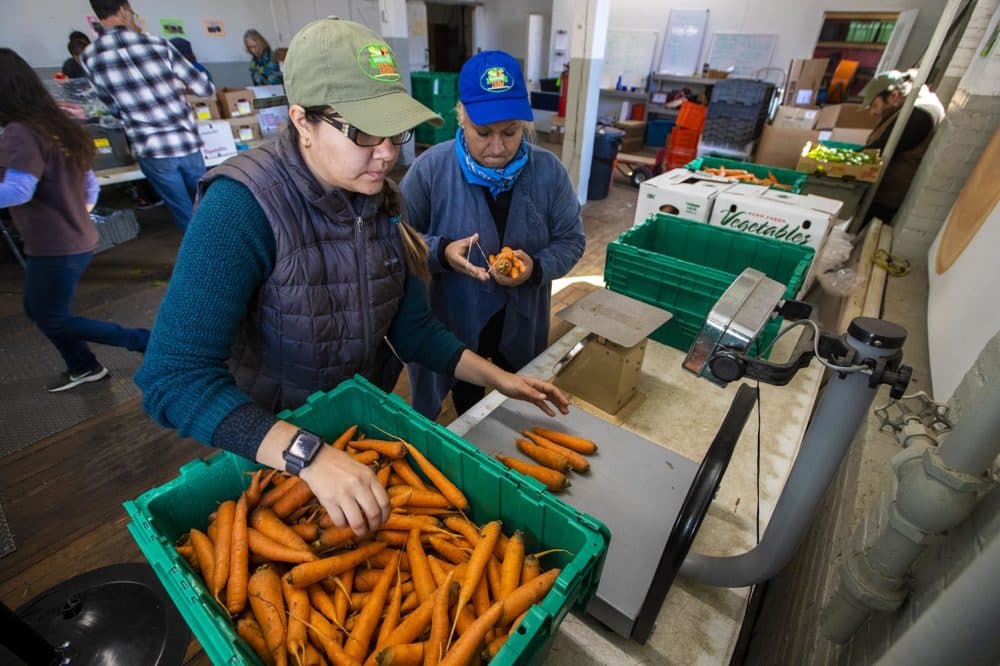 The 20-year-old New Entry program teaches students — many of them immigrants — about the realities of a career in sustainable farming. They also learn about soil management and being stewards of the earth's fragile ecosystem.
Hashley says there's a long list of barriers to getting into farming – everything from high estate taxes that prevent farming families from passing down land, to over-development, to a lack of agricultural policy. She points to the stat that about 1 percent of workers in the U.S. are involved in agriculture. Hashley believes people have lost reverence for where our food comes from.
New Entry student Jorge Marzuca feels farming is one of the noblest professions.
"We think the future of farming is small farms, CSAs," he says, adding that farmers should diversify their crops and rotate their fields.
As Marzuca sorts and weighs peppers, he explains that he and his wife, Daniela, moved to the U.S. from Mexico where they worked on a 200-acre broccoli farm.
"Mexican farmers are used to just doing one crop," he says, speaking of the practice that's known as monoculture. "You stick with broccoli, you stick with strawberries. And now we're seeing the side effects of that. More erosion, less products and you have to put more fertilizer in."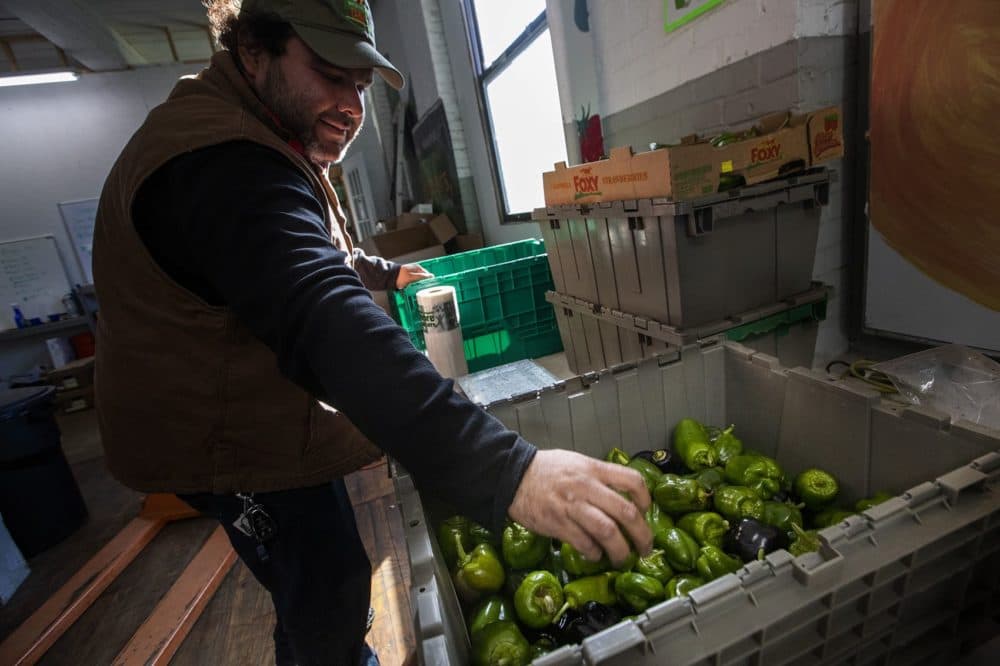 Now Marzuca wants to farm differently by growing a wide variety of crops and selling them locally and directly to people in his community. This, he says, will help open more people's eyes to the benefits of sustainable agriculture. Still, the 34-year-old farmer sees tech in his future.
"We have to combine and find the balance between labor and technology because a lot of people need jobs," Marzuca says, "but we also need technology to be better farmers."
Industrial agriculture is one of the world's largest polluters. Everyone interviewed for this story agrees: The more sustainable farming there is — in fields, shipping containers, greenhouses, backyards and even on balconies — the better off we, and the planet, will be.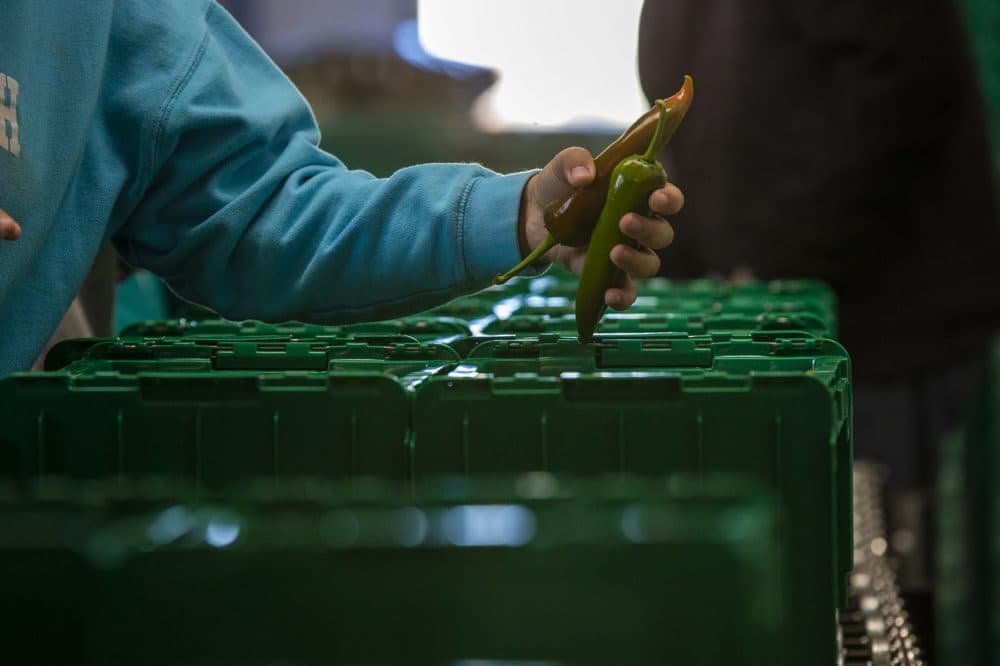 Correction: A previous version of this article misstated the number of Leafy Green Machines that exist in the world. The story has been updated. We regret the error.
This article was originally published on November 19, 2018.
This segment aired on November 20, 2018.