Salad And Gravy: In Merrimack Valley, Thanksgiving Prep Without Gas
03:10
Play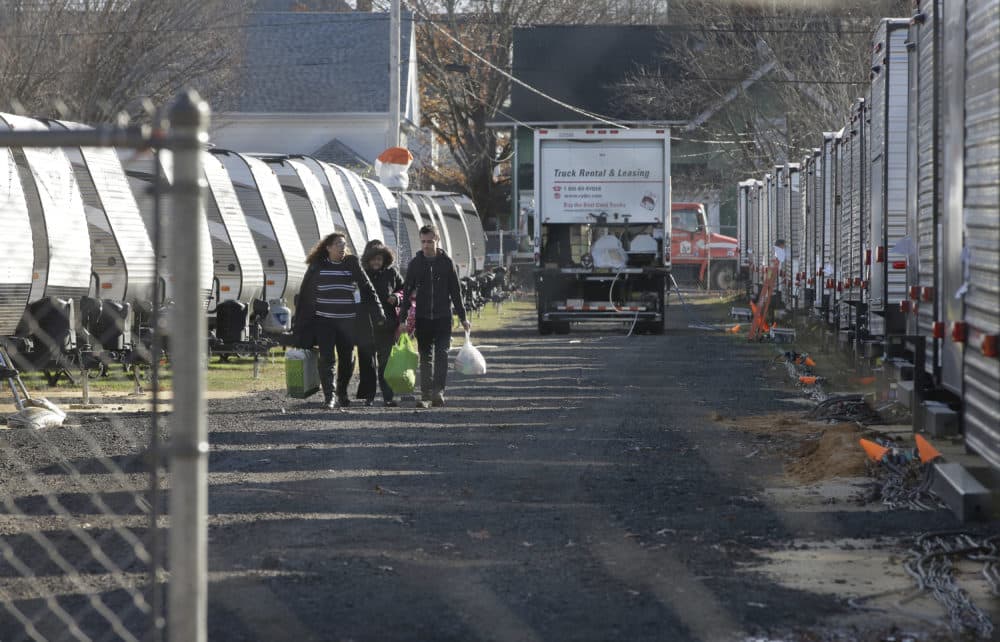 This article is more than 2 years old.
Thousands of Merrimack Valley residents won't be in their homes on Thanksgiving with the usual holiday accouterments. After the gas explosions in September, many will spend it in temporary trailers or hotels in places like Danvers or Chelsea.
But Stephanie Gonzalez, who lives in South Lawrence, said she's going to try to rough it at home on Thursday.
In her neighborhood — with charred shells of homes cordoned off with yellow crime scene tape and where there seems to be way more crows than people — it's possible that a house can have gas and and the adjacent one still doesn't.
Gonzalez spent a recent evening scraping ice off of her driveway. She's prepared for a frigid Thanksgiving. She has gas for heat, but not for cooking. She's invited her uncle and his family for Thanksgiving dinner because their home, situated just behind hers, has no gas at all.
"We bought one of those ovens that you plug in," Gonzalez said. The hot plates Columbia Gas provided aren't cutting it. She said it took three hours to boil potatoes.
"We've just been able to boil and fry things," Gonzalez said. "We used to do a lot of baking, but can't do any of that."
Without gas, she doesn't expect to be able to cook any of the Thanksgiving staples.
"I think the only thing we could make is salad," Gonzalez said. "Gravies, I guess. That's about it."
Even though Columbia Gas plans to provide 20,000 Thanksgiving dinners, Gonzalez said she and her family will eat out if they can't prepare a meal themselves. She said she doesn't know what to be thankful for at the moment, but will be thankful if she gets gas in time to cook a proper holiday meal.
Next to Gonzalez's neighborhood is a park where families are temporarily housed in camping trailers. At one of those trailer sites last week, Lawrence Mayor Dan Rivera said that there will be an attempt to make the sites as festive as possible.
"Thanksgiving in the Latino community is a very important night for us," he said. "So, we're going to try to do that as part of the efforts. There'll be music and arroz con gandules and pernil in the tents in and around our community."
The mayor said he recently got his gas restored. Other area residents, who still don't have gas, will spend the holiday away from their homes.
Christina Ouimet, of Andover, will spend the day with friends on the South Shore. Since the explosions, she's been living with a family she met at church.
"A couple who didn't know me very well said, 'come and stay with us,'" Ouimet recalled.
She said she has a lot to be grateful for this Thanksgiving.
"For life, for the kindness or people who open their hearts to me," Ouimet said. "And to the people who are working to fix the problem."
Columbia Gas says it hopes to have gas restored to everyone by Dec. 16, right in time for the next round of holidays.
This segment aired on November 21, 2018.