Suffolk Sheriff Sets Up Family-Oriented Cellblock To Keep Young Inmates Out Of Jail
Resume
It's been six months since Gonzalo Ticas landed in South Bay House of Corrections in Boston's South End. He was sentenced to a year for violating probation — and with a pending court case, he fears he could see more jail time.
"I'll definitely be receiving more time, unfortunately, but I'm going to work hard," he said. "So hopefully, [I'll] get out sooner than later."
Ticas is 23. He and two dozen other young inmates under 25 at South Bay have a reason to be optimistic about getting lenient treatment thanks to a new program launched by the Suffolk County Sheriff's Department.
Focus On Intervention Over Punishment
It's known as the PEACE unit — a cellblock designed to try to make sure young inmates never return.
"This is not your grandfather's incarceration facility any longer," said Sheriff Steve Tompkins, who runs South Bay as well as Nashua Street Jail in Boston.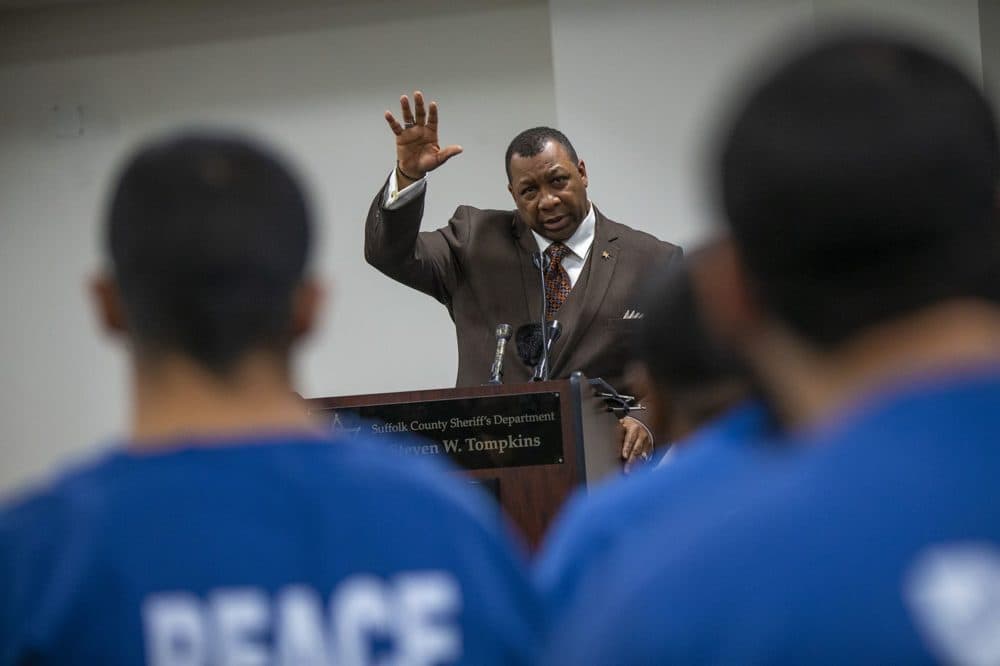 Tompkins recently told a roomful of public officials and inmates that the PEACE unit — an acronym for "Positive Energy Always Creates Elevation" — is part of an effort to reshape the way people are treated behind bars.
"As we all know, this country incarcerates far too many of its citizens, and far too many black and brown and poor citizens," he said. "And so this initiative is one way to address that situation."
The PEACE unit promises a more open, familial environment than the typical cellblock at South Bay. Officials at the jail said they're trying to foster respect — not just between those doing time, but also between inmates and officers.
The three officers assigned to the PEACE unit went through restorative justice training before the unit opened. When an inmate misbehaves, officers have been trained to intervene before resorting to punitive measures.
The unit opened a month and a half ago, and Ticas said it's already changed his perspective.
"I definitely have transformed to a better man so far," he said. "I definitely just feel better about myself. I'm enrolled in college courses, and I'm taking every program and advantage that I can."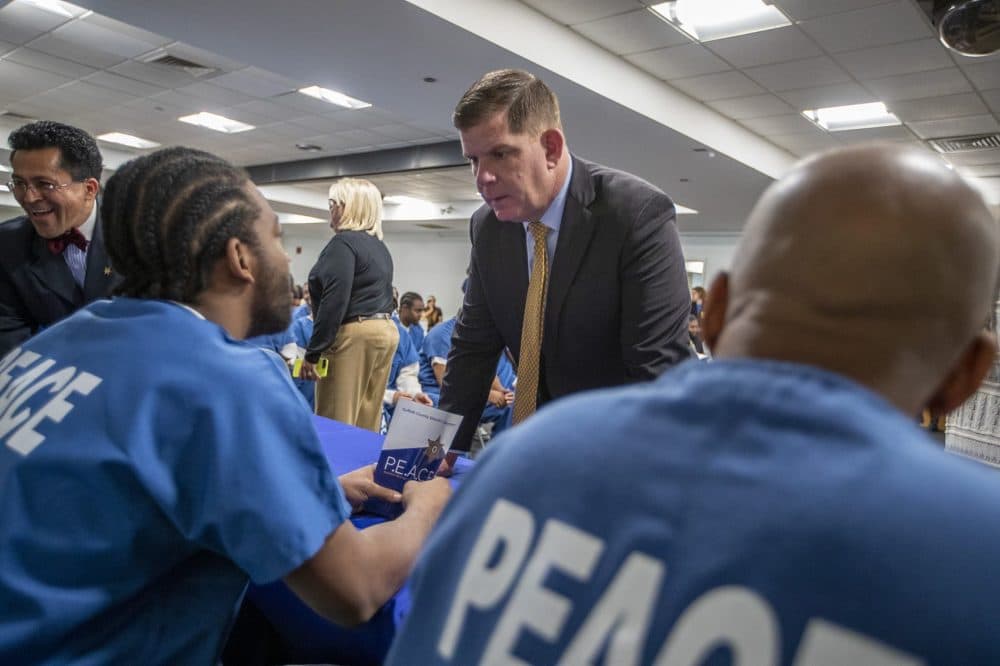 The PEACE unit is based on a model that comes out of Germany, which is known for its progressive penal system. A county in Connecticut has implemented a similar program for young inmates, and Middlesex County started a program of its own back in February.
On the wall in a study room are portraits of various visionaries — from Malcolm X to Muhammad Ali, with a quote from Gandhi outside. There's a workout area, and a PlayStation 4. (Science says young minds like video games, one sheriff's department official told me.)
"We want them to leave better than they came to us, and hopefully never to return."

True-See Allah, assistant deputy superintendent
The young men still live as prisoners, but they get more access to resources than the rest of the population. Not only is there a video game console for the unit, there's more direct programming. Inmates also engage more with outside groups that come into the jail.
Still, Ticas says doing time is difficult.
"It's a lot of mental suffering. But you learn how to cope with it," he said. "You have to cope with it, and you just have to stay strong, and you gotta adapt to the environment, and you know, strive for success and make the best out of it while you're here."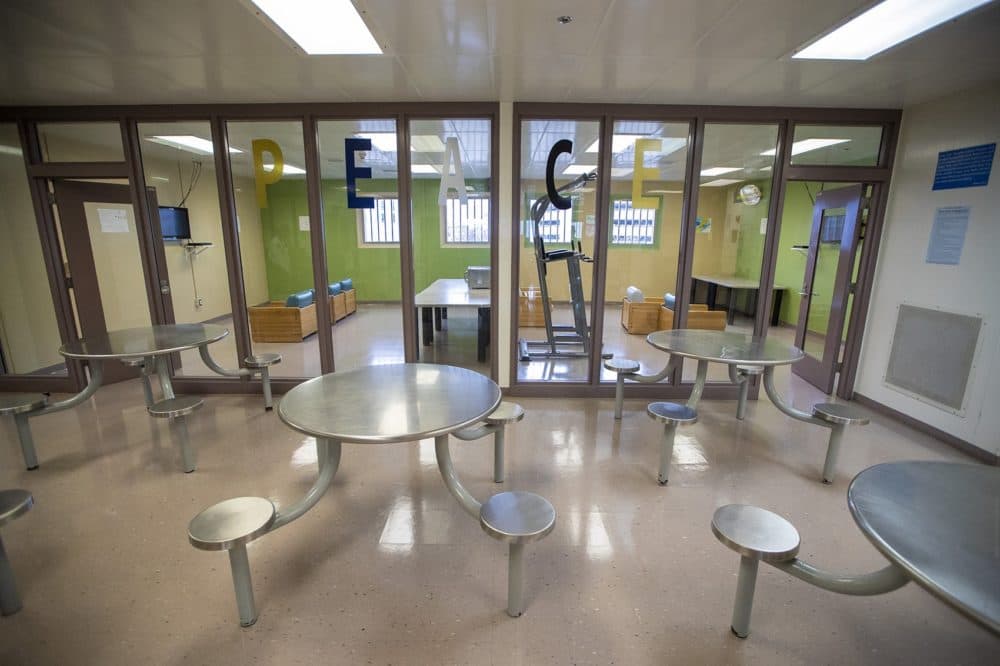 The PEACE unit currently houses 26 inmates, with a capacity for 75. Participants are selected based first on their age, but people prone to fighting, or inmates with rival gang affiliations, don't make the cut.
HOC officials said there have already been bumps along the road, including some "dissenters" who they said were weakening the morale of the other participants, and had to be removed.
But True-See Allah, assistant deputy superintendent for reintegration services, said the overarching goal is to move away from punishment and toward encouragement.
"It's not rocket science," Allah said, adding that if you treat someone well, they're likely to respond well. "We don't want the young guys to be institutionalized," he said. "We don't want them to think that doing time is normal, and we want them to leave better than they came to us, and hopefully never to return."
Criminal Justice Reform
The program was designed to better prepare inmates for the outside world. But even when they get out with new skills, they'll still be branded as criminals. That could change under incoming Suffolk District Attorney Rachael Rollins.
Rollins said she's not committing to a new policy yet, but efforts like the PEACE program could play a role in deciding whether to offer leniency.
"In certain circumstances if you learn something new in the process while the individual — let's say, hypothetically — is in the PEACE program, that we would say, 'New information has come to our attention, and we would like to revise what it is that originally we had proposed and revoke that felony.' "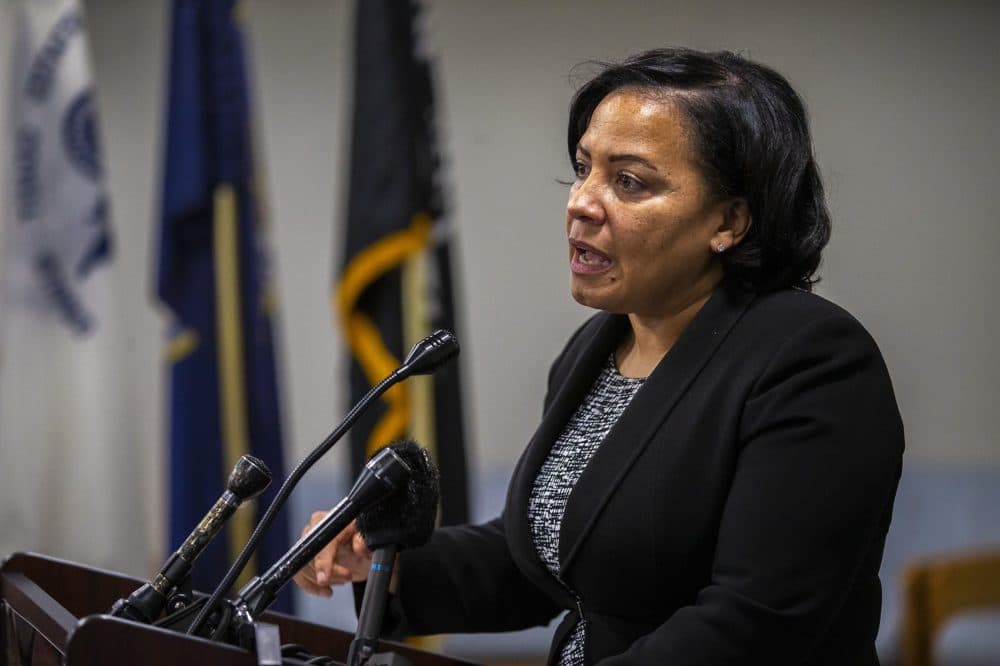 A recent study from the Council of State Governments Justice Center shows Massachusetts has managed to decrease the three-year recidivism rate among state prisoners by 28 percent over a decade. That makes the state a leader nationwide.
But in Suffolk County, officials say the recidivism rate is 46 percent.
Vincent Schiraldi of the Justice Lab at Columbia University, a proponent of the PEACE program, said there's a long way to go.
"Right now, the outcomes for young people coming out of the houses of corrections in Massachusetts are terrible," Schiraldi said. "They get rearrested more frequently. They are also — they die of opioid abuse at 10 times the rate of people coming out of house of corrections that are over 45 years of age."
Schiraldi said the PEACE unit is the right idea, but the results will only be evident once the inmates get the chance to reintegrate into their communities.
Suffolk County officials said if it does work, the PEACE model could be implemented across the county — and not just for inmates 25 and younger.
"The concept behind it all," said Allah, the sheriff's reintegration chief, "I think it would work department-wide."
This segment aired on November 29, 2018.