Newbury College In Brookline Will Close At End Of 2019 Spring Semester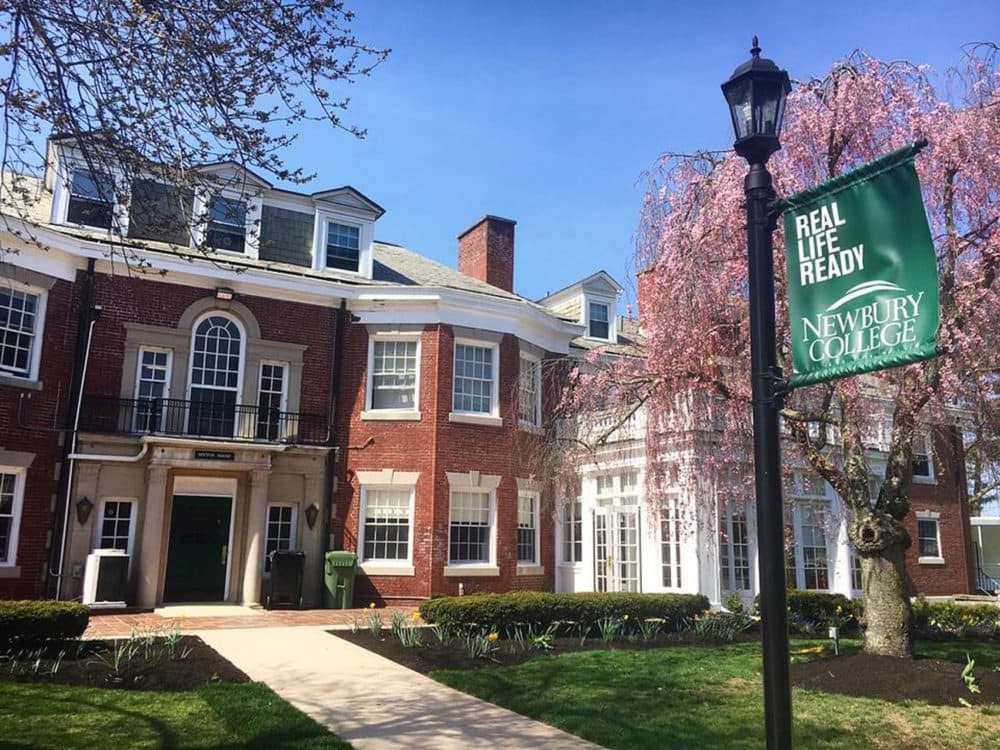 This article is more than 3 years old.
Another small liberal arts college on the outskirts of Boston is closing as it deals with "weighty financial challenges."
Newbury College in Brookline announced Friday that it intends to cease operations after the spring 2019 semester, though President Joseph Chillo said in a message to the college community that officials are exploring partnerships that could keep the school open.
"The Board of Trustees and I have concluded that it is in the best interests of our students, prospective students, faculty and staff to notify them immediately, so they can make the best decisions for their future," Chillo wrote in a message posted to the college's website. "Accordingly, we are providing this notice, before we are legally required to do so, because it is the right thing to do."
The college was founded in 1962. Its fall 2018 enrollment was 627 students and tuition for the current academic year is nearly $34,000.
"I appreciate the fact that Newbury College has been pretty active in their discussions with people at the Board of Higher Education on the challenges they face and that they are trying, I believe, in good faith, to make this announcement early enough so that existing students and prospective students have options and possibilities with respect to the decisions they make, and to give faculty and staff time to plan as well," Gov. Charlie Baker said Friday.
The impending closure of Newbury College comes months after the closure and sale of Mount Ida College in Newton roiled the higher education world. The deal for the University of Massachusetts Amherst to buy the Newton campus appeared to have taken public higher education officials by surprise.
Chillo said he and the Newbury College board are working closely with the Department of Higher Education and are "in the process of formalizing agreements with area colleges and universities to ensure our students have the best opportunities to continue their studies and to earn their college degree."
Asked whether the Newbury College closure compared to the Mount Ida situation, Baker said, "I think Newbury has tried enormously hard ... This is an awful and terrible thing. There is no question about that. But I think they've done a lot for the kids, for the parents, for the faculty, for the staff, for everybody by saying this now ... I think Newbury has made a good faith effort in a really tough situation to try to figure out a path forward that provides people with options."
The governor said the state Board of Higher Education "is going to work aggressively with them to make sure that the kids and as many of the staff as possible have options and possibilities put forward to them that involve other institutions."
The Boston Globe reported in August that the college had been put on probation by a regional accrediting agency over concerns about the school's finances. The report said enrollment at Newbury College declined by 24 percent from 2012 to 2016.
"It is no secret that weighty financial challenges are pressing on liberal arts colleges throughout the country. Newbury College is no exception," Chillo wrote. "These financial challenges, the product of major changes in demographics and costs, are the driving factors behind our decision to close at the end of this academic year."
Chillo said more information on the school's closing plans will be made available "shortly" and that students and faculty will receive regular updates.
In his report to the UMass Board on Thursday, UMass President Marty Meehan touted steps UMass is taking to improve, which he wrote "will be necessary if we are going to thrive and remain affordable for students in the current higher education marketplace and state fiscal environment."
"Higher education is at a crossroads, with disruption on the horizon that will impact all colleges and universities, but particularly those who have not taken steps to prepare for potentially rapid change," Meehan wrote, according to the president's report to the board.
Baker on Friday also promoted a bill he filed after the Mount Ida incident occurred.
"We need to create a mechanism for the Board of Higher Ed and other people to create some sort an early warning process," he said. "That legislation didn't pass, and we'll refile that, but it got a ton of debate and a lot of discussion, and my hope is that we'll put some sort of mechanism in place that makes it possible for the state to be a proactive player as schools and colleges deal with this issue going forward."
Michael P. Norton and Chris Triunfo contributed reporting.
This article was originally published on December 14, 2018.