15 Ways To Reduce Holiday Food Waste, Plus A Recipe For Those Pesky Leftovers
Play
This article is more than 4 years old.
Ah, the holidays. Parties! Hors d'oeuvres! Cookies! It's a time bursting with opportunities to eat, drink and be merry. But, sadly, it's also a time of great food waste.
As we plan bountiful feasts, consider this sobering stat: About 40 percent of food produced in the U.S. is wasted, according to the Natural Resources Defense Council. And, the council found, Americans waste about 50 percent more food today than they did in the 1970s.
Waste occurs at all stops along the food system chain — on the farm, during shipping, at grocery stores — but, of course, in our own kitchens, too. It gets tossed for so many reasons — for being imperfect, because our eyes are too big for our stomachs and we don't know what to do with leftovers. But, there are ways we can all be less wasteful.
That's why we reached out to food waste warrior Irene Li, co-owner and chef at Mei Mei in Boston. On a tour of her sustainability-driven restaurant, she offered strategies she uses to cut down on waste that we all can use at home.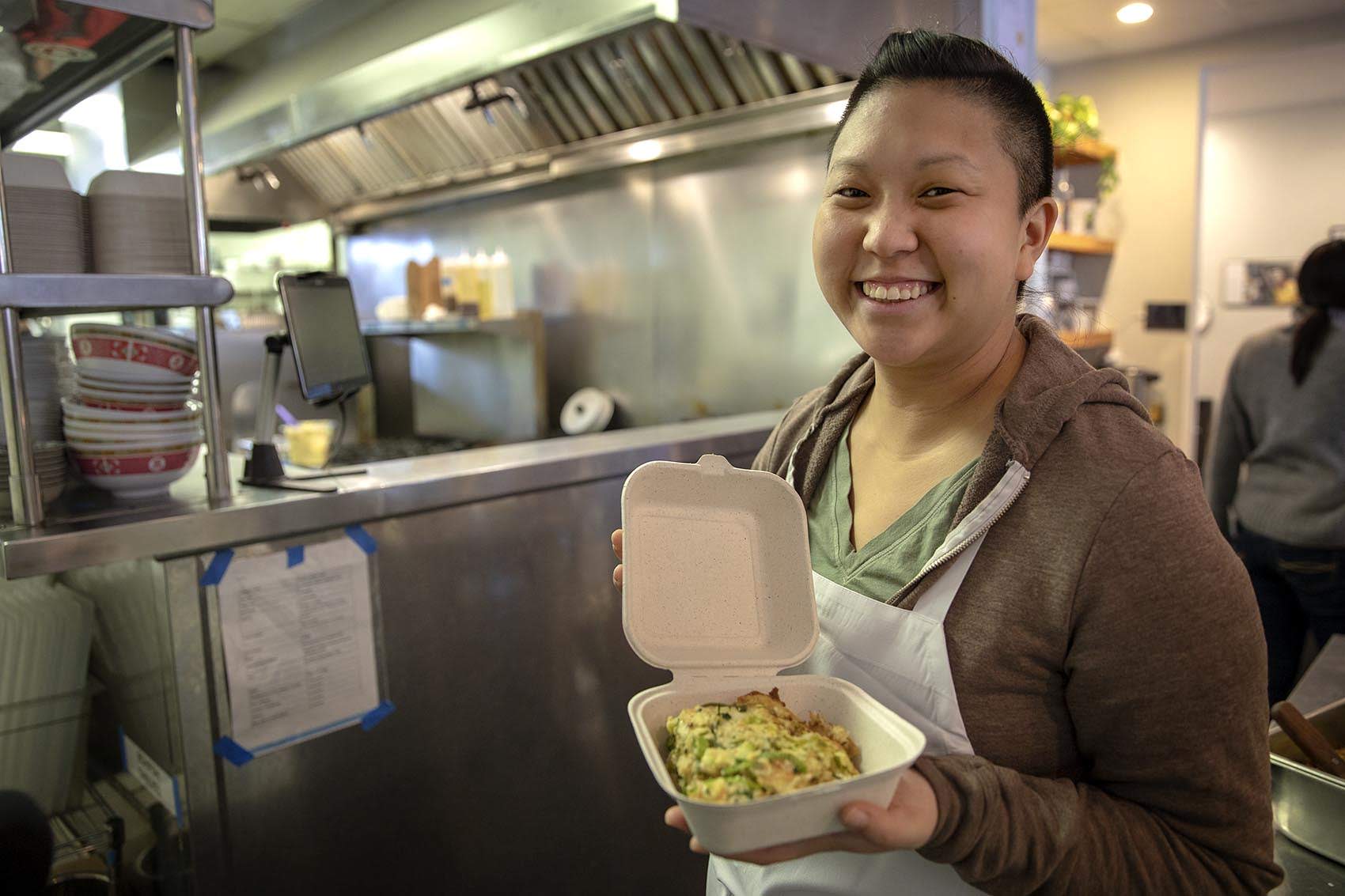 Below, we've compiled a list that includes Li's simple tips — and our own — for how to reduce food waste around the holidays and beyond. Please share your tips in the comments below, or tweet at us at @WBUR.
1. Guesstimate Dinner 
For most holiday hosts, the fear there won't be enough food is inevitable. But making too much — like cooking for an army in a mess hall instead of family and friends in your dining room — is a surefire way to end up with a food waste fiasco. An online party planning calculator, known as a the "Guest-imator," can help.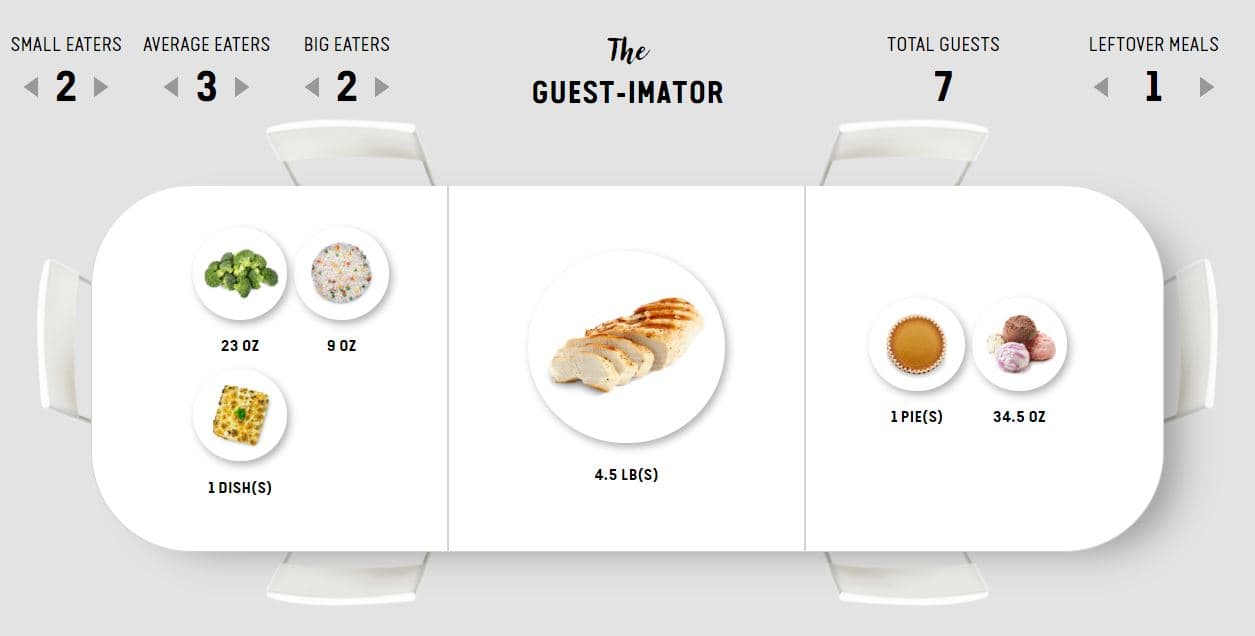 This easy-to-use tool from the Natural Resources Defense Council asks you to plug in several variables — number of guests; numbers of small, average and big eaters; etc. — and then spits out how much food you'll need for the evening. It even lets you specify if you want leftovers, and if so, how many meals-worth of leftovers you want.
2. Choose Recipes That Share Ingredients
Need 10 egg yolks for your holiday custard? Craft a "flip" cocktail that uses the whites or bake a batch of meringue cookies. Making a creamy soup? Use leftover dairy to whisk up fresh whipped cream. Got half a loaf of bread left after slicing out the bruschetta? Make breadcrumbs for another app, like stuffed mushrooms. Try to also choose recipes with leftovers in mind. For example, make a cabbage slaw instead of a green salad that won't hold up beyond dinner.
3. Make A Shopping List — And Stick To It
Before you even head to the store, shop in your own kitchen. Chances are you don't need a new bottle of vanilla extract or Worcestershire sauce, or yet another head of garlic. They're all likely hiding in the back of your fridge or pantry. Inside the store, control the temptation to buy an extra few of this-or-that — especially perishable fruits and veggies. While you might worry you'll need it, chances are you'll be just fine if you stay true to your carefully plotted course.
4. Eat Root-To-Stem
Try to use every part of the fruit or vegetable. Broccoli, kale and Swiss chard stems are more than just edible, they're yummy. Don't throw away lemons after squeezing out just a tablespoon. Slice and use them in water pitchers or zest their fragrant skins for sauces, pies and cocktails. Process carrot tops, celery leaves and parsley stems in a winter pesto. Did you know fresh herbs are one of the most commonly tossed ingredients? Irene Li has more tips on what to do with those herbs.
5. Buy 'Ugly' Fruits And Veggies
They might not look perfect, but chances are they'll taste just as good — maybe even better — than prettier fruits and veggies in the produce aisle. And you'll be saving them from the grocery store dumpster.
6. Put It In A Basket
Walk right past those large grocery shopping carts. They are easier to fill up with stuff you don't need. Instead, reach for a handbasket. Baskets get heavy quickly, allowing you to better feel the physical (maybe even moral) weight of your purchases.
7. Save Those Scraps
Make stock, stuffing or soup with ham, turkey or chicken bones. Veggie stock, too, with, say, tops and stems. Freeze them if you're not sure what to make in the moment. Those cocktail party snacks — like leftover meats, breads and cheese nubs — can be combined for a chance at a second life. Below, watch Li whip up this savory bread pudding from typical party leftovers.
8. Tell People What You Need — And Plan For What They Want
It's the season of giving. No one wants to show up empty-handed to a holiday feast. But, you don't want everyone coming with a loaf of much-hated fruitcake or three fresh-for-a-day baguettes. So, be direct: Ask people to bring exactly what you want. Don't be shy about asking guests to come with dishes you know they can whip up with ease that you need and everyone will actually eat. Get ahead of their ambitions by asking them not to make two batches of hors d'oeuvres or come with an unexpected, "just-in-case" dessert. Ask the rest of your guests to bring a bottle of wine or some other offering that has staying power.
Oh, and everyone wants to love vegetables, sure. But, as Li says, sometimes you just want to eat mashed potatoes around the holidays. Get ahead of your guests' good intentions here, too, and tell them that you think you're all set with elaborate vegetable dishes.
9. Beat The Heap
When there's a glorious feast laid out in front of you, of course you want to try everything. But, one way to avoid loading up on mashed potatoes that go uneaten is to use smaller dishware. Plus, small plates are all the rage in restaurants. Why not at home?
10. Clean-Plate Club
Tell your guests you're hosting a competition for people who clear their plates, and that you're doing this to promote food waste awareness. Promise a clever and desirable reward. It will encourage your guests to think twice before overloading their plates at your house, and hopefully into the future.
11. Label, Label, Label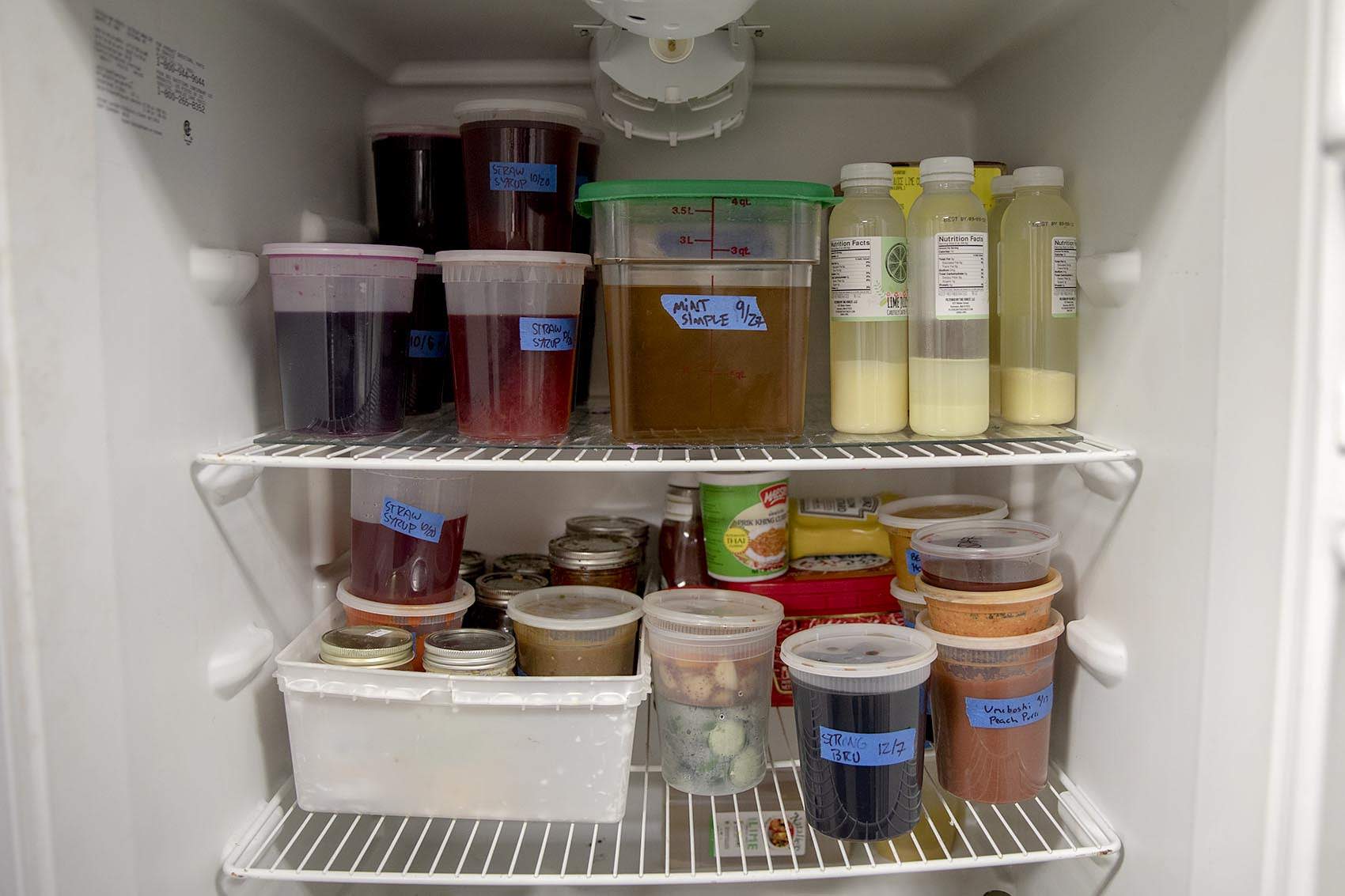 Who hasn't opened the fridge to find some mystery food in a box, bag
or container only to have no idea how old it really is? The solution: Label those leftovers! Include the name of the dish and the date. As Li says, "label or it disappears." All you need is some masking or blue painter's tape and a Sharpie. It's a small investment that could cut down your grocery bill.
12. Keep Food In Your Face
Food arrangement matters, too. With some practice you can organize the ice box in a way that encourages consumption. Li's rule — known as FIFO — requires a "first in, first out" attitude. To help, take labeling to the next level by using Li's trick of labeling food with clear acronyms, like "UF" for use first. She said everyone could also do well with a "Eat Me First" box in their fridge. Take cues from the grocery store and make sure older labeled items are in front of the newer ones on your fridge's shelves.

Another clever strategy from Li is smart freezing. Keep the containers and bags of frozen leftovers in vertical file organizers rather than stacking. No more freezer avalanches!
13. Food Party Favors
Send folks home with a doggie bag. Be sure to put it in a reusable or biodegradable container. Or even better, pop it into a cute mason jar — you can even include a recipe on the front. Package everything up immediately after dinner so that it is ready to go before people take off. Put the leftover boxes in an accessible, hard-to-miss spot. Bonus suggestion: Ask guests to show up with their own recipes for repurposing leftovers inspired by the evening's menu.
14. Audit Your Food Waste
It might sound extreme, but try documenting every morsel of food you throw away over the course of one week. Don't just calculate the amounts that head to the landfill, but also what those items cost. If you're more visually-oriented, collect all of the lost food in a separate container, bag or bin and take a photo at the end of the week. This will help you identify your personal food waste culprits. Maybe lettuce is something you buy with the best of intentions, but then it wilts. Too many leftovers from restaurants? Adjust how much you order. At the end of your holiday party write down which appetizers or sides the crowds didn't gobble down. Next year, you'll know to make something else.

You can find a Weekly Wasted Food Form, along with myriad ways to reduce your own food waste footprint, in NRDC researcher Dana Gunders' book.
15. Resolve To Compost
Looking for a New Year's resolution? Start early by composting at home for the holidays! There are few local companies, like Bootstrap Compost and Black Earth Compost, that will pick up food scraps from your doorstep each week. If you'd rather put a bin in the backyard, it's good to know that many municipalities provide low-cost compost bins to residents, or have locations where you can drop off your old scraps. By composting, you're sending your scraps back to the earth that might one day help make more nutritious food.
---
This is part of our series "Lab to Table: The Future of Our Food." In the spring, the series will continue with another week of stories.
This segment aired on December 18, 2018.