Choreographer Bill T. Jones Brings Exploration Of Trauma And Oral History To ICA
Renowned choreographer Bill T. Jones craves more than just mastery of movement on stage. He wants to tell stories, to explore trauma and memory, to challenge the audience to question its privilege.
At Boston's Institute of Contemporary Art from Thursday, Feb. 14 to Sunday, Feb. 17, Jones' dance company will present a trilogy of evening-length works, "Analogy/Trilogy," inspired by the writing of German novelist and essayist W.G. Sebald, whose unique approach to narrative captured Jones' attention. "It was something that fell out of the mist of time," Jones says, describing the first time he read Sebald. "With Sebald, there is a narrative voice that is both within and removed from the story. You're not sure if it's fiction or fact." This, he adds, "makes the story all the more peculiar."
Exploring Sebald's work onstage offered him a new way into his own artmaking, a method that Jones describes as more "literary" than before. "I keep looking for a way to create a form that is able to draw energy from life experience, but on the same token exits on another level — one available to thinking, feeling people."
Taking cues from Sebald's approach to voice, style, and perspective — in works such as "The Emigrants" (1992) and "The Rings of Saturn" (1995) — Jones combines dance, text and gesture to examine the lives of three people, whose life-stories reveal themes of personal and collective memory, self-revelation and deception, history, trauma and loss.
The result, Jones adds, is a set of characters whose lives are on display through an arrangement of various parts: movement, narration, text, costuming, music, sets. It is the work of the audience, like the work of Sebald's reader, to piece them all together.
The first part of the trilogy, "Dora/Tramontane," centers around an oral history Jones conducted with his (then) 95-year-old mother-in-law, Dora Amelan, a French-Jewish nurse and social worker during the Second World War. Jones' cast of nine dancers performs Dora's story, including her involvement in underground resistance in the Vichy internment camps of Gurs and Rivesaltes.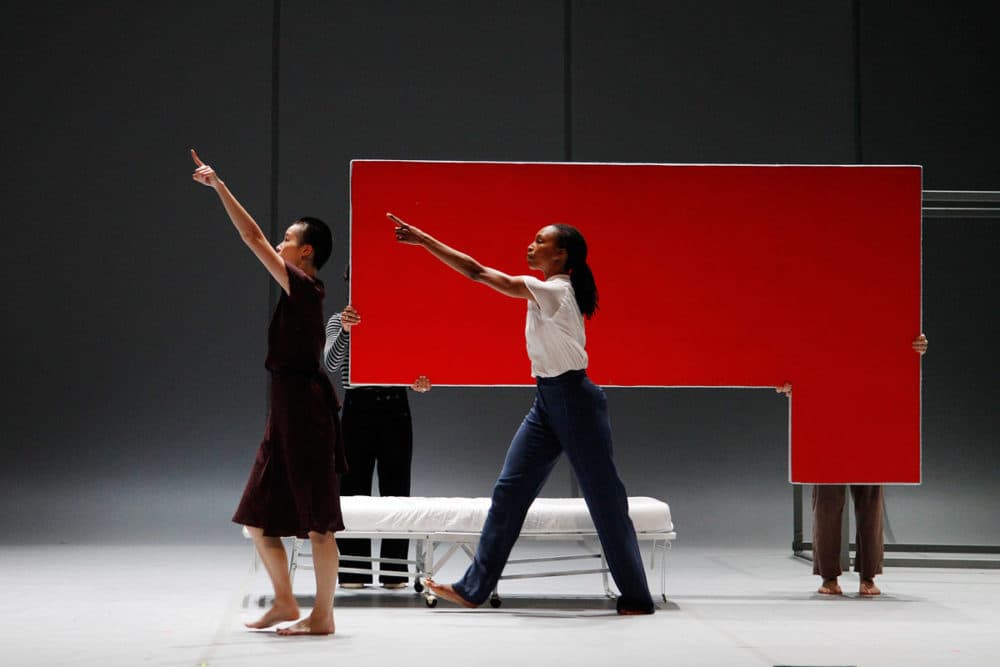 Framed as a series of vignettes, "Dora" features movement alongside spoken text; the score, by Jones' musical collaborators Nick Hallett and Emily Manzo, is comprised of a mixture of Chanson-style French songs of the 1940s and 1950s, "Lieder" by 19th-century German composer Franz Schubert, as well as original songs.
The work's shifting narrative voice and scenic imagery — a moveable set of solid-hued geometric flats designed by Amelan's son (and Bill's husband) Bjorn that the dancers move and manipulate — bring to life the episodic, dream-like feel of Sebald's texts.
The end result is similar to reading a novel by Sebald. We are transported to a different place and time, yet the view from where we find ourselves unsettles as much as it orients us.
Part Two of the trilogy, "Analogy/Lance," takes us to a new location through similar means. The focus of the work is Jones' nephew, Lance T. Briggs, whose life is told through movement, music, and text drawn from a series of conversations between Jones and Briggs.
Dora's survivorship in internment camps makes way for Lance's survivorship on the battlefield of race, sex, and violence of 1980s and 1990s America; overalls and mid-century period-costumes make way for black hoodies, pink wigs, and gold lamé.
While "Dora" engages directly with Sebald's concern for wartime experience and post-war recollection, "Lance" brings us to the heart of a different conflict: the wars within ourselves.
Briggs journeys from his childhood in San Francisco — one filled with promise and a ballet-school scholarship — to a young adulthood pulsing through night clubs and the sex trade. The dancing onstage is intoxicating, and we are swept away by bursts of sensuous physicality that offer the same gimmers of vicarious and voyeuristic pleasure that made up Lance's world.
Tragically, mirror-balls and carnal satisfaction turn into hospital rooms and prison cells. Ruptures in the smooth flow of pleasure offer us new points for reflection. Here, the audience joins Lance and Jones in the work of excavating history and memory. Lance struggles to reconcile the different pieces of himself, Jones struggles to make sense of his nephew's past, and we, the audience try to understand what it means to look back, and reflect, on the events, decisions, and experiences that make up a life.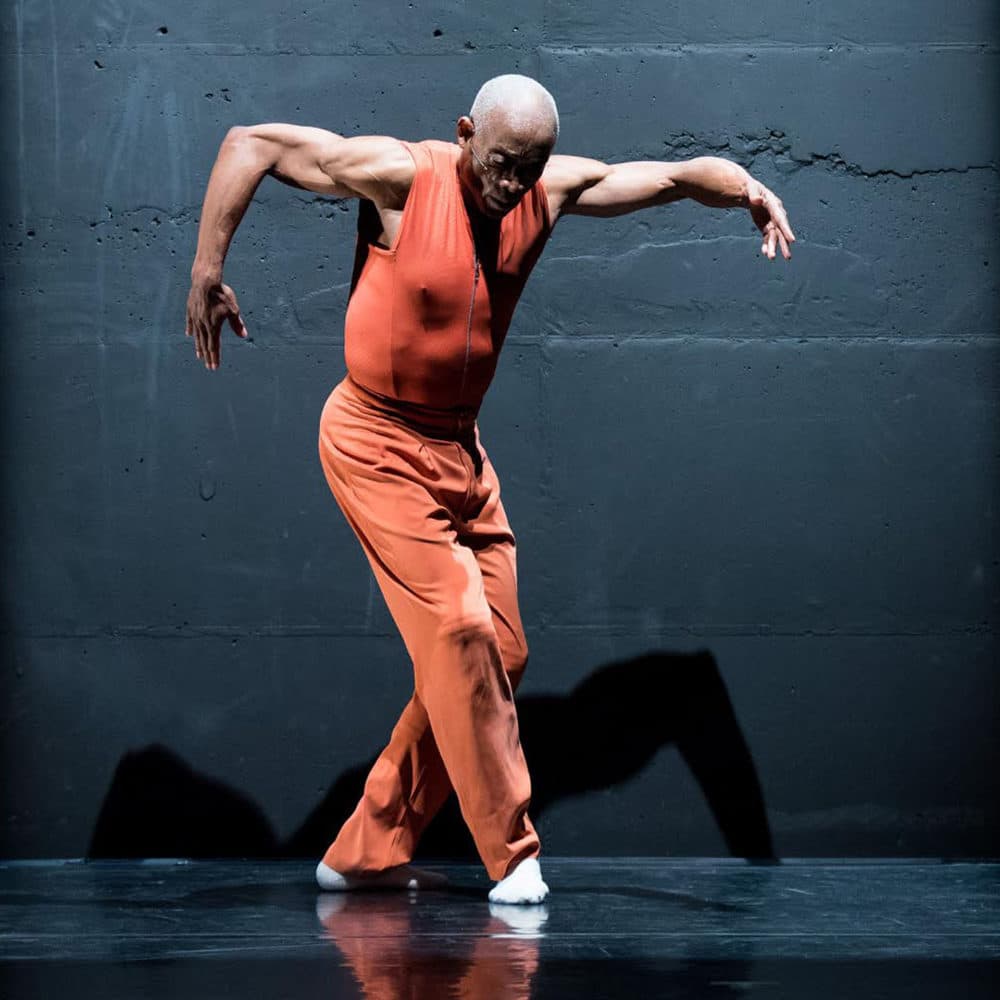 The conclusion of the trilogy brings us to our final point of arrival: the past. With "Analogy/Ambros," Jones offers a reimagining of one character from Sebald's "The Emigrants," a novel that chronicles the lives of four German emigrants to the United States and their experiences before, during, and after, the two World Wars.
In this work, we follow the story of Ambros Adelwarth and his travels across Europe on the eve of World War I as the personal valet of an heir to a wealthy Jewish family. As we enter into Ambros' world, we question the nature of the intimacy between master and servant.
"People often ask me, 'Why this story?' " Jones says. "There is something about the two men having a relationship that everyone around them condones. Their relationship implies something more, which is very poignant. Gay people often live in that 'shadow realm' and Ambros shows how someone in that situation can be alien to himself."
For Jones, the audience is not unlike the reader of Sebald's novel, one who possesses a powerful, and privileged point of view. "We the reader are complicit in some kind of perception of [Ambros], but he is mute. And yet you and I — we — get to look at him and talk about him."
The performance offers another way to understand Ambros' story, not as a detached series of descriptions, explanations, or events, but as flesh and blood — of bodies running, leaping, grasping, breathing.
Ambros is no longer pieced together through a series of photographs or fragments from an archive, but the very flesh and blood we contain within ourselves. Part of the work of the trilogy is to show us precisely how to move from a view of the past that looks outward, to one that looks within.
Jones' work shows us how such perspective, which is intensely physical, disorienting, and at times difficult, comes to life onstage. It is a view that, when seen through the lens of performance, may not offer peace or reassurance from the dizzying view of our own dark times. But it is one, certainly, that we can learn to discover, and makes us all the wiser for.