What Boston Owes To The Bauhaus, As The Experimental School Turns 100
Despite all the Victorian-era townhouses and quaint colonial streets, Boston owes more than you might think to the Bauhaus.
And no, it's not just the iconic white cube of the Gropius House in Lincoln or the Atomic Age modernism of Harkness Commons on Harvard's campus. It's also the Community Rowing Building in Brighton (2008), Simmons Hall at MIT (2002) and the Institute of Contemporary Art perched at water's edge in the Seaport District (2006). It's the IKEA furniture in many of our homes and the abstract art adorning our walls. Even Boston City Hall, much maligned by many Bostonians unappreciative of its Brutalist aesthetic, owes something to the Bauhaus.
How could a city as tradition-bound as Boston be so deeply influenced by an experimental school of art, architecture and design originating in faraway Weimar, Germany?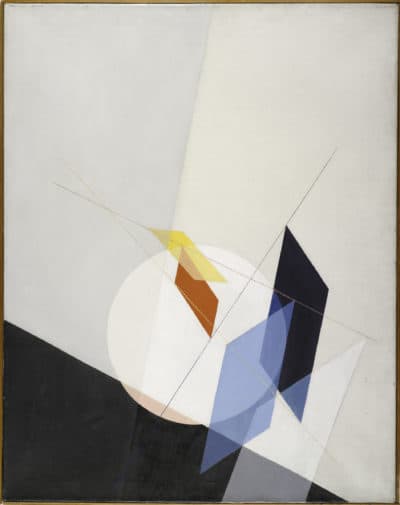 In a twist of fate or an accident of history, it happened that Bauhaus founder Walter Gropius moved to Boston after the Bauhaus school he helped form in 1919 was disbanded in 1933 under pressure from the Nazis. (They called the art coming out of the school "degenerate.") Gropius, an architect by training, became chair of Harvard's Department of Architecture in 1938. He was joined by Bauhaus colleague Marcel Breuer, world renowned for, among other things, his chair designs. But many other Bauhaus instructors would also flee Germany in the years preceding World War II, and they would settle all over the world, many of them in different parts of the U.S. Painter and photographer László Moholy-Nagy and architect Ludwig Mies van der Rohe settled in Chicago while printmaker and painter Werner Drewes moved to New York. Thanks to the Bauhaus diaspora, the "international" style emphasizing modern materials, clean lines and mass production, quickly went global and even managed to infiltrate stodgy New England, land of triple deckers and red brick row houses. The Yankees, it turns out, could get on board with the Bauhaus principles of simplicity, functionality and affordability.
Today we live Bauhaus, although we may not always be fully aware of it. These days we revel in the light and airiness of our open concept homes. Our chic offices are equipped with Wassily chairs (courtesy of Breuer). We set our tables with Bauhaus nesting plates.
"The influence of the Bauhaus is so widespread that traces of it can be found nearly everywhere — in architecture, household objects, graphic design," says Laura Muir, research curator for academic and public programs at Harvard Art Museums. "Contemporary architects and designers are certainly aware of the Bauhaus and aspects of it play out in their work in different ways to different degrees."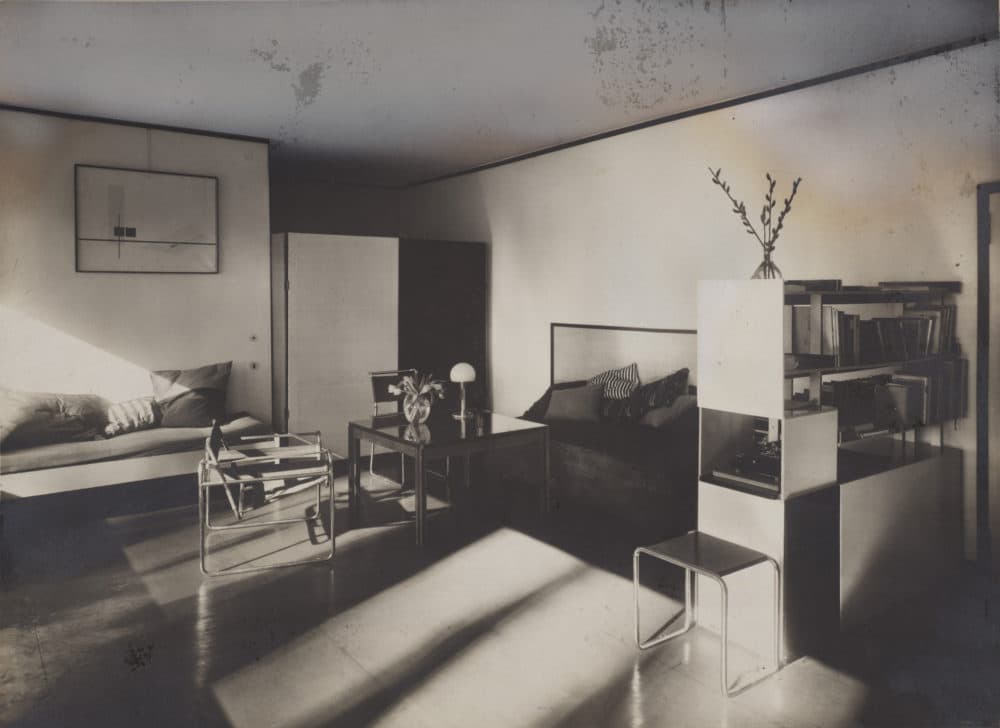 Now finally, we have the opportunity to consider the Bauhaus more fully, thanks to a series of exhibits marking the 100th anniversary of the school's founding. They present a rare occasion to explore an approach to design that was shockingly avant-garde at its inception, but today seems as ubiquitous and expected as the air around us.
At Harvard, the Busch-Reisinger Museum presents "The Bauhaus and Harvard," an exhibition of nearly 200 works by more than 70 artists, drawn almost entirely from the Busch-Reisinger Museum's extensive Bauhaus collection. The show is a natural for Harvard, which became the unofficial home of Bauhaus in the United States upon Walter Gropius' arrival.

Featuring works by major artists, including Anni and Josef Albers, Herbert Bayer, Lyonel Feininger, Wassily Kandinsky, Paul Klee, Breuer and Moholy-Nagy, the exhibition presents rarely seen student exercises, iconic design objects, photographs, textiles, typography, paintings, architectural drawings, studies, sculpture and archival materials. Although all the big Bauhaus names make an appearance, the exhibit also highlights the contributions of lesser-known Bauhaus figures, particularly female artists, like textile artist Otti Berger and photographer Lucia Moholy.
The Bauhaus school was founded as part of utopian vision to rebuild Germany following the ravages of World War I. It dismissed the old academy style of art training involving copying old masters, and instead organized itself around workshops focused on material. It took its inspiration directly from medieval craft guilds and attempted to smash divisions between art and craft. Painters, ceramicists, architects and industrial designers were all regarded as equal partners in creating art, design objects and environments. The idea was to unite fine art and functional design to create practical objects with an artful soul.
"It was multimedia, it was multidisciplinary, and it was attempting to eliminate hierarchies between fine and applied art," explained Muir in an interview with Index magazine in October. "There are also the aesthetics associated with it: clean lines, geometric shapes. Even 100 years later, the Bauhaus seems very forward-thinking and pioneering — a lot of artists and designers are still drawing inspiration from that."
The clean, functional look coming out of the school became de rigueur in fashionable circles of the 1950s and paved the way for subsequent movements toward minimalism in the 1960s and '70s. The style was made popular again in more recent years, thanks, in part, to the 2007 television series "Mad Men," which was something of a mid-century modernist extravaganza. What's striking about visiting the Gropius House today is the fact that practically everything in it, from the Japanese-inspired butterfly foot stools to steel-tube Breuer chairs to the Moholy-Nagy plexiglass painting hanging over the fireplace, is still considered cutting edge design more than 80 years after the house was built.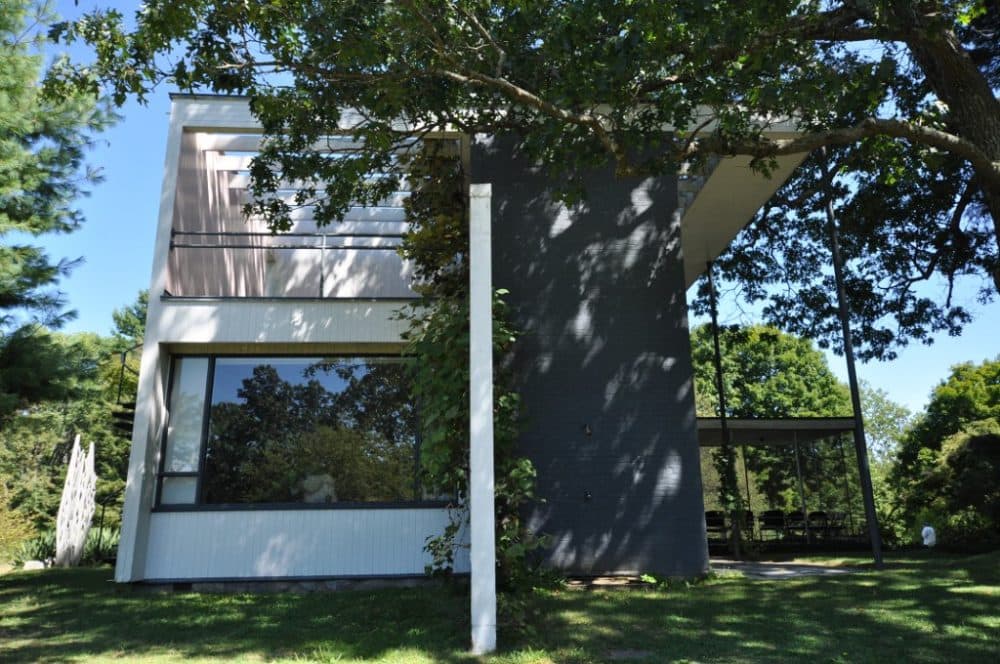 In Boston, Muir says influences of the Bauhaus are all around us, and cites as an example two recent projects on the Harvard Campus — the Smith Campus Center and the Graduate School of Design's HouseZero. HouseZero she says, "embodies the experimental spirit and collaborative work that characterized the Bauhaus. It is an exciting prototype that attempts to solve a contemporary problem by bringing together architecture and technology in innovative ways to create an efficient, comfortable and healthy dwelling.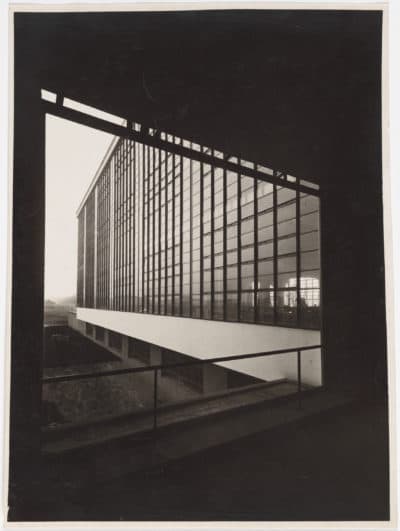 The Busch-Reisinger Museum exhibit is not the only exhibit to catch in this Bauhaus 100th birthday year. In the University Research Gallery at Harvard, Hans Arp's "Constellations II" is on view for the first time in 15 years. Commissioned by Gropius for a dining room in the Harvard Graduate Center, it consists of 13 biomorphic shapes inspired, in part, by the grouping of stars in the night sky. Other Harvard exhibits include "The Bauhaus at Home and Abroad: Selections from the Papers of Walter Gropius, Lyonel Feininger, and Andor Weininger" on view in the Amy Lowell Room at Houghton Library through May 24 and "Creating Community: Harvard Law School and the Bauhaus," on display in the Caspersen Room at Harvard Law's Langdell Hall through July 31.
Also in Cambridge but at the MIT Museum is "Arresting Fragments: Object Photography at the Bauhaus." Featuring 90 digital prints from the Bauhaus Archive, Berlin collection, the exhibit runs March 28 to Sept. 1. The photographs on view were made primarily by Lucia Moholy, Walter Peterhans and Erich Consemüller, and were used in Bauhaus advertising, posters and publications.
Meanwhile, the MFA is getting into the spirit with its own centennial commemoration, "Radical Geometries, Bauhaus Prints, 1919-33" (through June 23). The exhibit includes more than 60 works on paper, mostly prints, but also drawings, photographs and 10 of the 20 postcards designed by faculty and students for the first Bauhaus exhibition at Weimar in 1923.
Like it or not, the plethora of Bauhaus exhibits around town (combined with the built environment itself) proves that when it comes to this experimental design school, we are all Bauhaus students who have learned our lessons even better than we know.