Marvel Studios Brings Us Its First Woman Superhero, But Not A Very Good Movie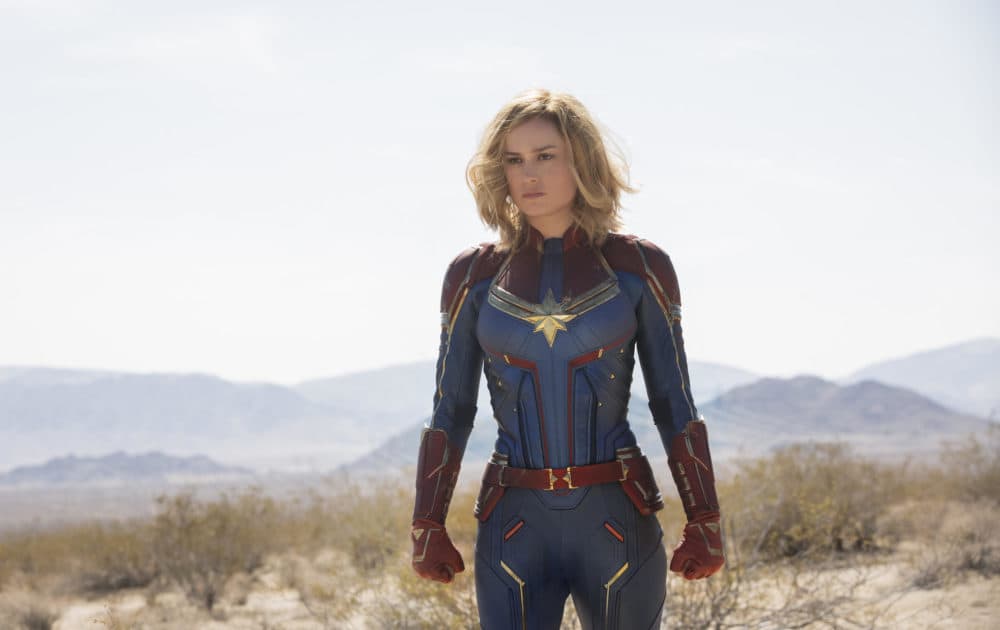 This article is more than 3 years old.
It only took 11 years and 21 movies but the folks at Marvel Studios have finally gotten around to letting a female superhero headline one of their semi-annual franchise installments. Slickly scheduled to land in theaters on International Women's Day, "Captain Marvel" has sight unseen drawn a great deal of pathetically predictable rancor from basement dwellers and internet pests furious that someone allowed a girl into their clubhouse.
As they did in previous years to protest the diversity of "Black Panther" and "The Last Jedi," nerds and trolls once again bombarded the review aggregator Rotten Tomatoes with negative notices to skew the film's audience rating, until last week when the website finally wised up and eliminated their option for the public to weigh in on films that haven't yet been released. "Captain Marvel" has even earned the uninformed ire of former-movie-star-turned-professional-nuisance James Woods, by far the most gifted actor ever to have blocked me on Twitter.

Life online tends to turn everything into a stupid binary, and there's a sentiment going around that lining up to buy a ticket this Friday will somehow strike a blow against the patriarchy, as if a $152 million installment of the most successful franchise in movie history released by the world's largest entertainment conglomerate could be considered some sort of underdog. Believe me, I understand why nobody would want to be on the same side of anything as James Woods, but the culture war component of "Captain Marvel" is further complicated by the fact that the movie just isn't very good.
Probably the most listless and perfunctory Marvel adventure since "Thor: The Dark World," the film stars Brie Larson as Vers — a plucky intergalactic warrior cadet who can shoot orange laser beams from her fists but is haunted by amnesia and strange dreams about Annette Bening. Jude Law co-stars as her persnickety mentor, and together the two lead a team of cosmic commandos protecting the universe from a race of pointy-eared, shape-shifting green guys who are looking for one of those glowing blue magic space rocks that everyone's always chasing around in these Marvel movies.

An interstellar ambush accidentally sends Vers crashing through the roof of a Blockbuster Video on the planet Earth, circa 1995. ("Captain Marvel" immediately establishes itself as science-fiction by the breadth and variety of titles glimpsed on the store's shelves, rather than just 30 copies of every crummy movie that came out six months ago like you'd always find in those blue-and-gold pits of despair.) Her noisy arrival draws the attention of two familiar, fan-favorite agents of S.H.I.E.L.D., played with a bit of digital de-aging by Samuel L. Jackson and Clark Gregg.
What follows is a drab-looking chase picture awash in tedious exposition and overbearing period pop culture references. The '90s nostalgia rides hard in this one, with Larson wearing a Nine Inch Nails T-shirt for a good chunk of the running time and lots of groan-inducing humor about the unwieldiness of antediluvian, Clinton-era technology. Be prepared to laugh at pagers and dial-up modems while humming along to what must have been a staggeringly expensive collection of needle-drop music cues. (Hearing a Nirvana song in a Marvel movie on the day Luke Perry died felt like a dire reckoning for this Gen Xer.)

The only throwback that really worked for me was Jackson delivering a less sweary version of the game, wide-eyed sidekick performance he perfected in mid-'90s action films like "Die Hard with a Vengeance" and "The Long Kiss Goodnight." He's very funny in this movie, loose and light on his feet in a manner that doesn't match up at all with his glowering Nick Fury of the "Avengers" pictures, but so enjoyable to watch even the continuity-obsessed might be tempted to let it slide. Not many performers can eat a sandwich to such droll comic effect.
Jackson's got his work cut out for him playing against Larson, an actress with a screen presence so closed-off from others she always seems to be appearing in her own private movie. (The only performance of Larson's I've ever really responded to was in "Short Term 12," where her natural inaccessibility read as the defense mechanism of a deeply damaged character.) She's a terrible onscreen listener, a quality that works for the alien Vers' early, blithe interactions with dumbfounded earthlings but sinks any attempts at banter.

It doesn't help that the character's journey goes from the cool, confident, most powerful person onscreen to the cool, confident, most powerful person in the universe. The movie lurches inelegantly from one triumphant applause break to another, giving us a heroine without much in the way of self-doubt, weakness or dramatic interest.
Directed by Newton's own Anna Boden and her partner Ryan Fleck (who both co-wrote the screenplay with Geneva Robertson-Dworet) "Captain Marvel" suffers from a disconcerting blandness far afield from the duo's dynamic 2006 feature debut "Half Nelson" — the first movie that really tapped into Ryan Gosling's wonderful weirdness and let his freak flag fly. There's a slack, good-enough-for-government-work vibe to their writing and direction here, with all the big plot turns lazily and endlessly explained by actors standing around in front of nondescript backgrounds.
Cinematographer Ben Davis (who also shot the ghastly-looking "Avengers: Age of Ultron") inexplicably mutes the color palette and backlights the heck out of everything, burying the crazy costumes and wild makeup effects beneath a dingy, dishwater sheen. Even that early laser-battle ambush gets covered up by clouds of dust. The movie appears to visually constrict as it goes along — beginning in the vast reaches of outer space and moving through progressively smaller and less spectacular settings until finally everyone's having a fist-fight in a rec room full of junk.

I understand that to a lot of people none of this will matter simply because it's so depressingly novel to see a female superhero at the center of a big-budget comic book extravaganza. Others may be more inclined than I to forgive the fact that Marvel should have been on this many years ago and that "Captain Marvel" comes off like the company is desperately trying to play catch-up to "Wonder Woman" and "Star Wars."
For me, the final insult was the deployment of Hole's "Celebrity Skin" over the closing titles, Courtney Love's snarling anthem stripped of its phoenix-from-the-ashes context and flattened out into just another piece of '90s kitsch — audio wallpaper for everybody checking at their phones while waiting for the mid-credits teaser for "Avengers: Endgame." Happy International Women's Day!