Walsh Proposes Designated Bus Lanes And A Fenway Pick-Up Point For Uber And Lyft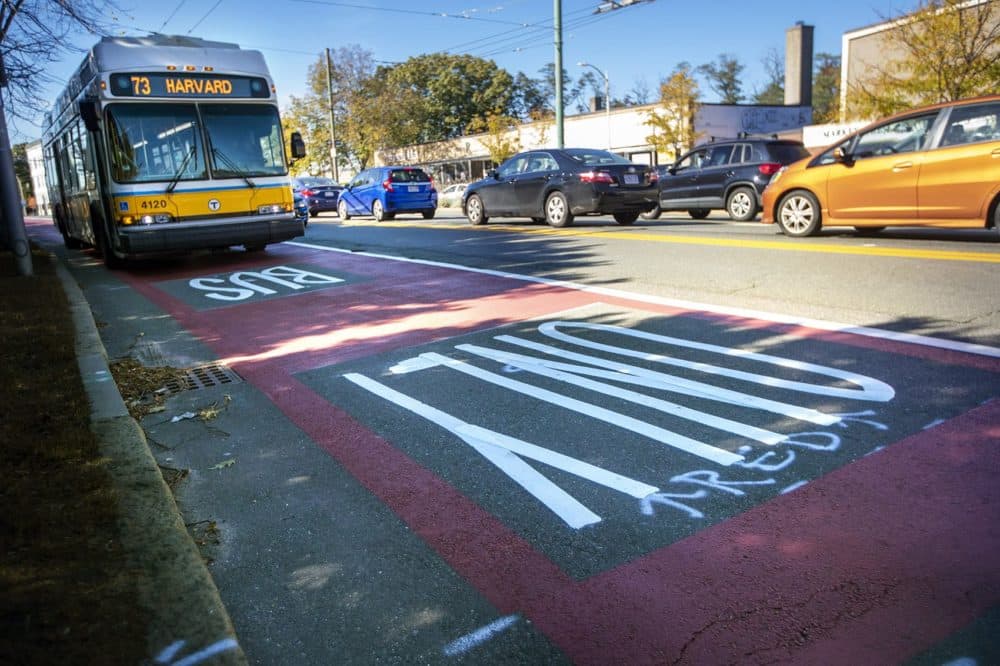 This article is more than 3 years old.
Boston Mayor Marty Walsh outlined on Thursday new initiatives designed to improve traffic flow in the city by the year 2030.
Starting this month, the city will create a designated pick-up point near Fenway Park for ride-hailing services getting patrons in the evenings. The zone will not be exclusive to ride-hail pickups, city officials said.
The mayor also plans to open two new designated bus lanes to improve morning and evening commutes. Over 350,000 people use the city's bus system on a weekday, according to city officials, but it continues to be unreliable.
City transportation officials identified about a dozen inefficient bus routes with high ridership. This year, they plan to put in designated bus lanes along Brighton Avenue in Allston and downtown along North Washington Street. These areas will follow a pilot program in Roslindale.
"We have a high portion of bus riders going low speeds. There's a small set of these corridors in Boston," said Chris Osgood, chief of streets, transportation and, sanitation. "Those are the first set we're looking at."
The city also intends to create a bus lane along Blue Hill Avenue, which is longer, with consult from the surrounding community.
Osgood added the city hopes to build a younger generation of public transit passengers by giving all middle and high school students a free MBTA pass. Currently, the city gives out about 20,000 passes every school year. Next year, the city estimates 30,000 passes will be handed out.
City Transportation Commissioner Gina Fiandaca said these changes are part of a broader initiative to solve larger issues of traffic congestion and improve public transportation. Just last month, a study found that Boston had the worst rush-hour traffic in the United States.
"It's not just a Boston problem. These are really regional problems," she said. "The deficiencies in our regional transportation system that we're working with our partners in Cambridge and Somerville and Everett, and beyond city limits."
Walsh also said he wants to lower speed limits in residential areas to 20 miles per hour. That change would have to be approved by the Boston City Council and state lawmakers.
This article was originally published on March 07, 2019.