Local Mosques Increase Security After Deadly New Zealand Attack
Play
This article is more than 4 years old.
Some Islamic centers in Massachusetts increased security for Friday prayers following the deadly attack on two mosques in New Zealand.
At least 49 people are dead and dozens of others are seriously injured in what New Zealand's prime minister is calling a terrorist attack.
"The Muslim community across the world is in mourning," the Islamic Society of Boston Cultural Center said in a statement early Friday. "Some of us are in a state of fear, some of us are in a state of anger, many of us in both and more."
"In Boston, we are a community that sticks together," the ISBCC added in its statement. "Tragedy after tragedy, Bostonians from diverse faiths and backgrounds have come together, supported one another, and spoke out against hate. We do not let fear and hate bully us. We expect nothing less this time. We are Boston Strong."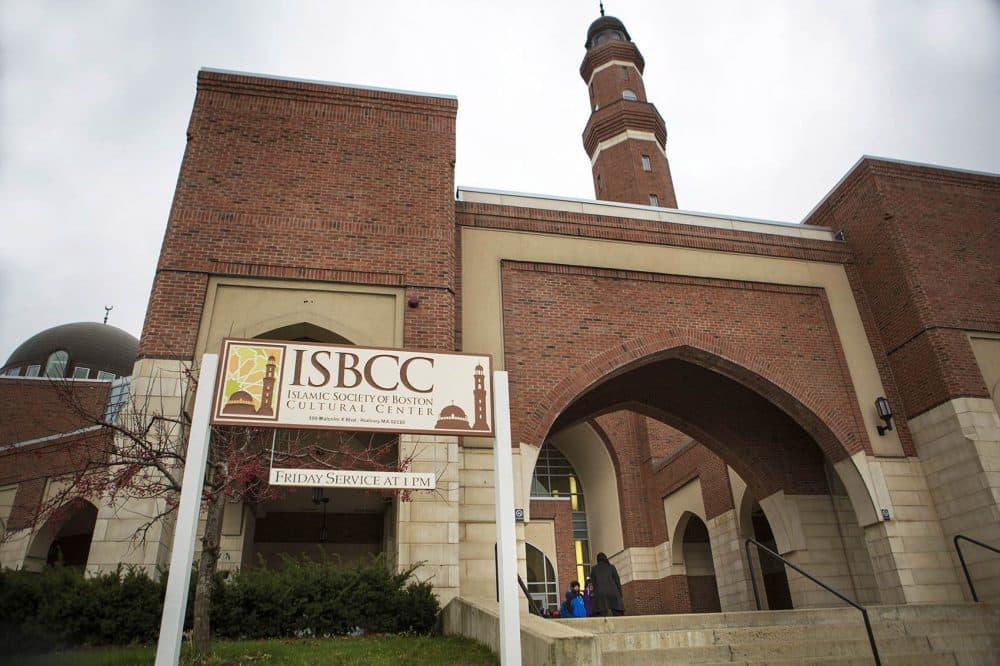 There was a visible police presence outside the Islamic Society of Boston Cultural Center. Despite this, many people going into the masjid on Friday didn't feel at ease.
Many Muslims said they were initially scared, but Senior Imam Shaykh Yasir Fahmy attempted to quell those fears through prayer.
"Allah, we ask you to strengthen our resolve in this religion in this Deen in this path to never allow our hearts to waver, to never allow us to fear or to worry or to retreat," he said during the services.
The thing that struck him most about the tragedy in New Zealand, he said, was that someone from the mosque greeted the shooter, not knowing there was a threat.
"There was a Muslim at the door who said to him, 'Hello, brother.' He said, 'Hello brother.' Because he learned from the prophet Muhammad that there's a brotherhood in humanity. That was what he internalized. He didn't even see the guy yet. But he uttered those words: 'Hello, brother. Welcome.' "
In that same spirit of brotherhood, Boston Mayor Marty Walsh spoke at the mosque and said Muslims are not alone. Boston Police Commissioner William Gross also told gatherers there are no threats against any mosques in the city.
After the service, some worshipers, like Aisha Khan, said they almost didn't come because of the shootings.
"I was instantly like, 'No, I can't go,' " she said. "But thank god I have Muslim friends. And we all encouraged each other to come here together."
She said she is glad she came.
"And we were like if we die, we're gonna die for a good cause," she added. "It's sad that we have to think about that. But the more and more people that become united and decide to come — despite all the things that can happen when we do — that's more powerful than the hate that we get here."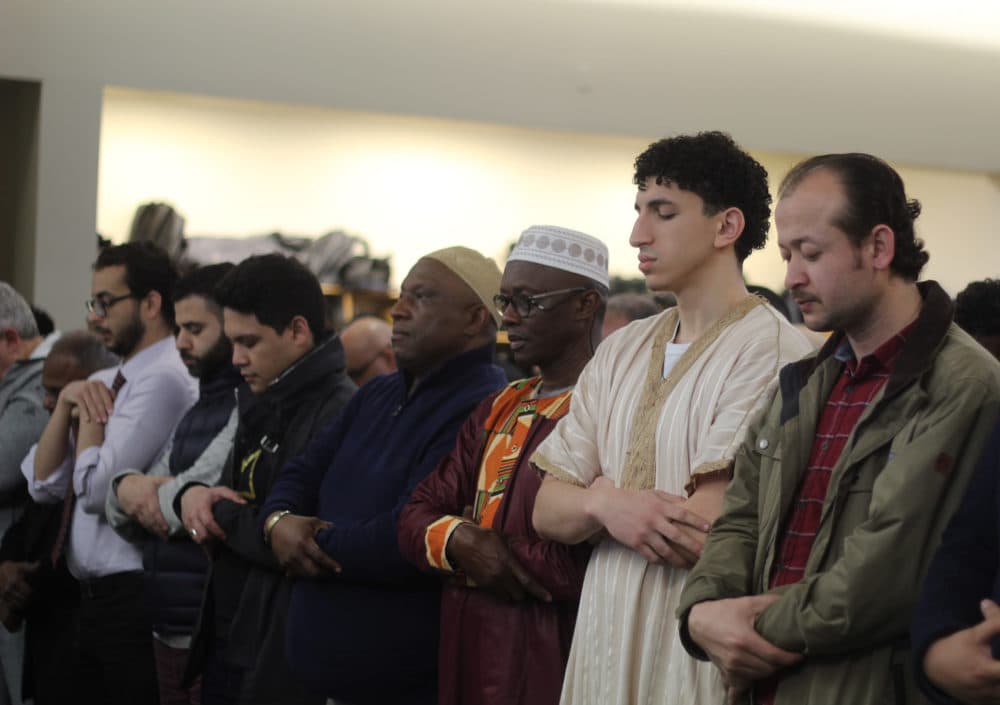 The Islamic Society of Boston, in Cambridge, said on Facebook there is no "identifiable threat" to the community, but they are increasing security measures for Friday prayers and working with Cambridge police.
The Islamic Center of New England, in Sharon, said on Facebook it has been in contact with local law enforcement and has been assured there will "higher visibility and extra patrols" during operating hours and Friday prayers.
Scott Brown, the former Massachusetts U.S. senator and current U.S. ambassador to New Zealand and the Independent State of Samoa, said when events like this happen, people need to come together.
"Whether it's our Muslim friends, or our Jewish friends, or our gay, lesbian and straight friends, or just anybody in the world, this can happen any time, anywhere," he told WBUR Friday morning. "It's unacceptable, and I think the key is to push back by standing tall, going about your daily activities, and going up to your brothers ... and your friends and people you may not know and say, 'Hey, you know I appreciate you, I care for you.' "
Here's the reaction of some Massachusetts politicians:
Correction: An original version of this post misspelled Aisha Khan's surname. The post has been updated. We regret the error.
This article was originally published on March 15, 2019.
This segment aired on March 15, 2019.