Police Search For Vandals Who Targeted Police, War Memorials In Boston's Mount Hope Cemetery
This article is more than 4 years old.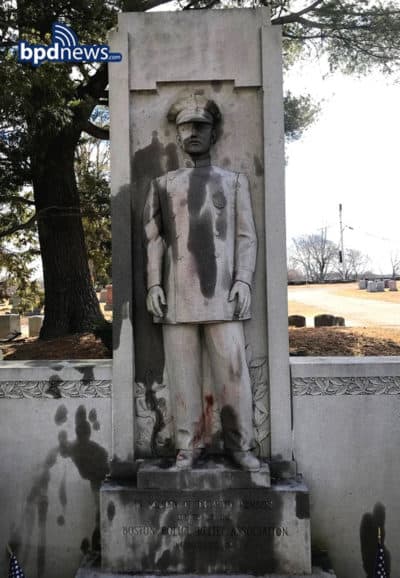 Boston police are seeking the public's help Tuesday to identify who may be responsible for the vandalism of several memorials at Mount Hope Cemetery in Mattapan.
One of the reportedly vandalized memorials is dedicated to fallen Boston police officers. The others included statues related to the Civil War, the Spanish-American War, WWI, and WWII, as well as Knights of Columbus and Free Masons.
"How incredibly distasteful and disheartening it is to learn about the damage done to the memorials at the Mt. Hope Cemetery in Mattapan. Clearly, these memorials are meant to honor and show great respect to those, whether they be veterans or police officers, who spent a lifetime in dedicated service to our city and nation," said Boston Police Commissioner William Gross in a statement.
Anyone with information is urged to contact detectives at 617-343-4712.
Also on Tuesday, police in Fall River were looking for suspects in a separate series of vandalism incidents. At a Jewish cemetery in the city, anti-Semitic messages and Nazi imagery were scrawled on about two dozen graves.