Suffolk DA Rollins To Meet With Gov. Baker After Administration Official Criticizes Her Policies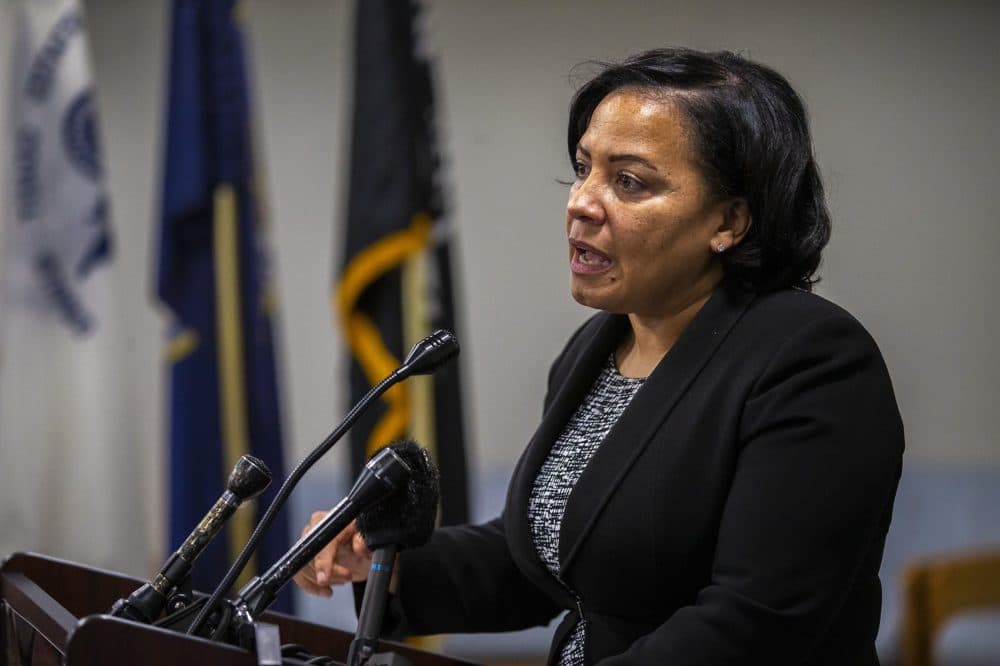 This article is more than 3 years old.
Gov. Charlie Baker says he talked with Suffolk County District Attorney Rachael Rollins over the phone Saturday after a dispute over Rollins' plan not to prosecute certain low-level crimes turned personal.
Baker called the conversation "constructive" and said the two plan to meet Monday to discuss criminal justice reform.
Multiple advocacy groups, including the ACLU of Massachusetts, have expressed support for Rollins, after Executive Office of Public Safety and Security Secretary Thomas Turco sent her a letter Thursday, saying she should revise her so-called "decline-to-prosecute" list.
The groups — which also include the Charles Hamilton Houston Institute for Race and Justice, Lawyers for Civil Rights, Massachusetts Organization for Addiction Recovery and NAACP — said Turco mischaracterized Rollins' reform policies.
Turco's office warned that Rollins' recent policy memo directing assistant district attorneys to refrain from prosecuting 15 low-level crimes could restrict the government's ability to protect victims of serious crimes.
In a letter to the governor, the advocacy organizations said Turco is wrong to suggest the decision not to prosecute low-level crimes will put Suffolk County residents at risk. They also claimed Rollins' predecessor, Dan Conley, dismissed a majority of the cases from the list of less serious offenses that Rollins said her office will no longer prosecute.
"The voters overwhelmingly elected DA Rollins to office because of her promise to revise current ineffective practices that have failed to address public health and public safety concerns," the groups wrote. "The voters clearly demand a new approach to public safety."
Rollins fired back at the Baker administration during a press conference Friday. The district attorney said Turco's statements were wrong and that charging decisions for low-level crimes disproportionately affect communities of color — not affluent families like Baker's.
"Candidly, not everyone gets the benefit of the Baker family when they have interacted with the criminal justice system," she said.
Rollins was referring to the governor's son, AJ Baker, who was accused of groping a woman on a plane last year. She claims he has benefited from prosecutorial discretion.
The U.S. attorney started investigating the incident, but no charges against AJ Baker have arisen.
Baker's office released a statement Friday night saying the administration doesn't engage in personal attacks and that it has legitimate safety concerns regarding Rollins' proposals.
Baker now says he hopes dialogue between himself and Rollins will continue. He says he agrees that there is inequity in the criminal justice system, but he wants there to be a balance of keeping people safe.
This article was originally published on April 06, 2019.