What Makes 'Caroline, Or Change' A Great Musical? Moonbox Productions Has The Answers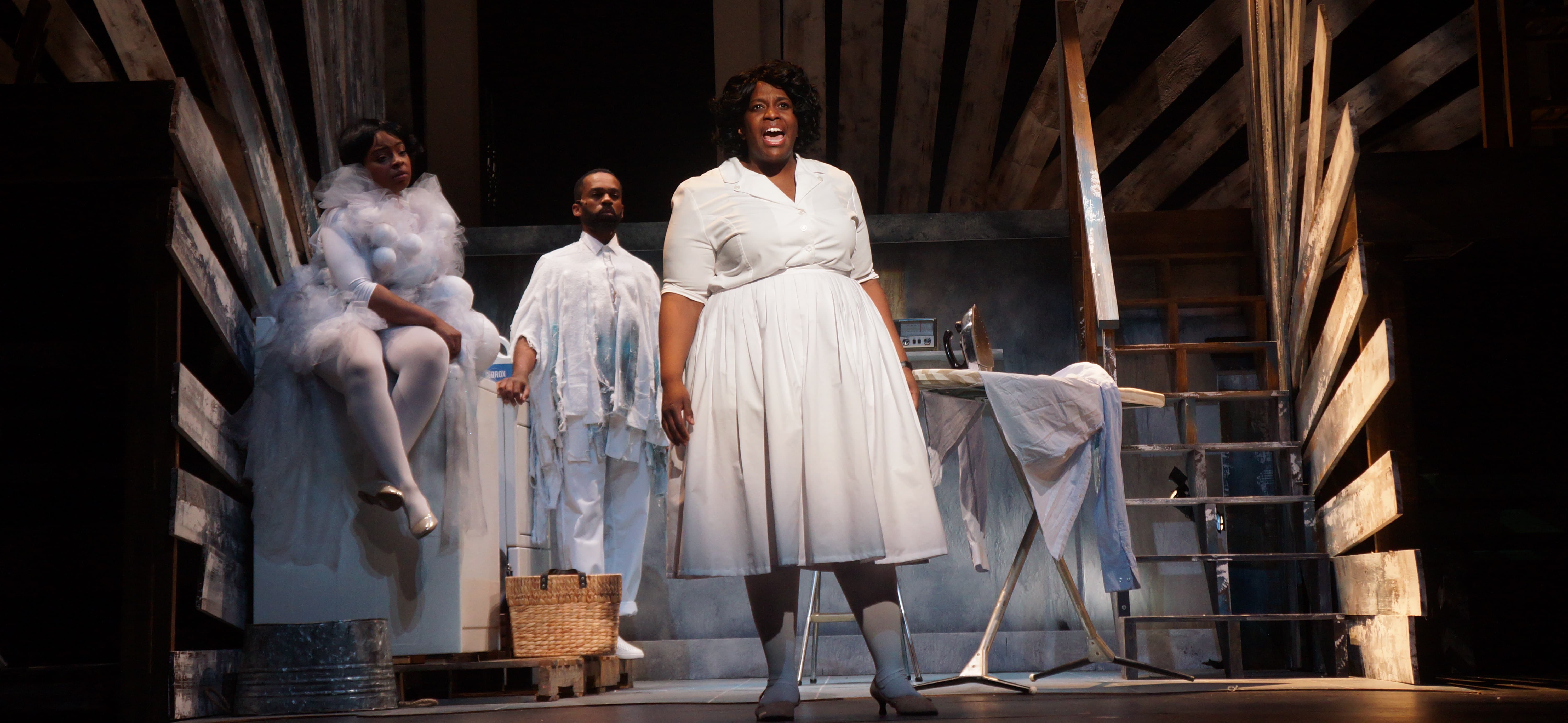 This article is more than 3 years old.
The local 2018-'19 theater season was notable for the arrival, at long last, of "Hamilton" at the Boston Opera House  in September, an event that lived up to its hype. Now comes a revival of the other great 21st Century musical — and no, not "The Book of Mormon" — in an underhyped but wonderfully developed revival of "Caroline, or Change" at the Calderwood Pavilion' Wimberly Pavilion (through May 11).
Tickets to the Moonbox Productions' "Caroline"  are not so hard to get and won't cost you a small fortune, but let's not get too carried away with the comparison. Lin-Manuel Miranda's score  is extremely accessible. The collaboration between lyricist and book writer Tony Kushner ("Angels in America") and composer Jeanine Tesori ("Fun Home") did not make it into the mainstream, in part because of negative reviews in the New York Times and elsewhere, in part because it lives in a more rarefied world between musicals and opera, like Gershwin's "Porgy and Bess" or Bernstein's "Trouble in Tahiti."
To these eyes and ears, it's musical storytelling at its very best, a meeting of the hearts and minds of two of the country's top theater artists in Kushner and Tesori. And at a time in which racial relations may be even more fraught than when it opened in 2003, "Caroline, or Change" feels as if it could have been written yesterday, particularly as staged by Moonbox, a small company that walks tall with this production.
The story revolves around the relationship between Caroline, a black maid working for a middle-class Jewish family in 1963 Louisiana, and 8-year-old Noah Gellman. He has lost his mother to cancer while his father is almost as absent, playing his clarinet in a haze of depression and a seemingly loveless second marriage. All this leads Noah ever closer to Caroline, though she's understandably more concerned with trying to put food on the table for her own three children. A fourth is fighting in Vietnam.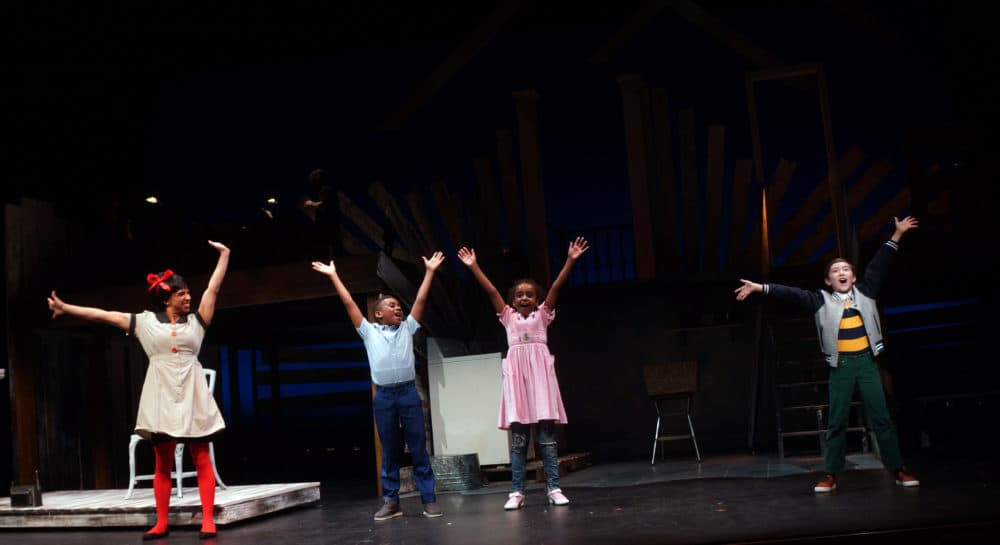 As the title suggests, Caroline is the emotional center of the musical and what a center Moonbox and director  Allison Olivia Choat have found in Yewande Odetoyinbo, who just recently lit it up at the Lyric Stage/Front Porch "Breath and Imagination." No one who saw Tonya Pinkins in New York or Jacqui Parker in the 2006 SpeakEasy Stage Company production is likely to forget how they inhabited the role, but Odetoyinbo is a sensational singer, adding soaring gospel notes to a palette that also includes R&B and blues. And that's for starters as far as what Tesori brings to the table, adding klezmer, classical, pop and other genres, including the sweet ballad-like music she composed for "Violet." The one idiom she and Kushner eschew is the show-stopping Broadway barn-burner, though the aria "Lot's Wife" comes pretty close and Odetoyinbo captures the full fury of Caroline's self-contempt:
"Murder me God down in that basement, / Murder my dreams so I stop wantin'/ Take Caroline away 'cause I cain't be her … Tear out my heart / Strangle my soul/ Turn me to salt"
Caroline's family and friends (which include a washer, dryer and the moon) make for an excellent ensemble, including the estimable Davron S. Monroe, also from "Breath & Imagination," who can bring the stone-hearted to tears singing about the murder of JFK. Authenticity is less evident with the Jewish family. (In fairness, identity conflict is part of the second wife's personality.) This could just as easily be a WASP enclave except for Kevin C. Groppe and Ellen Peterson as Noah's grandparents. Phil Thompson playing a senior-citizen Jewish socialist is closer to Willem Dafoe than Bernie Sanders. Ben Choi-Harris is a much shyer young Noah than in previous productions, which works in some scenes and not in others.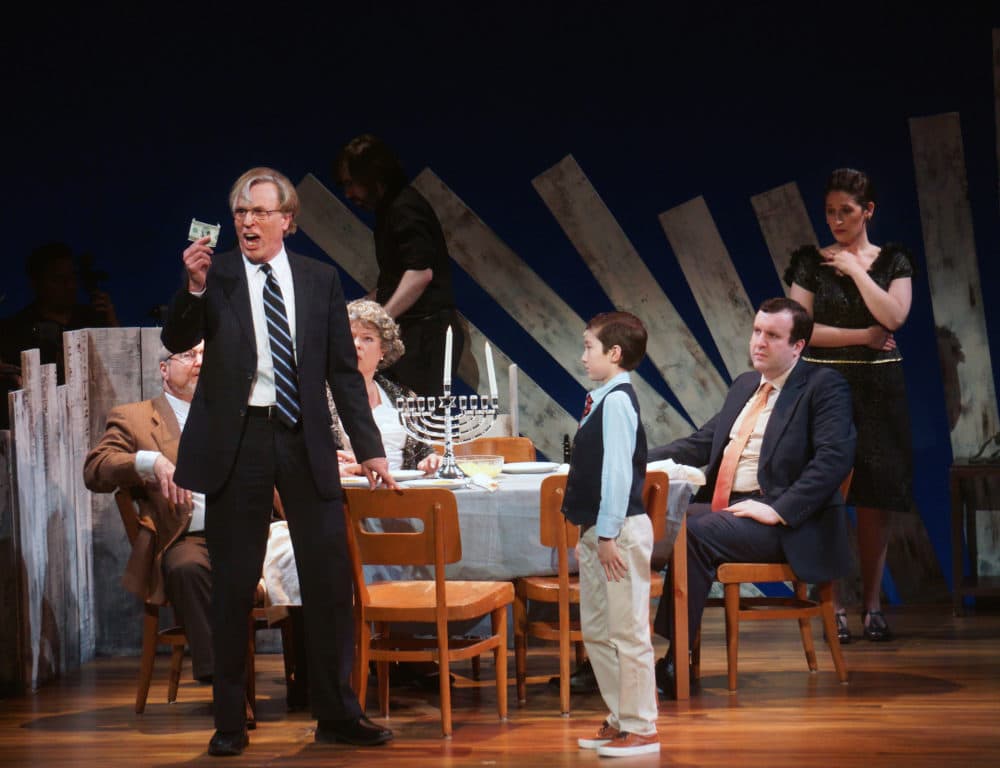 Now that privilege has become such an important part of today's political discussion, it's better to err in this direction than in misrepresenting the African-American family. Still, Kushner, who was way ahead of the curve in "Caroline" when it comes to privilege, went to great lengths to represent both families accurately and empathetically.
That aside, this is an excellent production. Dan Rodriguez leads an octet that captures all the musical genres superbly. Kushner's smart dissection of the winds of change blowing through Louisiana (and America) in 1963 shines through in every scene.
Choat also makes the no-frills staging a non-issue. It's worth remembering that many preferred Oskar Eustis' original bare staging of "Angels in America" to George C. Wolfe's more fleshed-out version, though I preferred the latter. (Wolfe also brought the original "Caroline" to New York's Public Theater.)
Most importantly, Choat captures why this is such an important, enduring musical. The racial divide still exists, but Kushner, Tesori and Choat suggest – without sentimentality – that it's a divide that can be narrowed through engagement and activism. Kudos to the cast as well. Odetoyinbo is the MVP but this is a fine team effort by Moonbox.
---
"Caroline, or Change" continues at the Calderwood Pavilion's Wimberly Theatre through May 11.