As Boston Pursues Climate Resilience, Some Warn Efforts Could Make Inequality Worse
Resume
In Mayor Marty Walsh's new capital plan for large investments by the city of Boston, at least 10% of spending will go toward prepping parks and infrastructure for the effects of climate change.
The city's resilience initiatives are wrapped in the language of equity — in Walsh's words, representing "Boston's historic commitment to our collective well-being."
But some experts worry the push for climate adaptation could make inequality worse, a possible multiplier of the so-called "green gentrification" they say is already underway in two neighborhoods at the center of the city's climate resilience strategy: East Boston and South Boston.
A Beacon Of Resilience — But For Whom?
A short walk from the JFK MBTA station in Dorchester — surrounded on two sides by a neighborhood that includes roughly 2,000 units of public housing — Moakley Park is a jewel in the Emerald Necklace network of green spaces.
It's one of the largest and most-used parks in Boston, expanding across 60 acres of the South Boston waterfront, and featuring an array of athletic facilities and the long, curving Carson Beach on the ocean side.
But the park is prone to stormwater flooding, and it's now seen as a flood pathway that could inundate low-lying areas well beyond South Boston.
"It's atrocious," said Prophet Parker-McWhorter, who teaches athletics at a local charter school that uses the Moakley Park fields. "I had students ... playing soccer when their cleats came off in the mud — like completely tied, just stuck in the mud."
The redesign will change all that, turning Moakley Park into what the city describes as "a world-class, climate-resilient waterfront park for all."
Instead of just trying to fight stormwater and tidal flooding, the design seeks to manage the water with a series of berms, structural elevations and underground basins designed to keep water from overcoming the park's boundaries. (And with the closing of the waterfront Day Boulevard, the park's design vision seeks to transform the way Bostonians interact with the ocean. Think Rio de Janeiro, says one of the designers.)
The money and timeline details of the Moakley redesign are still being discussed, but at a recent community meeting, the park's designer, Chris Reed, with the landscape design firm Stoss, told WBUR that Moakley Park will become a beacon of urban climate resilience.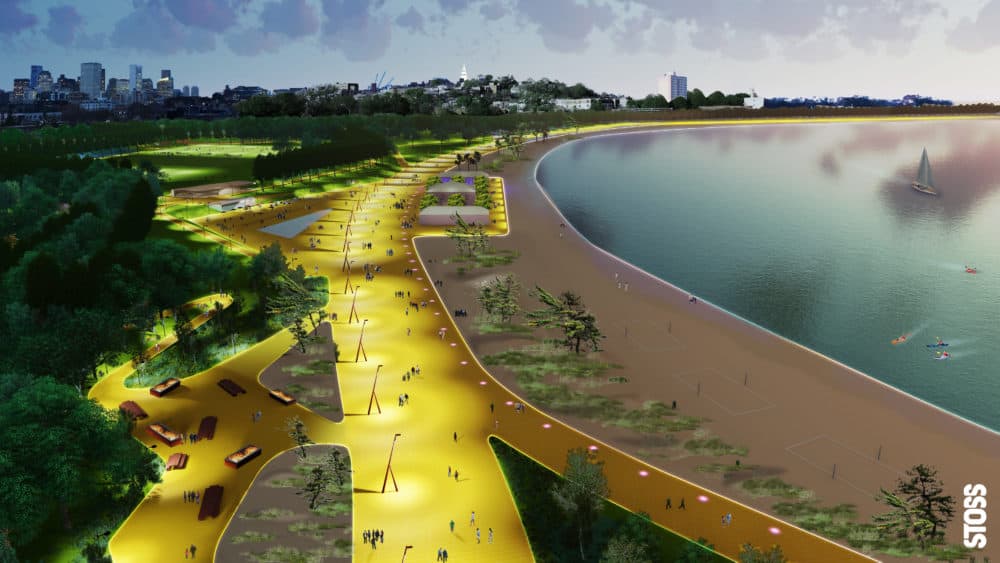 "This one's unique ... it has the chance to be one of the first large-scale urban parks that deliberately takes on resiliency," Reed said. "And what's unique about Boston is, unlike New York, which suffered damage from [Hurricane] Sandy first and then started resilience planning, Boston's been ahead of the storm."
What's also unique about the park is its proximity to a large concentration of public housing. City officials talk about the project as being fundamentally about equity — the most immediate beneficiaries are the people in the adjacent projects.
But some advocates say there are signs that the push for a climate-resilient city could make life harder for residents struggling to make it in a city of skyrocketing rents and some of the greatest income disparities in the nation.
Researchers at the Autonomous University of Barcelona say they've produced the first analysis of "green gentrification" underway in the city. In still-unpublished data shared with WBUR, the researchers show a correlation between new green spaces on one hand and, on the other, neighborhoods becoming wealthier, more educated and whiter.
MIT graduate Isabelle Anguelovski, who co-directs the Barcelona Lab for Urban Environmental Justice and Sustainability, argues that "while [Boston] seems committed to inclusive planning ... we have not heard much about climate gentrification or the risk of mid- to long-term displacement of socially vulnerable residents."
In an interview, Anguelovski warned the city's efforts could result in a "climate resilience crisis" that leads to large-scale displacement of poor residents.
"Boston has to radically change the way it's doing urban greening, together with affordable housing, to be able to avoid this," she said.
The East Boston Experience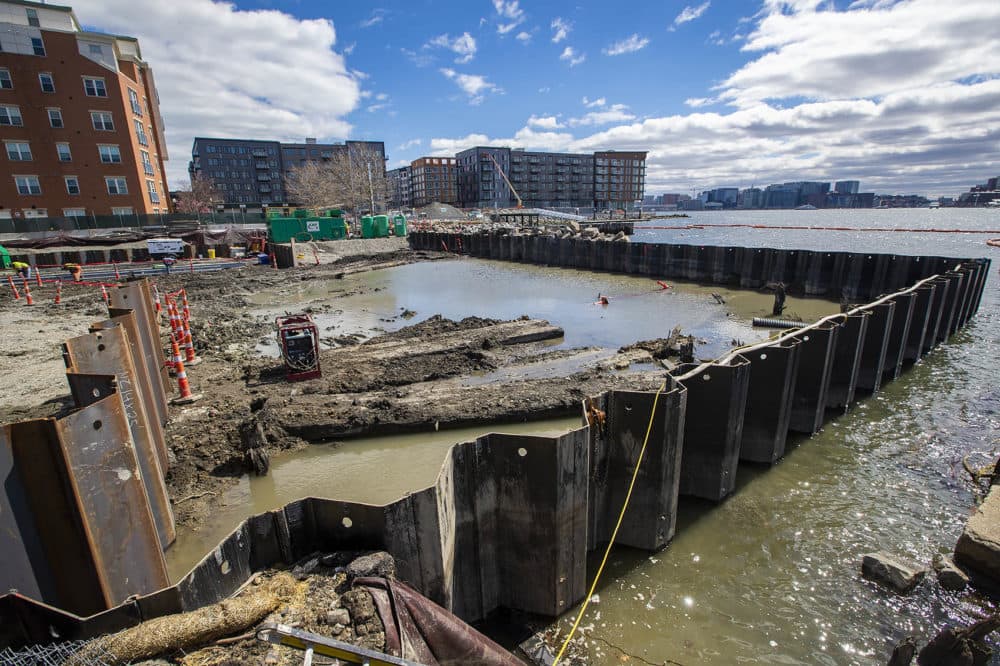 On the East Boston waterfront, an endless flow of cranes and dump trucks paves the way for luxury housing. Much of the construction is designed to withstand not only the storms of today, but the hurricanes expected to come late in the century.
The move toward resilient buildings at the Eastie waterfront is the result of private investment — unlike for Moakley Park, which will come from taxpayer dollars — and it causes some in East Boston to ask who the push for climate resilience is for: people who already live there, or those who have yet to come.
"What happens behind Clippership Wharf and Portside at East Pier?" asked activist Magdalena Ayed, referring to two of the new waterfront housing developments. "The water comes in — they're good to some extent — what happens to the ... older housing stock and developments behind that?"
For Ayed, it's personal. She lives in public housing behind all the development, called Maverick Landing, and she heads a nonprofit called The Harborkeepers, whose members keep watch over the city's resilience efforts in East Boston.
"We have elderly populations, people that are immobile, in wheelchairs," she added. "You have people with language barriers, there are extremely low, fixed incomes. They don't have the resources to bounce back."
Boston is facing the threat of climate change at the same time it contends with an affordability crisis, and most of the new housing in East Boston is unlikely to be affordable to the typical family in the neighborhood, where the median household income is $52,000. For Latino families, it's $43,000; for black families, $24,000. (According to the real estate firm Zillow, the typical rent in East Boston is $2,600 — about the price of a studio at one of the new waterfront developments — a rent that's considered "affordable" to those earning $6,300 a month after taxes.)
The city estimates that in 50 years, nearly half of East Boston could see flooding during a major storm. That's why two years ago officials launched Climate Ready East Boston. A consultant studied the neighborhood's vulnerabilities to flooding and sea level rise, and drew up a resiliency plan, which, so far, has resulted in a deployable flood barrier, according to city data.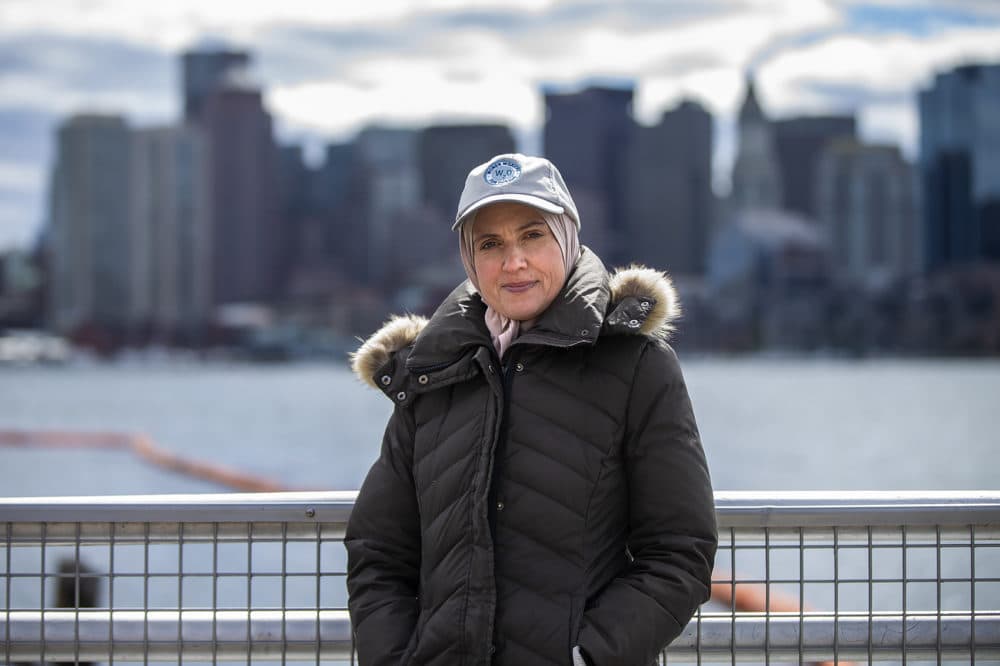 Ayed laments that the boom in waterfront development wasn't orchestrated in a way to protect the whole neighborhood from rising seas. She points out that many of the new developments were permitted well before climate resilience rose on the city's agenda — and she sees it as a massive opportunity lost.
But Boston's resilience work is only beginning, and the Climate Ready report is being integrated into the development of a master plan for the neighborhood. Ayed sees the coming resilience push as a way to right the ship of development — a chance to make Boston a more equal and better protected city.
"You remember the Etch A Sketch, you could just erase it all and start all over?" she said. "This is the opportunity of the century. ... Why don't we use the opportunity of resiliency to level the playing field? And that's what we're trying to do."
But how does one gauge whether that's being achieved? Experts say it begins with city officials engaging affected communities.
"Whether or not communities feel that they were actually included in the process — and they're actually benefiting — that's the ultimate metric," said Atyia Martin, who was Boston's first chief resilience officer and is now in the private sector helping organizations do community engagement work. "But if people fundamentally don't feel like their voice was heard, don't feel like they benefited financially … then ultimately, did we actually build resilience in the community?"
The second test is outcomes, Martin said: "Who built up their wealth off of the investments made? If the communities who are usually left out are still left out, that's an equity failure."
Enter Moakley Park
Richard Elwood has lived at the Mary Ellen McCormack projects for the last decade, and after 70 years in the city, he's skeptical of whether the new Moakley Park will benefit people like him.
"Look what they did to South Boston — it's all condos," he said.
Asked if he sees people like him having a place in his neighborhood two decades from now, Elwood said: "I doubt it, I seriously doubt it. Unless they go back to rent control to accommodate people that can't afford it."
Another Southie resident who takes issue with aspects of the Moakley redesign is Kamari Parker. He grew up playing basketball on the courts right next to the McCormack projects, and under the plan, those courts will be moved across the park, closer to the water, to a part of the neighborhood where he says he doesn't see many black people like him.
"It removes a whole bunch of memories that were very sacred for people," Parker said.
The man responsible for responding to concerns from people like Parker and Elwood is environment chief Chris Cook. And he says the Moakley plan is still subject to change.
As the person who heads the city's climate work — as well as its parks — Cook says he's aware of the danger that new parks and public gardens will make it harder for existing residents to afford to stay in their neighborhoods. And he says the city's push to build more affordable housing will help ensure that displacement doesn't happen under his watch.
"You can't lose sight of the people who are going to be affected, and how they're going to be affected," he said.
Asked how the city will quantify its efforts to do resilience in an equitable way, Cook said: "Moakley is surrounded by really diverse, vibrant neighborhoods. Are those neighborhoods as diverse and as vibrant five, 10 years after this plan is implemented? That would be success."
In the meantime, city officials say they will continue to try to reach residents that haven't played a role at any of the planning meetings. In a statement, Cook's staff pointed to an array of initiatives aimed at addressing equity in resilience planning. Mayor Walsh's new budget proposal, for one, looks to triple investment in Greenovate Boston, an initiative to engage residents "and train climate leaders throughout all of Boston's neighborhoods on climate resiliency and mitigation action."
Walsh notes that the resilience push is coming at the same time as historic city investments in affordable housing. But some resilience experts say the city has to go deeper — and couple climate resilience directly with policies to stop people from getting pushed out.
If not, they say the parks of the future may be of little benefit to the residents of today.
Support for this essay was provided by the Weather Eye Award, an award given to distinguished local reporters by RiseLocal, a project of New America's National Network.
This segment aired on May 2, 2019.