'Caroline, Or Change's' Costume Designer Joelle Fontaine Pens Love Letters To Women In Her Clothing
This article is more than 3 years old.
The titular character in "Caroline, or Change" is not an outwardly glamorous woman. Throughout most of the musical, she's seen in the plain uniform she wears to work as a maid for a wealthy Jewish family. Her rather colorless wardrobe still tells a story, one of a black mother who has little time and few options to fulfill her dreams in 1960s Louisiana.
"So many black women have similar stories," says designer Joelle Fontaine. She envisioned and created the costumes for Moonbox's production of "Caroline, or Change," playing at the Calderwood Pavilion until May 11. "Poverty or a lack of access to resources dims their light. We're told to put everyone else first and our dreams on the back burner."

This bleakness of Caroline's reality is reflected in the clothing. Caroline is almost never shown out of the muted dress she dons to work. The Gellmans, the Jewish family that Caroline works for, are usually dressed in browns or grays. However, Caroline's life is interrupted by whimsical interactions with anthropomorphic appliances and characters. "Most of it, the overall dress, is everyday wear," Fontaine points out. "But some of the other pieces, you can get very creative with."
Fontaine is the founder of Kréyol, a Boston-based brand whose name recalls Fontaine's own Haitian heritage. Her mother, a seamstress and engineer, is her business partner and the pair work in tandem to dream up and create garments for both the brand and for this Boston production of "Caroline, or Change." Ranging from sweeping brocade skirts, to sculptural vinyl to slinky gowns rendered in delicate lace, Kréyol combines silhouettes inspired by Fontaine's childhood with lush, bold fabrics and patterns. "My mother made my dresses growing up," she says. "So some of the shapes are reminiscent of that and of traditional Haitian dress."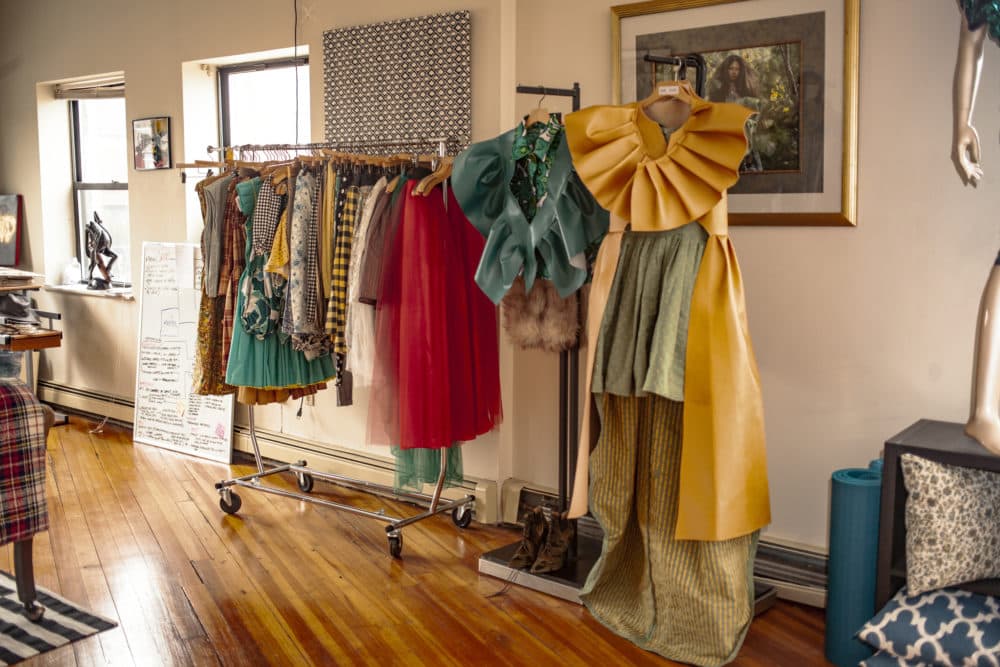 Fontaine and her mother moved to the United States in the '80s during political unrest in Haiti. Kréyol, in many ways, is a love letter to the land of her childhood. As a girl, Fontaine was discouraged from speaking Haitian Creole and pushed to speak French, which implied class and wealth. " 'Kréyol' itself exists globally and each type of Creole is different," Fontaine says. "It represents all these different elements and fragments coming together to create language."
Kréyol was founded on the theory of taking up space, of being bold and forward and demanding a seat at the table. In contrast, "Caroline, or Change" predominantly calls for toned down, day-to-day wear, so Fontaine had to find other ways to display her creativity. Costumes for the washing machine and the radio are surreal interpretations of function.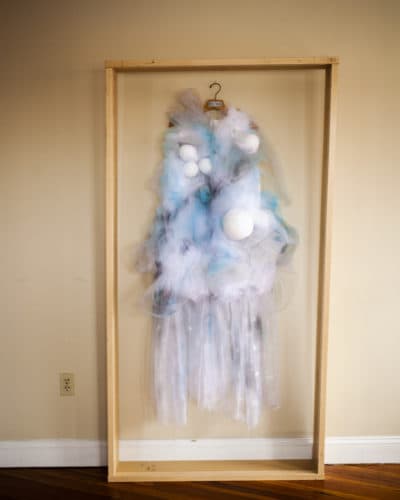 "The washing machine costume is layers of painted tulle, and when it's on stage, those Styrofoam balls kind of light up and resemble bubbles," Fontaine explains. For the moon character, Fontaine and her mother crafted an ethereal, sparkling silver gown with an accompanying crescent headpiece.
While the musical seems to orbit around Caroline's relationship with the Gellman's young son, Noah, one of the most compelling tensions is her estranged connection to her eldest daughter, Emmie. "There's this scene where Emmie basically asks her mother, 'Why are you just a maid?' " says Fontaine. "That scene really hit me because Caroline has had to provide for everyone but herself. And her daughter can see that and, in some ways, resents her for it." Caroline must all at once be everything to everyone but ultimately, she ends up saving nothing for herself. This expectation of women, especially black women, to bear the load isn't lost on Fontaine. "I've had to juggle being a mother and a entrepreneur," she elaborates. "And I watched my mother do the same."
As black, immigrant women, both Fontaine and her mother have experienced gendered racism and xenophobia. There have been times when Fontaine's mother, because of her accent, was assumed unintelligent or incapable. "My mother was an engineer in Haiti," Fontaine says. "But here, her degree means next to nothing. She gave up everything to come to America. Like Caroline, she gave up everything to provide a better life for her children."
Fulfilling personal dreams and being a mother are often posited in contrast to each other. Society makes it difficult for black women to do both simultaneously. For Fontaine, Kréyol is a song of resistance, penned to her mother and to other women who may be considering sacrificing their dreams. In this way, she identifies with Caroline's daughter Emmie, whose headstrong and confident personality puts her at odds with the expectations of black women in the '60s. "Emmie knows she can have a choice," says Fontaine. "And really, Kréyol is about letting all women know that they have a choice, that they can choose the life they want."
With her brand, Fontaine is working on more tangible ways to "empower women economically, mentally, and spiritually," she says. But at the heart of it all is a tale of black motherhood, of a daughter's love for her mother.
"My work is how I honor myself," Fontaine says. "And with Kréyol, I am giving my mother her life back."