Through Mother's Day Cards, Young Kids Learn About Racism And Mass Incarceration
05:49
Play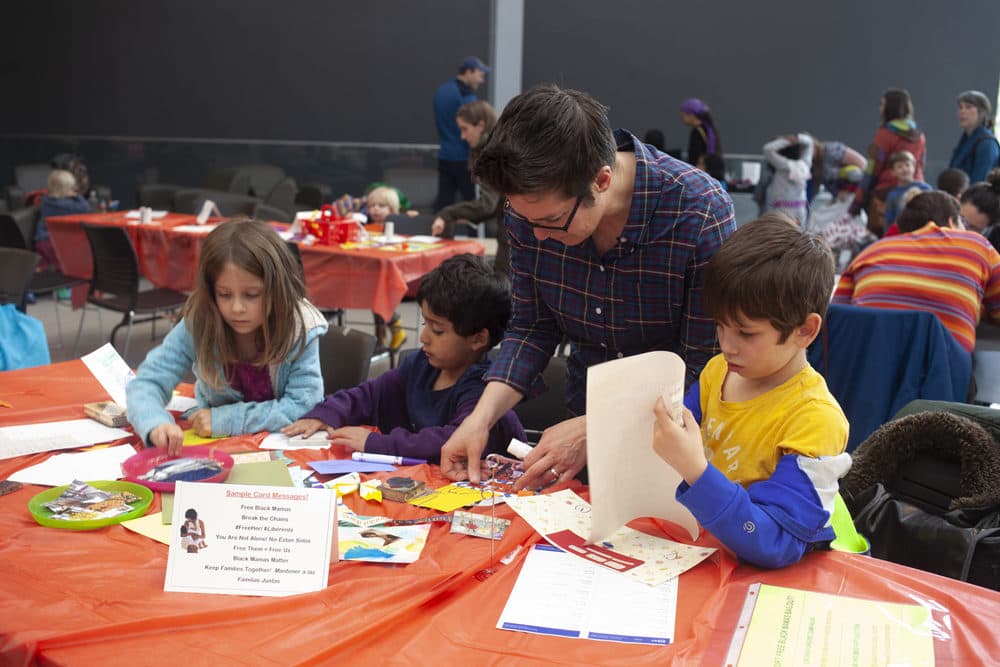 This article is more than 3 years old.
On a rainy, gray afternoon at the Massachusetts College of Art and Design, pieces of bright construction paper litter table tops. Young children, assisted by their parents, fold, cut, stamp and draw to create one of a kind Mother's Day cards as part of a workshop helmed by youth social justice program Wee The People.
"Mother's Day is supposed to be this time for families," explained Wee The People co-founder Tanya Nixon-Silberg. "But for incarcerated women, the picture is very different." According to a November 2018 report by the Prison Policy Initiative, 80% of incarcerated women are mothers and most are primary caretakers. Every day, 54,000 women are behind bars without a conviction, mainly because they can't afford bail money. Black women are disproportionately affected, according to the data.
The card making kicked off Wee Free Black Mamas, an event that's part of a national effort to bail out black mothers in time for Mother's Day. Wee The People teamed up with MassArt, Families for Justice as Healing and the Emancipation Initiative to execute Wee Free Black Mamas. So far, they've raised more than $7,000 to reunite black mothers with their families just in time for Mother's Day weekend. (As of Friday, Wee The People has raised more than $8,500.)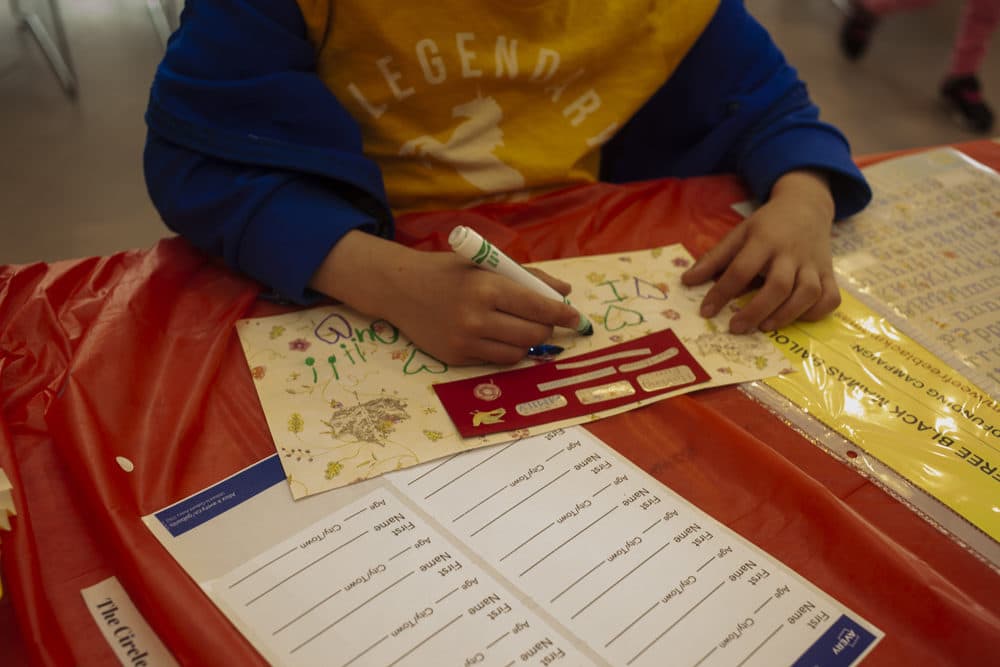 While the children don't know the women they're making the cards for, the project helps them learn and internalize lessons about complex concepts. "Mother's Day cards right? It's what kids do around Mother's Day," Nixon-Silberg said. "So for the kids, it's like 'Oh great, we're making cards!' But what is going to be on these cards? It's not just 'I love you Mom,' it's 'I wish you were free.' "
Mass incarceration and systemic racism may seem like topics too adult or intricate to explain to children, some as young as 4. Wee The People challenges that thought, asserting that children are fully capable of understanding these big issues, as long as they're explained in simple languages and metaphors or frameworks that make processing complex ideas easier.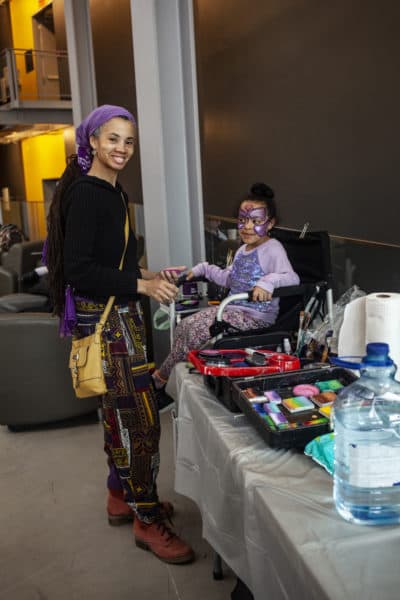 Alisha Sarang-Sieminski brought her three kids to the event to reinforce the lessons she's already teaching them at home. "I think that the crafts get them here," she said. "It doesn't always seem like they're listening in the moment but when we come back to stuff, it seems like they have internalized a lot of what we're talking about."
Story time, while less hands on, is just as important as the card making. Like the rest of Wee The People's youth workshops, Wee Free Black Mamas revolves around a book. "So we're reading a book called Deena Misses Her Mom," said Nixon-Silberg. "And it's about this little girl whose mom is incarcerated ... and she doesn't understand why her mommy is in jail."
Prior to reading the book, Wee The People co-founder Francie Latour gently guides the children through explanations of what jail is and what racism is. When asked who they think goes to jail, the majority of the children have the same answer: that bad people are behind bars. "That's the dominant narrative," explained Nixon-Silberg. "So part of what we have to do is change how they process that information." (Jail, which is the focus of the Free Black Mamas campaign, is where people are held pre-trial or in some cases pre-deportation hearings.)
Latour projected a picture of Rosa Parks on the screen and tasked the children with naming her. A surprising number of them raised their hands, reciting the correct answer. "Now did Rosa Parks do something bad?" Latour asked, to which the resounding response was, "No!" Suddenly, it's clear to the children that good people, fighting for the things they believe in, can be in jail too. And just like that, their answer to Latour's first question of "Who goes to jail?" changes. The shift, while small, is the first step in humanizing people behind bars.
By the time the kids get around to reading "Deena Misses Her Mom," they're more familiar and comfortable with naming and identifying the systems of mass incarceration and racism. In turn, they're able to better understand how Deena feels in the book. "The kids see themselves as this child and then they build some empathy around that," said Nixon-Silberg. "They think, 'Oh, well what would it feel like for me to miss my mom?' And that's where their learning really begins."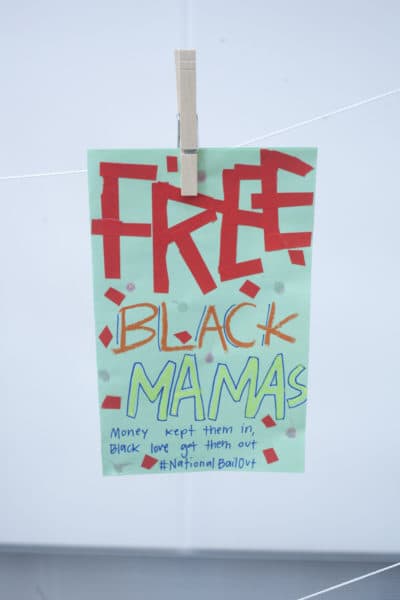 Story time is a slow, step-by-step process. But when it's over, the kids go back out to the craft tables with more insight on why they're making the cards. "The goal is for our kids to have language to talk about these things," said Sarang-Sieminski as her daughter uses a "Be Your Beautiful Self" stamp to decorate her card. "Having events like this is a way for them to build that language."
Children understand much more than adults give them credit for. Wee The People hopes to educate adults, as much as their children, on social justice topics so that outside of the workshops, kids are supported in their endeavors to understand systemic injustices. "The kids are looking for answers and all of this stuff is in the ether," said Nixon-Silberg. "The kids are trying to figure out what's going on ... And if they have adults who validate what they're seeing and experiencing, we can move to 'Well how do fix this? What can we do?' "
With their cards mostly done and hanging at the front of the event space, the kids are invited to make T-shirts with MassArt students and to get their face painted by Boston-based artist Radiant Jasmin. Nixon-Silberg's 6-year-old daughter, Myla, shares why she made her card as she waits for her face paint.
"Because, [moms] are in jail and they can't even get out!" she said. "So it's going to be hard and if they get cards, they'll maybe find a way!"
There is no judgement or prejudice in her voice. Only the belief that mothers belong with their families.
This segment aired on May 10, 2019.