Newbury College Is Closing. Alumni Say It Gave Them A Chance When No One Else Would
Play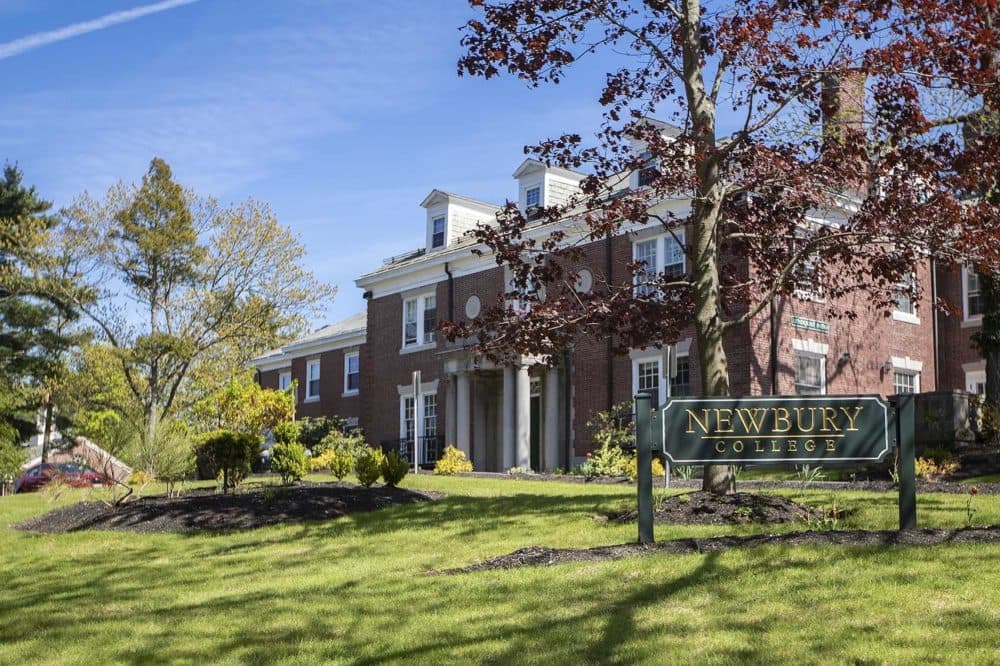 This article is more than 3 years old.
Students graduate from Newbury College for the last time on Sunday. The small college is the latest to close in Massachusetts.
For its former students, the moment is bittersweet.
All the alumni and former students who spoke to WBUR remember the college fondly. Many said it changed their lives for the better by giving them a chance when no one else would.
"I'm in so much debt [to] Newbury," said former student Eric Cody Hansen. "I feel like they were just so open to accepting people who wouldn't otherwise get into other places."
Cody Hansen is from Brookline, but he said he's not wealthy in any way.
"Because of [Newbury], I was given such an incredible opportunity to turn my life around," he said.
Newbury accepted Cody Hansen when his grades couldn't get him in anywhere else. And Newbury gave him generous financial aid. The college reports it offered 96% of its students some kind of financial aid.
"They gave everybody financial aid," Cody Hansen said. "And that opened so many doors for people in Boston who wouldn't have [gone to] college if not for them."
Newbury is part of a trend. Nationwide, private colleges report they now use nearly half the tuition they take in on financial aid. Newbury's generosity with financial aid ultimately led to its closure. It had been losing money since 2014.
Cody Hansen didn't finish his education at Newbury. After three semesters, he transferred to Boston University, where he is studying film-making and Japanese. He wants to work in Tokyo when he graduates.
Like most of the college's students, Newbury alumna Desiree Rivera Deco is a person of color.
"I grew up in Dorchester," Rivera Deco said. "I was the oldest of seven children. I was the first generation to be born and raised in America."
Her parents are from Puerto Rico and Cape Verde. She attended Needham High School through METCO, a voluntary program that allows some Boston children to attend suburban schools. Her high school grades were not the best.

"So I wasn't accepted to any of the schools that I applied to other than Newbury College. That was the one college that gave me a chance," Rivera Deco said. "If they didn't give me that chance, I wouldn't have made it this far."
Rivera Deco said she received generous financial aid from Newbury. She took five years to graduate, then got her master's degree in marriage and family therapy. She's now a therapist at an addiction treatment center in Quincy.
"I've definitely found my purpose, both personally and professionally," Rivera Deco said. "Because, personally, my family was impacted by addiction and it helps me give back to those families who weren't so fortunate."
Other alumni are still trying to find their way to career.
Chris Perrone said he has some learning challenges, and many people in his family were concerned he would not be able to get into college. He was looking for a college where he could get a lot of attention.
"Newbury was very good to me," Perrone said. "I feel I grew as a person more so than I would have at some of the bigger places."
Perrone said he was happy with the education, especially the personal touch.
"You could even talk to the president of the college and he would even know your name, which you don't get in a lot of bigger schools, and I definitely appreciated that," he said.
Perrone graduated from Newbury three years ago with a degree in culinary management. Today, he's living with his parents in West Hartford, Connecticut. He's working as a dishwasher at a retirement community where he said he has a chance to do daily food prep work. He has $30,000 in college loan debts. But he holds on to his dream: to open a hockey rink with a restaurant.
These alumni worry that with the closing of Newbury College, an uncertain fate awaits many students like them who had no other place to turn to realize their college dreams.
This segment aired on May 10, 2019.