Rep. Neal Fires Back Against Accusations Of Pay-To-Play Politics
Play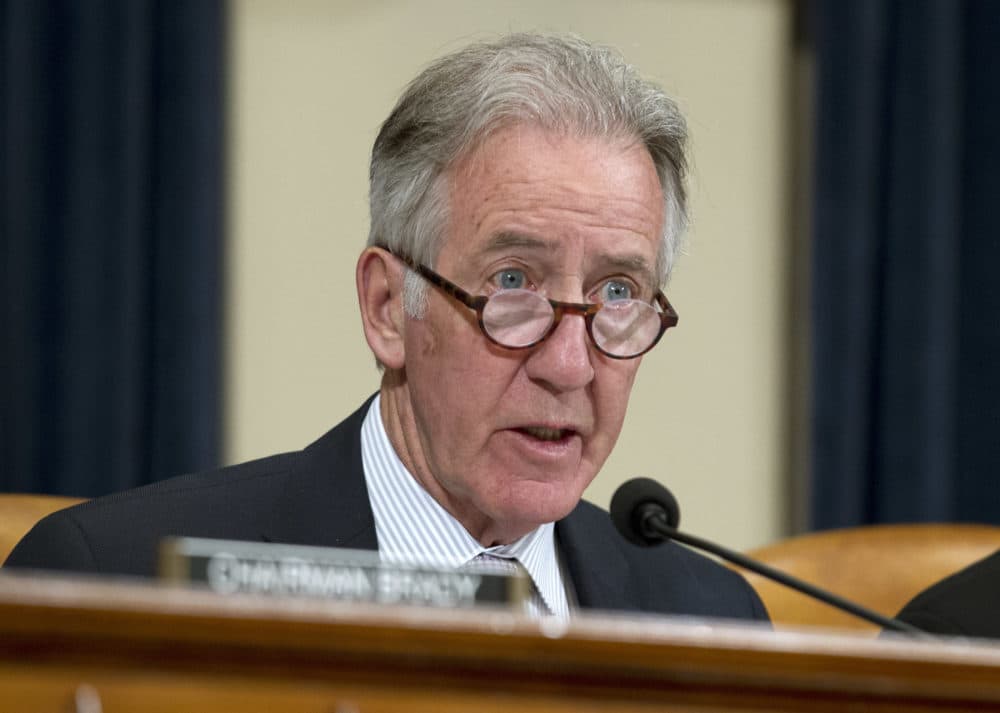 This article is more than 3 years old.
Massachusetts U.S. Rep. Richard Neal has fired back against accusations he's guilty of pay-to-play politics for wining and dining wealthy donors, some of whom have business before the powerful congressional committee he heads.
The western Massachusetts Democrat, who chairs the Ways and Means Committee, told reporters in Springfield on Monday that his campaign fundraising was above board and helped Democrats win back the House.
"In fact, I take great satisfaction from having shifted the House of Representatives from Republican control to Democratic control," Neal said. "More than 200 candidates were helped by my endeavors, including every member of the Black Caucus, and every member of Hispanic Caucus."
Neal's remarks were in response to questions from reporters about an opinion piece in The Boston Globe last week by journalist and author David Daley that examined Neal's most recent fundraising reports.
Federal Election Commission filings show that right after Neal took the gavel of the Ways and Means Committee, he spent tens of thousands of dollars on fancy dinners and posh events, all to woo wealthy donors across the U.S., who in turn contributed more than $500,000 to him. Daley, who has written extensively about voting rights and campaign finance as the former executive editor of Salon.com, called this a blatant example of pay-to-play politics.
"I have never seen FEC reports as stuffed with luxury hotels and fancy restaurants," Daley told WBUR last week. "He took full advantage of this. This is everything that is wrong with the system on steroids."
WBUR reached out multiple times last week by phone, email and text to Neal's office, but did not receive a response.
Neal raises money the way many in Washington do, and it's perfectly legal — though critics regard it as legalized corruption.
Indeed, Neal is very good at using the current campaign finance system to raise lots of money — for himself and for fellow Democrats. FEC filings reveal Neal gave close to half the money he raised earlier this year — $250,000 — to the Democratic Congressional Campaign Committee, which is focused on electing Democrats to the House. In fact, according to the FEC, Neal is one of the top 10 donors to the DCCC.
Daley also took issue with how much time Neal spent fundraising out-of-state at the expense of reaching out to his own constituents in the state's 1st District.
"That's nonsense," Neal told reporters Monday, adding that over many years, as a congressman and before that as mayor of Springfield, he has been available to his constituents. Neal was first elected to the House in 1988.
"I think that frankly this was cheap shot," Neal said. "I also think, does it come from a would-be candidate?"
It might have. Daley, who lives in Neal's district, told New England Public Radio this week that "a number of people" have asked him if he'd be willing to run for Congress against Neal.
"And I'm strongly considering it," Daley said.
Even so, while Neal's style of fundraising is, again, legal — and represents the way business is done in Washington — it's a matter of debate if it's good for democracy.
This segment aired on May 14, 2019.