Boston Calling Delivers A Fun Festival, If Not A Terribly Unique One
Over the past year, the conversation around major pop music festivals has started to change. Established fests like Sasquatch and FYF called it quits following dwindling ticket sales. Fyre Festival was a short-lived symbol of superficial extravagance before becoming an extravagant failure. Woodstock 50 almost fell through due to shaky funding, only to be rescued by an investment bank. Very rock 'n' roll. But for festivalgoers seeking three days of peace, music and brand activations, Boston Calling still stands.
Now in its third year at the Harvard Athletic Complex, it has settled into its new turf and sprawled to make more comfortable use of the grounds, but that more-established footing also reveals a bit of an awkward phase for the festival. In its final years at City Hall Plaza, the combination of stacked lineups and a much smaller, could-not-be-more-Bostonian setting grounded it with a clear identity. Since moving to Harvard and expanding, it's lost some of that personality while making firm moves to join the ranks of major corporate festivals like Governors Ball and Firefly.
Friday made that clear. A gusty, overcast afternoon set the tone for a slower start, but the just-OK weather wasn't to blame. A just-OK lineup might've been the issue. The festival's genre diversity has only improved over the years, and Friday was no exception, but unfortunately the initial bill's biggest standouts (Janelle Monáe and Black Star) both dropped off a month ahead of the festival. Now-classic festival act CHVRCHES was brought in to replace Monáe, and a few more artists were sprinkled across the poster as late additions — notably, a mysterious "special guest appearance" by viral country-trap star Lil Nas X — but on Friday afternoon, those additions didn't seem to boost the atmosphere.
It wasn't that the day lacked highlights altogether, but the crowds weren't particularly energized, even as the afternoon went on. Tank and the Bangas shimmied through an animated early-evening set that fused hip-hop, funk, and spoken word, but had to cajole the crowd into dancing multiple times before the suggestion stuck. At the same time, Christine and the Queens took the stage across the field to pair their polished pop (including a brief cover of David Bowie's "Heroes") with equally polished choreography, but forcing the day's two standout sets to compete didn't work in anyone's favor. Later on, even CHVRCHES' strobed-out, hooky synth-pop didn't get the audience moving much beyond an appreciative head bob.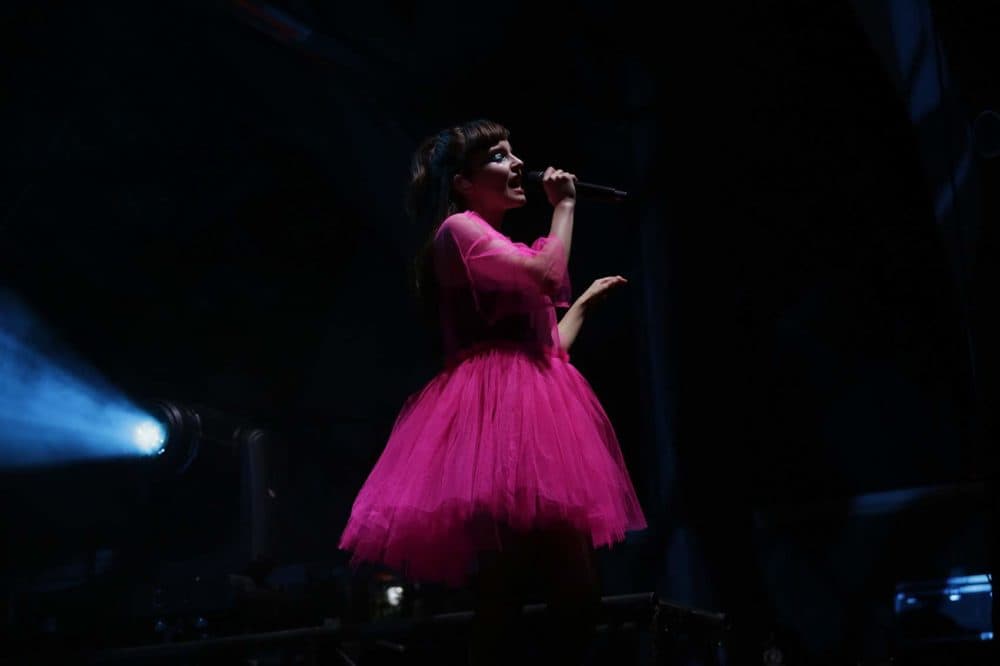 It may not have helped that the night was headlined by Twenty One Pilots, Ohio's premier reggae-adjacent rap-rock duo. There's understandable math behind why they might've been given the top slot: They have radio hits; they have a massive, young fanbase; their midtempo, Macklemore-core sound is friendly and now familiar. But "familiar" alone isn't a strong indicator of a gripping headliner, and the crowd seemed to be containing its excitement. (The duo had also already played TD Garden last October on their current tour, which might have dulled the novelty.)
Pyrotechnics and pageantry, including a brief bit that invited security guards to take the stage, didn't turn it around. Midway into the set, vocalist Tyler Joseph remarked that the band "didn't necessarily deserve" to be headlining, which would have sounded humble, but given the crowd's lukewarm response to the entire day, it felt sadder than he probably intended. All opinion aside, Twenty One Pilots is a successful band that seems to mean a lot to a lot of people; those largely weren't the people who turned out for the festival on Friday. Such a mismatched headliner can't help but signal that the festival's attendees aren't who curators think they are.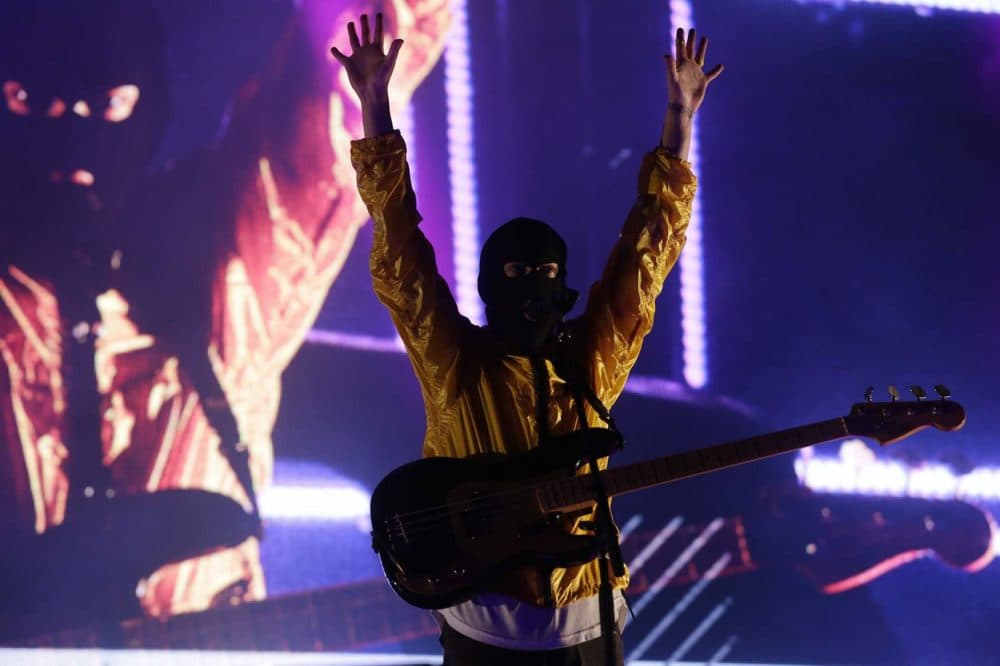 On the other hand, Saturday's lineup and overall vibe showed what Boston Calling is capable of. Standing out among festivals with a national draw requires having some kind of signature, like Bonnaroo's extensive camping setup or Pitchfork Festival's editorial perspective. While it seems Boston Calling is still figuring out its own identity, a tightly curated lineup across every tier helped establish it in the past and came through to stir up excitement again on Saturday. It wasn't just that the day was stacked with big names — it's that they were particularly relevant ones. Boston's own Sidney Gish opened the day to a sizable crowd of fans who showed up early and sang along. Bedroom-pop queen Clairo easily doubled the size of mid-afternoon stage crowds from the day prior. Big Red Machine, the festival-perfect creation of Bon Iver's Justin Vernon and The National's Aaron Dessner, made a rare appearance and helped separate Boston Calling from the increasingly homogeneous festival circuit in recent years.
But it was Anderson .Paak and the Free Nationals who finally brought out the full energy of a proper festival. Some combination of Paak's multi-instrumental brilliance, high-energy moves and stageful of talented bandmates put the performance over the top, though a setup that involved lasers, flamethrowers and a hydraulic drum riser didn't hurt. At one point, the group put its own spin on a few bars of Ginuwine's 1996 hit, "Pony," eliciting an outsized reaction from the crowd as it became clear that Lil Nas X was about to appear and deliver his much-buzzed-about performance of "Old Town Road." The entire "special performance" couldn't have lasted much more than two minutes: Lil Nas X appeared complete in the requisite cowboy hat and chaps and galloped around the stage as he performed a straightforward (and possibly even abridged) version of his No. 1 hit. Part of the thrill came from the fact that he's a relatively untested live performer — getting famous through TikTok and SoundCloud lets you skip the formality of actual shows — but despite his vocals being slightly muffled and off-kilter in the mix, he looked at home and was one of the weekend's most well-received acts.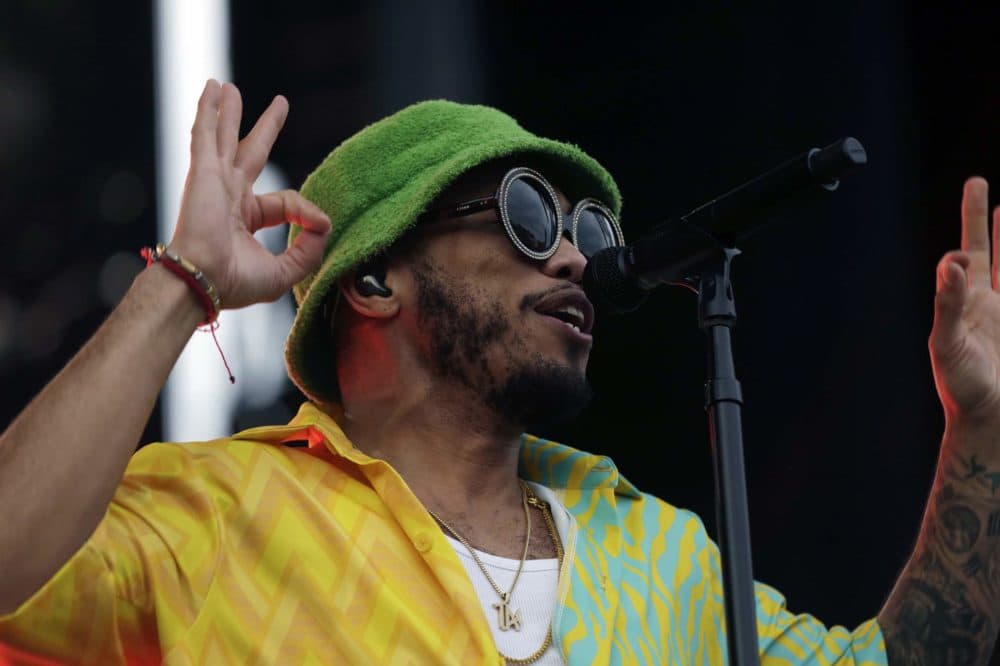 Though the festival hyped up his two-minute appearance to full gimmick potential and kept his performance time under wraps until just before Anderson .Paak's set started, it provided the spark and swagger that the weekend needed. Lil Nas X doesn't have a summer full of appearances scheduled yet (though that's likely to change), and Boston Calling was one of his first major performances, which made it a huge score on the festival's part. From there on out, the lineup didn't have to work as hard to get the crowd going: even if a bit predictable, ODESZA and Tame Impala are major festival acts for a reason. It's difficult to speculate about how that energy will carry over into Sunday, but with Travis Scott's mercilessly maximalist rap and notorious stage production, it seems likely that the weekend will end on a high note.
Right now, it's easier to frame Boston Calling's sprawling identity by what it isn't than by what it is. Ferris wheel aside, it's not Coachella. Centering local music has never been the main goal either. But those are two extremes, and the space in between is vast. Hopefully the festival can figure out how to carve its own lane soon, but until then, it's more or less going through festival puberty. It's trying hard, and has all the potential it needs to grow into a standout on the national scale, but right now, it's just shy of that point. Here's hoping the awkward phase doesn't last too long.