Amazon Breaks Ground On Seaport Office For 2,000 Future Jobs
This article is more than 3 years old.
Amazon broke ground Tuesday on a Seaport office that it says will open in 2021 and house at least 2,000 employees in fields such as machine learning, speech science and robotics.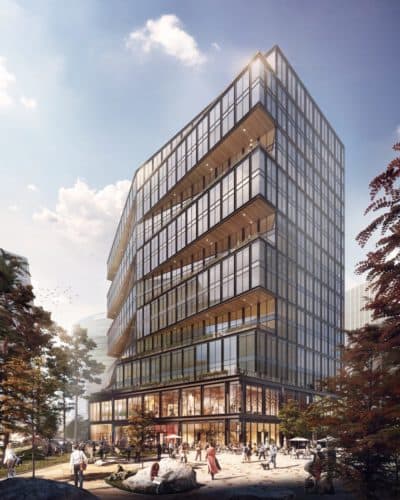 The development will further expand Amazon's presence in Greater Boston, where the tech giant considered building a second headquarters before picking Crystal City, Virginia, last fall. Amazon initially planned to split its HQ2 between Crystal City and Queens but pulled out of New York in February.
Amazon said it will not seek a single location for the 25,000 workers it had slated for Queens but instead will "continue to hire and grow across our 17 corporate offices and tech hubs" — of which Boston is one.
Amazon struck a deal with the city of Boston and WS Development on the new site last year, before selecting its secondary headquarters and abandoning one of them. Now, the site could help make up for the loss of Queens. The company has an option to double the outpost by leasing a second building in WS Development's 23-acre Seaport Square project, but Amazon's Boston site lead, Michael Touloumtzis, said in an interview after the groundbreaking that the first building "is as far as our planning has gone."
In brief remarks at the groundbreaking, Gov. Charlie Baker indicated that he expects Amazon to expand further.
"We look forward to seeing this project get completed," he said, "and we especially look forward to the continued growth and investment of Amazon here in the commonwealth and in the city of Boston."
Amazon will receive $5 million in municipal tax breaks if it hires 2,000 workers, and $10 million if it hires 4,000 by leasing a second Seaport Square building. Touloumtzis said the company already employs about 4,500 in Massachusetts.
Just last year, Amazon opened a smaller office in Fort Point, about a 5-minute walk from the building that broke ground on Tuesday. It also has offices in Back Bay and Kendall Square.
Amazon Robotics — known as Kiva Systems before its 2012 acquisition — is based in North Reading. The division makes flat-bed machines that move Amazon's inventory around warehouses.
Amazon also owns Somerville-based PillPack, an online pharmacy that helps people with multiple prescriptions manage their dosing schedules.
This article was originally published on May 28, 2019.