Mass. Policymakers To Draw Boundary On College Sports Betting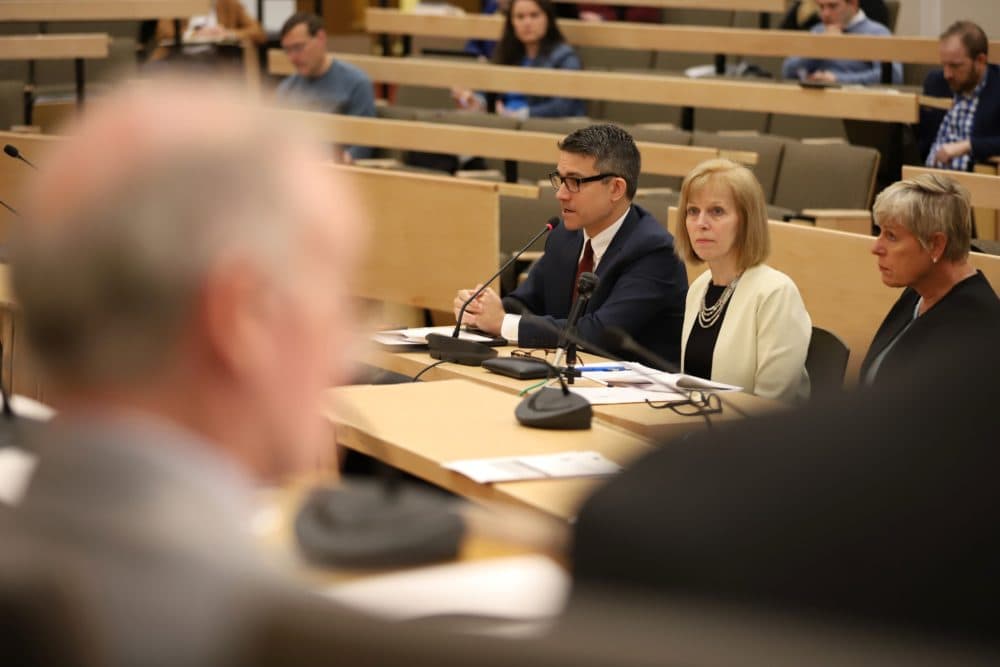 This article is more than 3 years old.
Whether bettors should be allowed to place wagers on collegiate sporting events and whether legalization would be successful without collegiate betting emerged as a key consideration in the first of two days of Beacon Hill hearings on sports betting legalization Tuesday.
About a year ago, the U.S. Supreme Court granted states permission to legalize an activity that had previously been mostly sequestered to Nevada and illegal operations. The Committee on Economic Development and Emerging Technologies on Tuesday began to dig into the bevy of issues that would come with the implementation of sports betting.
Gov. Charlie Baker and a handful of lawmakers have filed their own proposals laying out how a legal sports betting industry should be shaped and regulated in Massachusetts. Baker's bill would prohibit any betting on college or amateur sports, at least one proposal would prohibit betting on contests that involve Massachusetts colleges and others would make the full range of NCAA sporting events open to bets.
Baker's bill would not allow betting on any college contests, and Secretary of Housing and Economic Development Mike Kennealy said Tuesday the governor is trying to take a "measured approach" by limiting betting to professional sports.
"I would say we're trying to strike a balance here between entering the market and realizing new revenue on one hand and on the other hand taking a somewhat conservative approach," Kennealy said. "We would argue the best way to do this is on professional sports."
Sen. Brendan Crighton, who has filed his own sports betting legislation, testified to his colleagues that it is imperative that Massachusetts sports books take action on college games, even though his own bill would prohibit betting on any game that involves a Massachusetts school.
"We cannot compete with the legal market unless we allow betting on NCAA games," the Lynn Democrat said. "This betting is going on currently and we're not going to be able to offer a model that lures folks away [from the illegal market] unless we include what is one of the more popular forms of betting."
In joint testimony submitted to the committee, the state's three licensed gaming operators — MGM Springfield, Plainridge Park Casino and Encore Boston Harbor — said they support allowing bets on professional, collegiate and amateur games, but not on high school sports.
The three in-state casino operators testified from the same book at Tuesday's hearing. The three companies submitted joint testimony in which they said they would support allowing some online operators, like Boston-based DraftKings, to get a piece of the sports betting pie. The companies said they should be the only ones allowed to take bets at physical locations and that mobile betting should be reserved for themselves and "a limited number of daily fantasy operators with proven sports wagering experience."
In its own testimony, Plainridge Park Casino parent company Penn National Gaming expanded on a suggestion in the joint testimony and wrote that mobile operators should only be permitted if they are "tethered" to a casino through a partnership.
DraftKings, the company that has grown to be one of the daily fantasy sports and mobile betting industry leaders, pushed back against that idea.
"DraftKings and our competitors should have a direct relationship with the regulator — and that means being directly accountable to the regulatory authority, the legislature, and ultimately, the residents of Massachusetts," DraftKings CEO Jason Robbins said.
The Economic Development Committee's hearing is scheduled to continue Wednesday, when members of the general public will have an opportunity to testify before the committee on all things related to sports betting. Eight states, including Rhode Island, are currently accepting legal bets and a handful of others have authorized but not yet launched sports betting.
In 2013 and 2014, 12.6% of Massachusetts residents had placed a bet on a sporting event in the last year, Gaming Commission Chairwoman Cathy Judd-Stein said Tuesday morning. By 2015, that percentage had climbed to 17.9% before falling back to 16.9% in 2016, she said, citing the commission's research into the topic.