Palehound's Lush Third Album 'Black Friday' Is An Emotional Cascade
Much of our society has become accustomed to the macabre, a culture inundated with national tragedies and hysterical political theater that feel as perpetual as a dog chasing its own tail. As a millennial in today's age of Chernobyl-esque existential anxiety, there is little to look forward to. I asked Palehound singer, guitarist and chief songwriter Ellen Kempner if she had any hope for humanity, and she let out a laugh. "No, definitely not," she said quickly.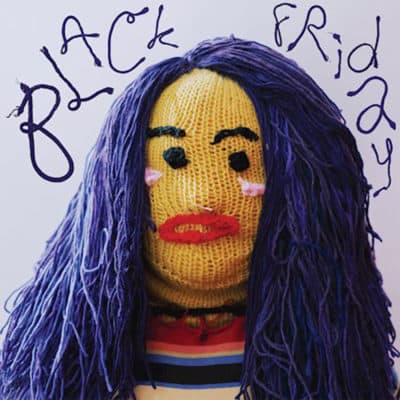 So what does a young person do with such a heavy dose of nihilism? Focus on the present. Bleed for the present. Give every trickle of emotion to the current moment.
Kempner does just this. On Palehound's lush, patient new album "Black Friday," Kempner indulges her vast emotional depth by digging deep into the matters of her heart, not necessarily to make peace with her demons, but to engage them in a scrappy wrestling match. At times she's fervently (yet, justifiably) pissed off, like on the menacing cowboy-thriller "Killer" ("I wanna be the one who kills the man who hurt you darling"). Elsewhere and often, Kempner wrangles with a tempestuous relationship regarding body image: "My body grows/ My city shrinks/ I feel her hands around my waist," she sings over the campfire shuffle of "The City."
And in the album's most tender moments on "Aaron," the lively indie bop dedicated to her transgender partner, Kempner's love brims and spills over like a frothy milkshake; it's messy, sticky, and unconditionally sweet. She repeats a gentle cadence: "I'll call you Aaron, I can, I can, I can, I can." It's the rhythm of the soft patting of your partner's back as you deeply embrace, the confident reassurement of unconditional acceptance.
Palehound has always felt present and alive ever since the group's debut LP "Dry Food" in 2015, and not too much has changed within them since. Backed by Jesse Weiss on drums, Larz Brogan on bass, and armed with producer Gabe Wax (Beirut, Soccer Mommy), "Black Friday" is melodic and raw, yet overarchingly tense and awake. Kempner's signature breathy whisper feels like it's right within ear shot, entirely and purposefully directed at you. She sings like she's being held down by too many secrets, short of breath and bountiful in baggage. "As a musician, I've kind of calmed down about setting weird expectations to what my songs should sound like. I'm getting to a place that's more and more personal," she assures me.
It's clear that none of 2019's cascading drama is lost on Kempner. "Black Friday" marks Palehound's newest release since 2017's "A Place I'll Always Go," and it finds the Boston trio at odds with society. With overarching themes of body image, patriarchal agitation, and suffocating corporate monopolies, "Black Friday" is Kempner's millennial manifesto, a frustrated cry to older generations and a love letter to outcasts who still struggle to find a voice in the mainstream.
Much of "Black Friday" was recorded in Stinson Beach, California, roughly twenty miles north of San Francisco, a relaxed environment that indirectly waned the album's heartbeat. "Actually all of the songs are slower than the original demos. When we took them out there, we experimented with slowing things down," she explains.
This gives "Black Friday" a total sense of control. It moves with a saunter and without arrogance, flowing between songs like the subtle flip of a page. Sonically, it rivals contemporary songwriting phenoms like Adrianne Lenker and (Sandy) Alex G with every washy riff and crisply articulated syllable; looming in the foundational framework are the likes of Cat Power and Elliott Smith, the ladder of which Kempner shares a similar closeness and underlying sense of tragedy. Listen between the ornate guitar riff of "Worthy" to hear Kempner's unrequited self-love blossom into a profound romance; "I think I hate my body/ Til it's next to yours/ With you I wear the clothes/ I'd buried in my drawers." The influence of Smith's "Either/Or" is as clear as day in moments like these.
And yet for feeling so in control, Kempner finds herself struggling to maintain it, as heard on the gritty basement anthem "Stick N Poke"; "I think I'm due for a shitty tattoo! I only have these thoughts when I'm missing you!" Even in a more nostalgic number like "Sneakers," Kempner grapples with relationships lost in the inevitable passing of time. "We were fraying at the edges/ I never patched it up and now/ We're unwound."
Though persistently cool, "Black Friday" explodes with emotions — violence, depression, anxiety, fear, and abandon all float beneath the surface of "Black Friday" like lurking sharks. Kempner's honest assessment and attempt to resolve such issues shows maturation with an unapologetic poise. Kempner bleeds for the present, bearing her soul to create an existence that's beautiful enough to persevere through the bleakness that lies ahead.