Darrell Jones Is Found Not Guilty In Murder Retrial
Resume
It took the jury just two hours to reach its verdict: Darrell Jones is not guilty.
For over three decades, Jones has insisted he didn't kill Guillermo Rodriguez in a Brockton parking lot in 1985. But Jones served 32 years in state prisons before a judge overturned his conviction and ordered a new trial.
The judge found a key piece of evidence was doctored, and a WBUR investigation into the case uncovered racial bias among jurors.
The retrial concluded Tuesday in a Plymouth County courtroom. Jones listened as the verdict was read, then whispered, "Thank you."
Outside the courthouse, Jones and his supporters erupted in cheers and applause. Jones was beaming, but he's still angry at the Plymouth prosecutor.
"I'm celebrating the fact that I'm free," Jones said. "But I don't celebrate that they set me free because they shouldn't have had me anyway."
Jones was 18 when he was convicted of the murder, which happened across the street from a Brockton bar. There was no physical evidence linking him to the crime. He didn't know the victim, and no motive was given.
But Jones' appeals were denied until the Massachusetts Innocence Program took up his case. Lisa Kavanaugh, who directs the program, proved that Brockton police deliberately altered a critical piece of evidence and that a detective lied at Jones' first trial.
"Darrell, you have been exonerated," Kavanaugh said Tuesday outside the courthouse. "You are innocent, and the world can now see it. No one can ever take that away from you."
At his first trial, in 1986, Jones refused a plea deal that might have gotten him out of prison in six years. As his new trial was getting underway, he turned down another deal from the Plymouth County district attorney for time served in exchange for admitting he was guilty of manslaughter.
Jones had harsh words for the state prison system.
"I owe, for the rest of my life, to fight make sure the brothers that are in there and the sisters that are in Framingham [prison], that we be a voice in Massachusetts. I'm going to be that voice, you can count on that," Jones said.
The retrial ended after just two days of testimony. The prosecutor presented 11 witnesses, but only five actually testified. After three decades, memories fade, people died, and three eyewitnesses refused to take the stand.
The prosecutor had to read some testimony from the 1986 trial, which meant jurors couldn't judge the witnesses' testimony, and the defense couldn't cross examine.
"There was never a question in my mind about Darrell's innocence," said Paul Rudof, Jones' defense attorney. "There's always a question about what a jury is going to do, but his innocence was so obvious to me, and I thought it should have been obvious to them, and eventually they came back and said the right words."
Juror Manny Rosario, of Brockton, said the prosecutor's case was nowhere close to proving Jones was guilty beyond a reasonable doubt.
"We were all pretty much on the same page since the beginning of deliberations," Rosario said. "Speaking for myself, overall I don't think anybody had a doubt."
For 22-year-old Francis McCarthy, of Plymouth, the trial was his first experience on a jury.
"I hope Mr. Jones gets some damn compensation. From hearing that he's been in prison for 33 years, man, it's stunning," McCarthy said.
Jones can seek $1 million from Massachusetts for false imprisonment, and he can seek much more in federal court.
The Plymouth County district attorney's office issued a statement after the verdict was announced.
"We respect the jury's decision, but with the passage of three decades, the deaths of necessary witnesses and exclusion of some of the prior evidence that was used at the 1986 trial, this was an incredibly difficult case to retry," the statement said. "As prosecutors, that is our job, seeking justice for victims."
Jones called the jury's decision a victory for him and for the victim, Guillermo Rodriguez.
"Two people got justice today," Jones said. "Because you put on him this spirit of him having someone in jail in his name that wasn't supposed to be there. ... I didn't only get free, he got free."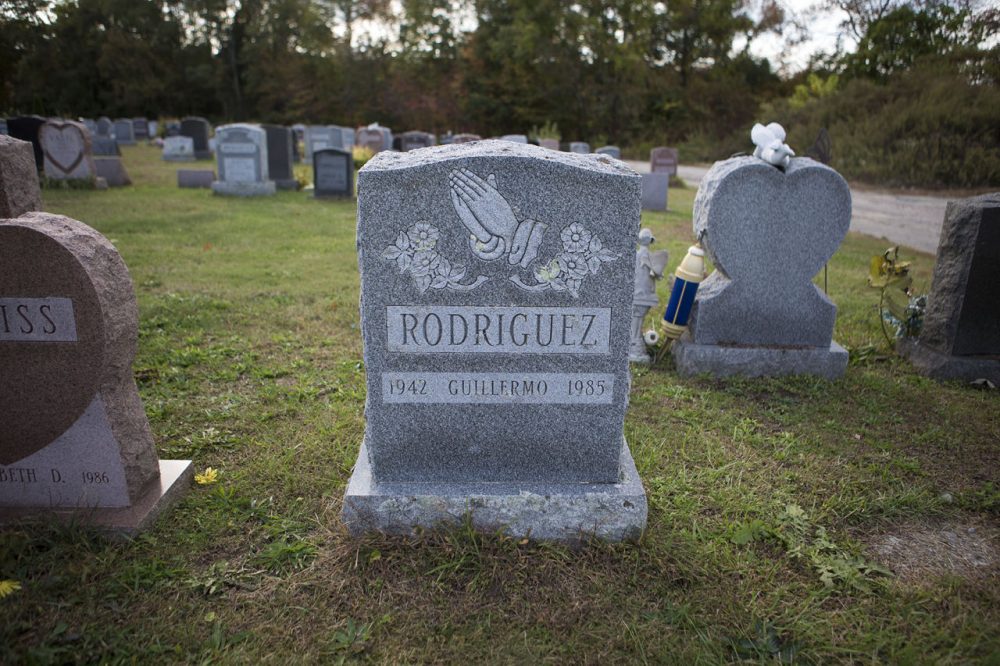 Correction: An earlier version of this story said the killing happened in 1986. It happened in 1985, and the original trial was in 1986. We regret the error.
This article was originally published on June 11, 2019.
This segment aired on June 12, 2019.