What The 'Zero Waste Boston' Plan Means For You (And Your Garbage)
Resume
Boston businesses and residents generate about 1.2 million tons of waste every year, and about 75% of it ends up in incinerators or landfills.
Boston Mayor Marty Walsh wants to cut that amount to 20% by 2035. On Wednesday, he announced his plan do it. Here's what the mayor's "Zero Waste Boston" plan means for you:
Composting Is Coming Your Way
About 36% Boston's trash is stuff we should be composting, like lawn clippings and banana peels. To encourage composting the city will increase yard waste pickups from 17 to 20 weeks starting in July. It will also offer at least 20 weekend days where residents can drop off yard waste at Boston's composting facility on American Legion Highway for free.
The city additionally plans to start a residential composting pilot program — an optional service, for a fee — in the fall.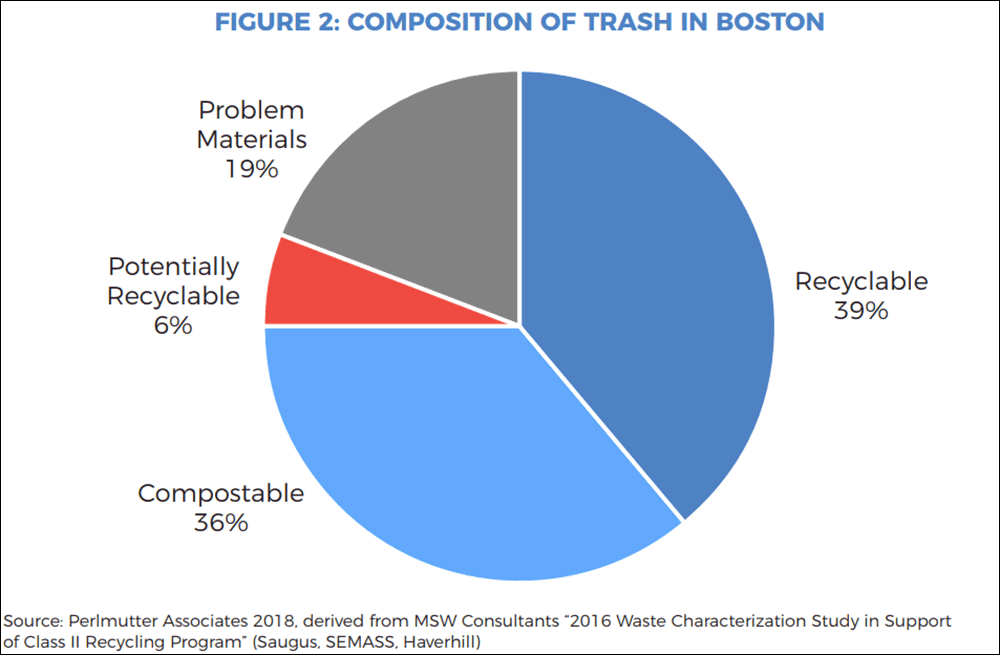 Get Ready For Textile Recycling
Roughly 7% of the city's trash is clothing, according to Brian Coughlin, Boston's superintendent of waste reduction. This fall, the city hopes to start a textile recycling program. It will probably work like this: A company will drop off bags at residences, people will fill them and then leave them on the curb for pickup. Coughlin says such programs can recycle clothing, linens, shoes and even stuffed animals.
Time To Clean Up The Recycling Bin
About 39% of our trash is stuff that could be recycled, and it's definitely good to get it out of the garbage can. But much of our recycling is contaminated. It's full of non-recyclable Styrofoam and plastic bags, or covered with peanut butter and coffee grounds. This makes the recyclable items harder to process and sell.
To help people recycle more and better, the city recently launched an education campaign called Recycle Right. The program will also increase recycling bins and collection services in city parks. For now, just remember this: It's OK to put pizza boxes in the recycling bin, but not the pizza crusts.
Who's Paying For This?
City officials say the plan could cost $58 million a year to implement. About $40 million could be offset by, say, reduced trash collection and disposal, and there are other funding sources, like grants and fines. But the city estimates a net cost of about $5 per household per month.
Why Should We Care About Reducing Waste?
About 6% of Boston's greenhouse gas emissions come from the waste stream. It may not seem like a lot, but we have to cut it to meet our emissions goals.
"Think about the amount of materials being sent to incinerators," says Chris Cook, Boston's chief of environment, energy and open space. "If there's recyclable materials or compostable materials in that mix, we're never going to reach carbon neutrality, so we have to begin down this road."
This segment aired on June 18, 2019.