'We Will Not Be Silenced': After Trump Doubles Down On Racist Attacks, Congresswomen Hit Back
Play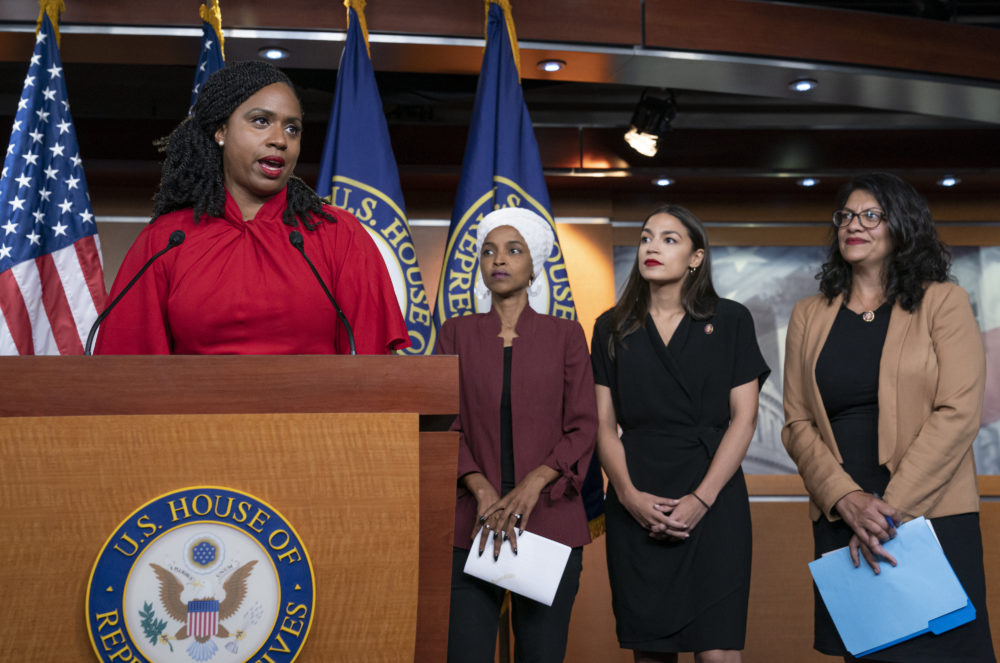 This article is more than 3 years old.
Following two days of racist tweets and comments attacking four Democratic congresswomen, the lawmakers fired back at President Trump Monday.
Over the weekend, Trump had urged Ayanna Pressley of Boston, Alexandria Ocasio-Cortez of New York, Ilhan Omar of Minnesota and Rashida Tlaib of Michigan — all of whom are women of color — to go back to the "broken and crime infested places from which they came," ignoring the fact that three of them are American-born.
On Monday, after the president doubled down on those sentiments, the lawmakers called Trump's attack xenophobic and racist.
"I encourage the American people ... to not take the bait," Pressley said at a press conference in Washington, D.C. "This is a disruptive distraction from the issues of care, concern and consequence to the American people."
At the White House, a few hours before Pressley and the three others spoke, Trump defended his weekend tweets, which many have condemned as racist.
"These are people that if they don't like it here, they can leave," Trump said. "And I don't know who's going to miss them, but I guess some people will."
Across Greater Boston, Trump's tweets and comments have sparked outrage for what many see as a new low.
"It's just the same stuff over and over and over again," said Melissa Mercado, as she waited for a bus in Dudley Square in Roxbury, part of Pressley's congressional district. "How he hasn't been impeached or imprisoned, I have no idea."
Mercado, who lives in Jamaica Plan, says she volunteered for Pressley's congressional campaign and voted for her. But she says she's disenchanted with politics these days — and the latest controversy around the president's racist tweets and words hasn't helped.
"I don't even pay any mind any more," she said. "All he's done is bring turmoil to this country. It's exhausting."
Among those who understand that exhaustion is Bill Forry, the publisher and editor of the Dorchester Reporter, which occasionally shares content with WBUR. But Forry says this represents something new — even for a president who traffics regularly in divisive rhetoric.
"What's different this time, for people in my community, is that he's attacking one of our neighbors, one of our friends," he said. "Ayanna happens to have been born here. He's putting her out there as though she's not an American. This needs to be condemned for what it is, which is virulent white supremacism from the commander in chief."
Forry is discouraged by how few Republicans call Trump out for such racist behavior.
"I don't find it to be the racism that other people are trying to find in it," said Geoff Diehl, a former Republican state representative who ran unsuccessfully against Sen. Elizabeth Warren in November, and who calls Trump's comments "ill advised," but says he understands the president's frustration with the four congresswomen.
"What I see is a frustration with people who don't seem to believe that America is a good place, or something that these women want to constructively work with him to make better," Diehl said.
A much stronger reaction came from Charlie Baker, the state's Republican governor, who's been more willing to criticize the president, and who called Trump's tweets "shameful and racist."
"They bring a tremendous amount of disgrace to public policy and public life, and I condemn them all," Baker told reporters at an event in Boston.
According to Tom Nichols, a former Republican who left the party because of Trump, this latest episode represents a new low for the president.
"[His tweets] would be a career-ending comment from any other president," Nichols said. "When you question the citizenship of any American, and especially your opponents as members of Congress, ... that really [stabs] the American system right at its core."
Nichols is also critical of the four congresswomen, the only Democrats to vote against a border funding bill backed by Speaker Nancy Pelosi because they said it supported Trump's immigration policies. Pelosi dismissed the congresswomen called the Squad as "just four votes," but Nichols says they're making a huge mistake picking a fight with her and other centrist Democrats.
"I think people underestimate the degree to which Republicans used to be able to sit back and watch Democrats just annihilate each other, and then kind of walk in, pick up the pieces, and get elected by whoever's left after the firing squad," he said.
In Washington Monday, Pressley suggested the Squad is a lot more than just four votes, because it is advocating for issues supported by millions of Americas — from health care, to affordable housing, to opposing putting kids in cages at the border.
"Our squad is big," Pressley said. "Our squad includes any person committed to building a more equitable and just world."
Pressley said despite the president's latest distraction, which is dominating the news out of Washington this week, she is eager to get back to work.
"Given the size of this squad," she said, "we will not be silenced."
This article was originally published on July 16, 2019.
This segment aired on July 16, 2019.