What To Know Before Seeing Shakespeare's 'Cymbeline' On The Boston Common
This year, Commonwealth Shakespeare Company is producing the Bard's late-career romance play, "Cymbeline," for its annual (free) summer stage in the Boston Common, from July 18 through Aug. 4.
If you are less familiar with Shakespeare's work, "Cymbeline" will give you a taste of each of his classics. I like to think of "Cymbeline" as a Shakespearean mixtape. He took all of his favorite dramatic devices seen in his other plays — disguise, poison, forbidden love, a strained father-daughter relationship, murder, and trickery — and combined them into one entangled story.
Shakespeare wrote "Cymbeline" later in his career — around 1610. It follows a slew of tragedies like "Othello" and "Macbeth." After these dramas, Shakespeare returned to writing some lighter material, bringing us "Cymbeline" along with "The Winter's Tale," "The Tempest" and "Pericles." But these plays are different from earlier comedies. They have a more dramatic spin, dealing with serious material and weighty themes but still ultimately end happily. They are often categorized as "tragicomedies" or "romances" because they straddle the line between comedy and tragedy. (Tragedies end in irreversible destruction based on the characters' choices. The damage in these romances tend to be less permanent with storylines ending in reconciliation or new starts.) Shakespeare wrote to please the interests of the monarchs — and this type of story was becoming more popular during the early 1600s so it seems Shakespeare was following the trends.
"Cymbeline" has twists and turns similar to comedies "A Midsummer Night's Dream" and "Twelfth Night." Nothing is quite as it seems.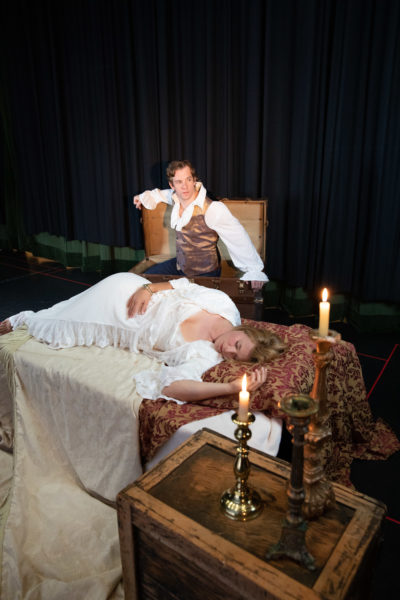 It all starts with a forbidden romance, "Romeo and Juliet" style. Imogen and Posthumus Leonatus are in love. But, the King Cymbeline and his second wife don't want Imogen, Cymbeline's only daughter, to marry Posthumus because of his low societal status. Cymbeline also has two sons that were kidnapped as children (the lost princes come into play later). The queen would rather have Imogen marry her son, Cloten. But Imogen doesn't want to marry him because he is kind of a loser — he complains constantly and picks fights — and then there's the obvious situation of him being her stepbrother. But if the evil queen could truly have it her way, Imogen would be out of the picture altogether.
After Cymbeline banishes him to Rome, Posthumus meets Iachimo who bets him that he can seduce Imogen. But, Posthumus insists that his lady is loyal and won't fall for Iachimo's attempts. Iachimo does what any of Shakespeare's villains would do: trick Posthumus into believing that he successfully wooed Imogen.
In a fit of rage, Posthumus orders his servant, Pisanio, to kill Imogen for her infidelity. But Pisanio helps Imogen flee England in true Shakespearean fashion — disguised as a boy. Imogen then finds herself lost in the woods and unknowingly stumbles upon her long-lost brothers. A series of mistaken identities, betrayals, and false deaths transpire across all zig-zagging plot lines. I won't give away the specifics of the ending, but remember, this is a romance so balance is inevitably restored.
Director Fred Sullivan Jr., who has acted on the Common for 11 seasons, says that, for this production, they are leaning in to the fairytale nature of the epic story. "We are treating it as a big 'once upon a time,' " says Sullivan. In cultivating the overall vision, he and the design team were inspired by Disney and the exaggerated illustrations of Edward Gorey. He also told me that composer Milly Massey has composed five songs with Shakespearean lyrics for the production. As for the violent elements in the script, Sullivan says that there are exciting fight sequences but the gore is "treated in a surprising way," making the production family-friendly. "The mission is always to make sure the 9-year-old out on the blanket and the college professor next to them both have something to love," says Sullivan.
Having seen CSC's shows before, I find there's a special sense of community and wonder that arises from experiencing Shakespeare outdoors. Performances take place at the Parkman Bandstand on the Boston Common, Tuesday through Saturday at 8 p.m. and Sunday at 7 p.m. On Aug. 3, you can catch an early performance at 3 p.m.
The show is free so I suggest arriving an hour early to get a nice spot and picnic going. Blankets and snacks are a must. There are plenty of places around the Common to purchase food and treats. You could bring your own chair or rent one ($5). There are also lawn chairs set up right in front of the stage, a "Friends Section," for $75 each to help support the otherwise free production.
A few quick tips: Don't forget bug spray and make sure your chair isn't so tall it blocks others' view of the stage. If the weather is bad, CSC will cancel the performance for audience and actor safety. You can get weather updates on their website and social media platforms.