'Somebody Could Try To Kill Us': Mass. Latinos Fear For Safety Amid Shootings, Racism
03:58
Play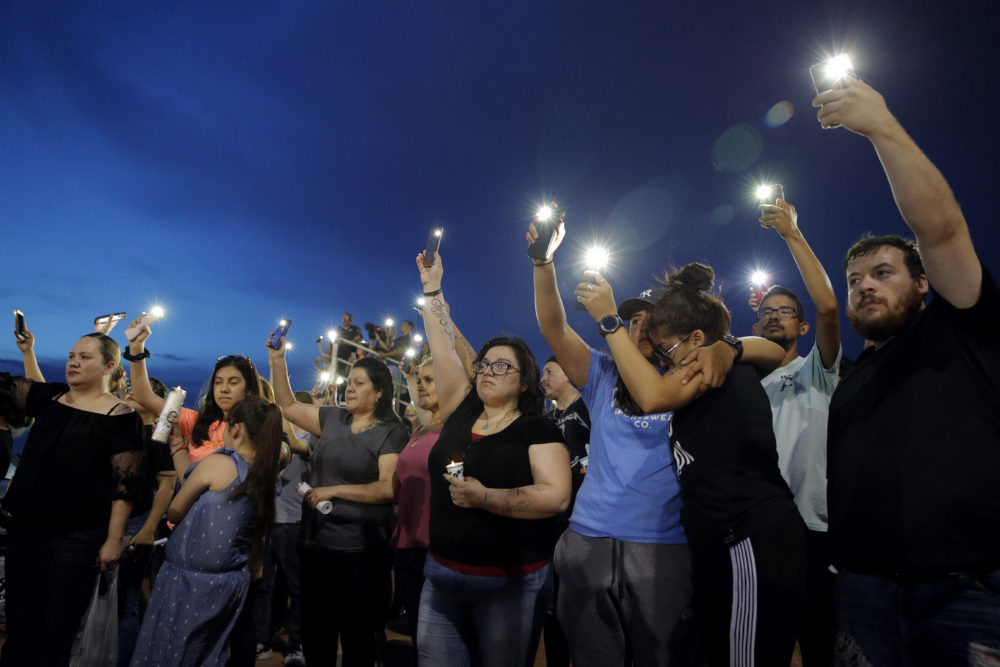 This article is more than 2 years old.
It's a weekday afternoon like any other at the office of Chelsea Collaborative. There's a meeting to talk about upcoming events — just what the nonprofit has been doing for decades. But the weekend shootings in El Paso, Texas have focused the conversation on security.
Chelsea Collaborative's executive director, Gladys Vega, said the group has plans to canvas areas of the city Friday to raise awareness around the census and voter registration.
But in light of the shooting in El Paso, the group no longer plans a big public presence. Vega said now, volunteers will knock only on doors of people they know.
"Just knowing that it was very targeted, it was against Latinos, against immigrants  — then Chelsea is this community; Chelsea is El Paso," she said. "So that is why we're changing the schedule and we're just trying to do everything with caution."
Minutes before the shooting that killed 22 people, authorities said the suspect posted an online screed about an "invasion" of Latinos at the southern border and talked about reclaiming the country.
Vega said immigrants in Chelsea are already on edge because of immigration enforcement, but the El Paso shooting brought a new level of fear.
"I'm the one they usually [call] when people say something outrageous and racially insensitive," she said. "I'm the one who calls them out in public. ... And I was telling this staff that I don't know if that would be the case now ... just because of who I am and what's happening."
But some activists feel the need to continue speaking out in the face of shootings and racism, like Franklin Peralta, a Dominican U.S. citizen who lives in Jamaica Plain. He says he debated whether to bring his two daughters to an anti-prison protest over the weekend in the wake of the shootings.
"It just happened in El Paso," Peralta said. "Twelve hours later, it happened in Dayton, Ohio. It is a real possibility that when we were there somebody could try to kill us."
But Peralta says he and his wife did not want to let themselves be intimated.
"At one point, I thought, that's exactly what they want," he said. "They want us to stay home. They want us to be fearful and not to come out and protest these kind of things. And I can tell you like I have two daughters — 8 and 5 years old — and I was like, maybe if something crazy happened, maybe I can use my own body to protect them."
"They want us to stay home. They want us to be fearful and not to come out and protest these kind of things."

Franklin Peralta
At a park in Chelsea, a dozen youth workers play games with a few kids from the area. William Palacios of the nonprofit Basement Tribe is overseeing a program to engage teenagers in positive activities. He says the El Paso shooting is disturbing but he's more concerned about the kind of street violence that takes place among the youth in Chelsea.
"In this community right now, I don't think we really feel that type of danger as far as white supremacy goes," Palacios said, "but the gun violence is real out here, and it doesn't just come from the white man, it comes from us."
Early in the summer, Palacios says his program would draw as many as 50 teenagers. Now, he counts just five.
He says that's because people have been scared to let their kids out of the house — ever since the Trump administration threatened mass deportations earlier this summer. Now, Palacios says he doesn't know what's keeping people away from the park: the threat of deportation, or a new round of mass shootings.
This segment aired on August 6, 2019.