Mass. Sheriff Touts Success Of Involuntary Treatment Program Amid Scrutiny Of Section 35
Play
This article is more than 3 years old.
A western Massachusetts sheriff announced Monday he's mounting a fight against efforts to eliminate the involuntary addiction treatment program he runs in his jail.
With legislative and legal battles looming over forced addiction treatment in Massachusetts, Hampden County Sheriff Nicholas Cocchi gathered supporters Monday to mark one year since his program at the Ludlow jail began. Among those supporters were many of the lawmakers who will ultimately decide if his program continues.
Cocchi said he's monitored many of the men who've been sent to his program under the state law called "Section 35." The controversial law allows family members, doctors and law enforcement officials to force people into addiction treatment through a court order.
"Over 860 people have come through our doors in one year. Less than 5% have been recommitted," Cocchi said at his event, which members of the press were invited to attend. "That's the best numbers around the Commonwealth."
A Hampden County Jail spokesman said the exact figures for repeat civil commitments at the jail are actually just over 5%, with a total of 855 people treated in the first year. Of those men, 46 were committed for a second time. One man was committed a third time.
The sheriff attributed the success in part to the average length of time men stay in the program — 45 days; that's longer than most treatment programs.
"This is not a jail. This is a former nursing home," Cocchi said. "There is no barbed wire here. Let's look at it for what it is: a change agent for people with addiction issues. We are a correctional facility with a treatment touch."
Here's how the process usually works: If a judge approves a Section 35 request, men enter the sheriff's program by first going to a detoxification unit inside a wing in the Hampden County Jail for about 10 days. Then, they typically go to a jail medical facility — the Stonybrook Stabilization and Treatment Center in Springfield — where Cocchi said his staff focuses on helping the men plan for when they will leave. That may include returning home or to sober living arrangements.
One of the first men to go through the program spoke before the lawmakers, journalists and others at Cocchi's gathering. Keith — who only wanted his first name used because of the stigma of addiction — credited the jail staff with saving his life.
"They stayed with me throughout my recovery, which is huge because most of these people are wearing badges, and I'm used to them telling me to lock in or cuff up, you know," Keith said.
Over the past year, critics have increased scrutiny of Section 35 and argue that men should not be sent to jails and prisons if they haven't committed crimes. The Legislature's Section 35 Commission recommends the state stop allowing men to be sent to correctional facilities for addiction treatment, and there is a bill pending that would ban the practice.
Cocchi argued treatment beds, however, are scarce in western Massachusetts, and that some people need to be forced into treatment. So on Monday, he promised a fight.
"We're going to fight to the end. I need to serve the people of my community," he said. "If we're saving lives, why would anybody want to stop?"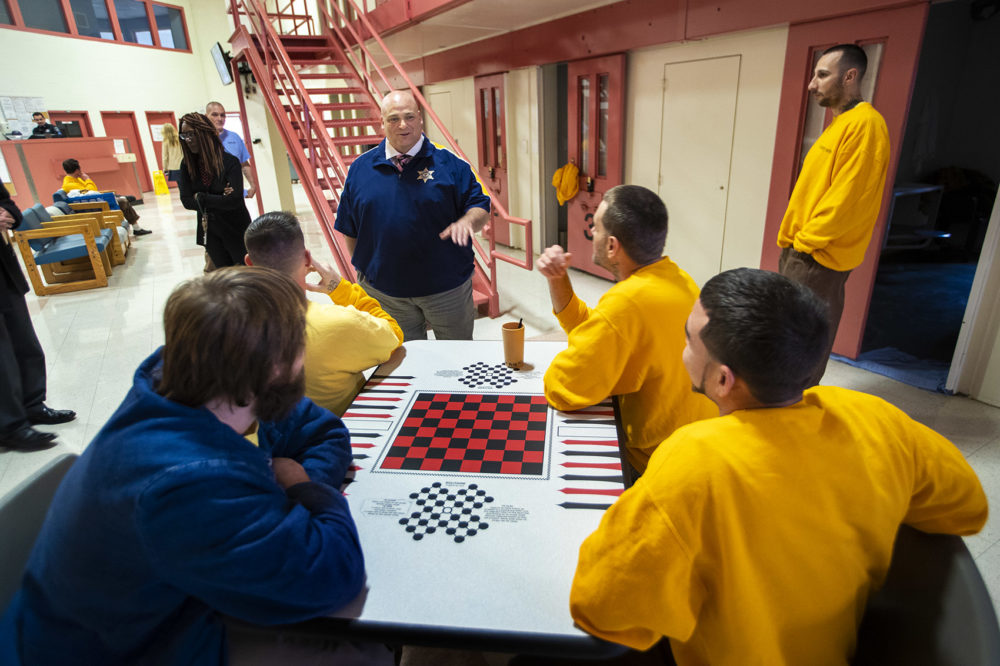 The sheriff appeared to have support among some state lawmakers. State Sen. Eric Lesser, whose district includes Hampden County, was among about a half-dozen state lawmakers who attended Cocchi's event. Lesser said he hasn't seen the legislation banning treatment in correctional facilities, but he supports the sheriff's program. Lesser said he knows there's been criticism of the other state treatment program run inside a prison — the minimum-security MCI-Plymouth — but that he believes the Hampden County program is different.
"I know this is a good program," Lesser said. "In a lot of cases you're dealing with folks who might be a danger to themselves or loved ones, and this is a way to protect them or their family members and get them treatment."
But many criminal justice reform advocates have long questioned why correctional facilities are used for treatment when that care has mostly been provided by correctional, not medical, staff. They've argued the state should invest in public health treatment programs that are not operating in prisons and jails.
Others disagreed. Congressman Richard Neal, who attended Cocchi's gathering, said the criminal justice system is an appropriate place to help deal with the opioid epidemic.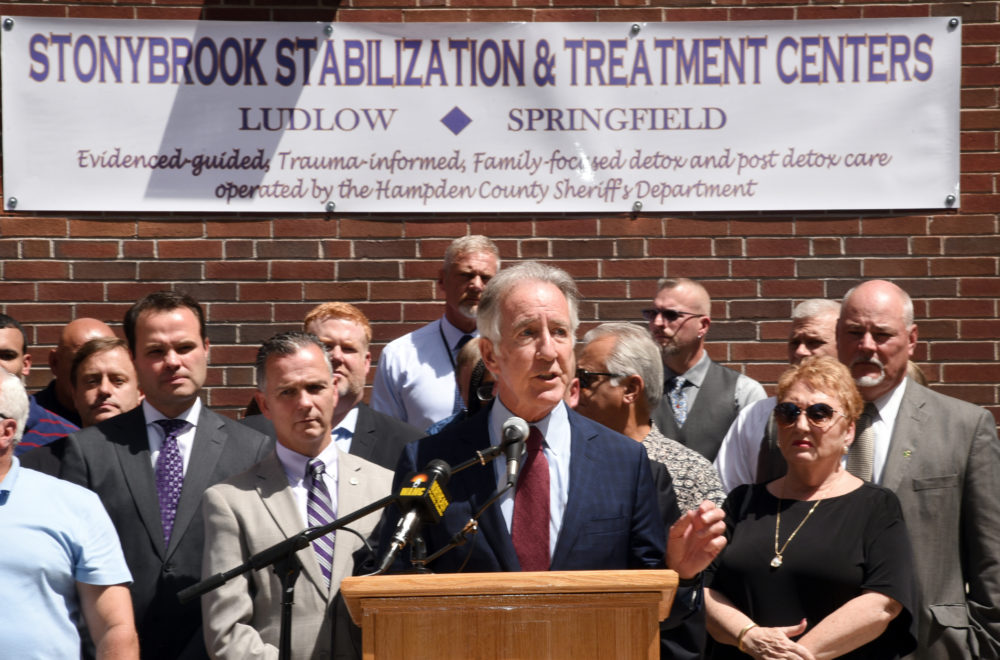 "When you hear the sheriff of Hampden or the sheriff of Berkshire County — when they say 90% of their inmates have a drug or alcohol issue, that tells you the story," Neal said.
The courts have also been looking at Section 35. The state faces a lawsuit alleging discrimination, because Massachusetts stopped sending civilly committed women to correctional facilities for forced treatment three years ago following another lawsuit.
"We don't need to put anyone in prison. What we need to do is invest in civilian resources," said Bonnie Tenneriello, an attorney with Prisoners' Legal Services, which filed the lawsuits. "It may be that right now families' only choice is this or nothing, but nobody should have that choice. We need to give these people the option for civil commitment in a civilian setting."
Many families said jail may be the only way to provide on-demand, locked treatment. Eileen Frantiska from Wilbraham civilly committed her 29-year-old son, Michael Frantiska, to the sheriff's program about three weeks ago after she found him overdosed in her home.
"I called the police and said he was dead. He was blue," Frantiska said. "But he came to, and they took him to the hospital. So I immediately went to court asking for a Section 35."
This was the third time Frantiska had involuntarily committed her son to treatment, but he was sent to state programs in Plymouth and Brockton before. Michael Frantiska said for him, this time is different.
"At the other places, the staff members don't even know your name," Michael Frantiska said. "Here they really care, and I think they want to help me."
His mother said she understands the debate but families are desperate.
"I hate to remove the rights of someone, but someone could easily just be dead," Eileen Frantiska said. "So you have to do what you have to do. It's not pretty."
Sheriff Cocchi expects the upcoming legal and legislative debates won't be pretty, either. Encouraged by $1 million in the governor's recent budget for his program, he asked lawmakers to work with him to perhaps carve out an exception or a way to keep his program running.
This article was originally published on August 06, 2019.
This segment aired on August 6, 2019.