In 'Ben Butler,' Gloucester Stage Mounts A Comedy With Slavery At Its Center
Ken Burns and Noël Coward are the unlikely bedfellows of "Ben Butler," a jarring but serious comedy by Richard Strand that is in its area premiere by Gloucester Stage Company (through Aug. 25).
The titular character grew up in Lowell, had ties to Cape Ann and became the 33rd governor of Massachusetts. But the play deals with a specific historical event plucked from 1861, when Butler, a newly minted Major General and just-arrived commander of Union-held Fort Monroe in Virginia, was petitioned by three runaway slaves to grant them sanctuary shortly after Virginia's secession. Butler, an attorney and contrarian as well as a declared champion of the underdog, had to figure out a way to legally circumvent the Fugitive Slave Act, which required the return of such escapees — less because he was a dedicated abolitionist than because he was trying to do the right thing while keeping his own nose clean.
But "Ben Butler," which premiered in 2014 and was presented Off Broadway in 2016, is neither a treatise on race relations nor a pejorative history lesson (and in this new time of sanctuary seekers, it's hardly old news). Instead, the play takes the form of a shrewd comic duel between two smart, compulsively obstreperous men with a very fine sherry subbing in for Coward's bubbly.
Pretty audacious, building a pithy comedy on the fate of slaves seeking agency just as the nation slipped toward the carnage of the Civil War. But however such a gambit would seem destined to backfire (and there will be people who deplore the disconnect between style and subject), it's what dramatist Strand pulls off. And at Gloucester Stage the piece is expertly acted by Ames Adamson and Shane Taylor, who have both played their roles in previous productions and manage to imbue the desperate interaction with crack comic timing, under the direction of Joseph Discher, also a veteran of previous stagings.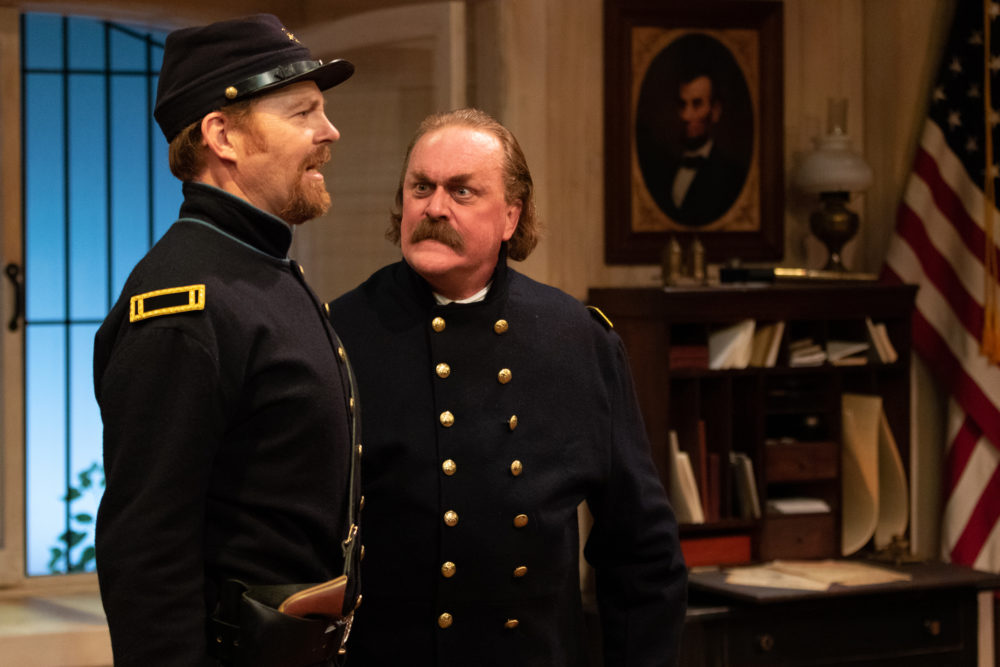 We first meet Adamson's Butler, as bristling as his mustache and bursting the buttons of his Union uniform, as he dresses down his adjutant, Lt. Kelly, played with an apt mix of military rigor and kowtowing by Doug Bowen-Flynn. It appears that the boldest of the escapees, Shepard Mallory (like Butler, a real person), has "demanded" an audience with the general. We quickly learn this much about Butler: Though he will entertain if not necessarily grant requests, he does not countenance demands — unless they are made by President Lincoln or his wife.
Over the ensuing scenes, we learn — not only about Butler but also about Mallory and Lt. Kelly — that much of the animosity in the world stems not from aversion but from ignorance of one another. That is the pat message of the tale. But the play works less by turning Butler and Mallory into a band of brothers than by making them both "arrogant oddities," as fascinated as they are exasperated by each other.
Of course no one could claim that the two men, however equally matched, wield comparative power — or that what they have at stake is equal. Moreover, in the end, Butler's quickly concocted rationale for declaring the runaway slaves wartime "contraband" — a bit of semantics that will become U.S. government policy — stems as much from wanting to outwit an infuriating enemy as from moral conviction (though you can see that brewing as Butler gets a quick, visceral introduction to the brutality of slavery).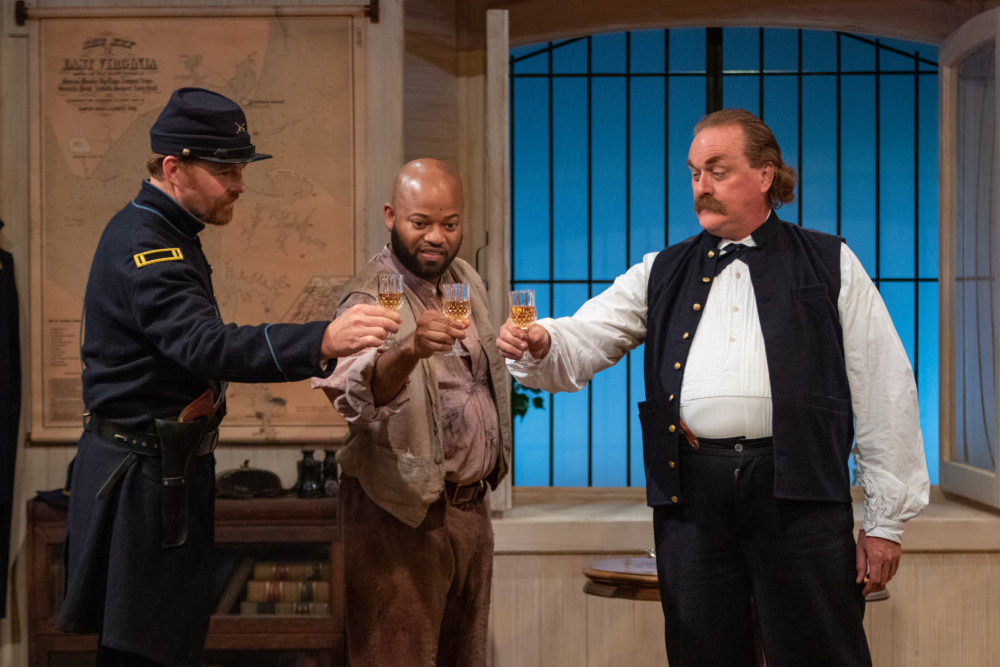 At Gloucester Stage, the conversation unfolds on a thrust stage nicely detailed by Greg Trochlil from its sturdy brick walls to its presiding photo of the Great Emancipator. As if to combat the play's wordiness, the director moves the characters briskly about the space, Adamson's Butler with a wide-legged strut, Taylor's Mallory alternately shrinking and darting. Both characters attest to blurted utterances that belie their innate wariness, and the actors convey this as they wrangle to get "the last word." These are strong, complex if not always pleasing personalities, and their cat-and-mouse game, however urgent, is fun to watch.
Bowen-Flynn amusingly charts Lt. Kelly's journey from strict protocol to enthused, admiring advocacy. And as the prissy Confederate officer who shows up to collect the human chattel, David DeBeck, decked out in red sash and white gloves, does his best with a character made up of pomp, badness and buffoonery. He hasn't got a chance: Although it's only 1861, you can predict who will win this war. Both right and repartee point north.
---
Gloucester Stage's "Ben Butler" is on stage through Aug. 25.