Kirsten Greenidge's New Play Lets Us Roam The Halls Of A Failing School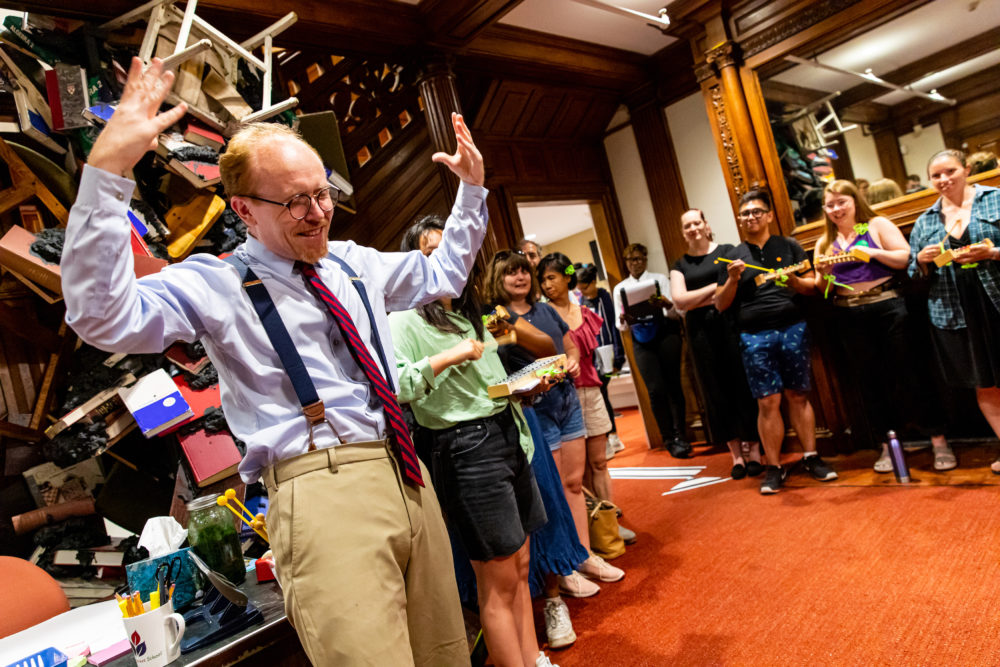 This article is more than 2 years old.
The audience traipses up, down and all around Boston's Commonwealth School, the site-specific setting for the ingeniously immersive "Greater Good." But it's mostly descent for the progressive educators of the fictional Gleason Street School, where Kirsten Greenidge's ambulatory play — seen here in a world premiere by Company One Theatre in collaboration with American Repertory Theater (through Aug. 17) — unfolds. Once a bastion of unfettered humanistic learning, the independent institution finds itself deep in a hole bordered by high-minded ideals, mismanagement and the bottom line.
Of course, Gleason Street is a microcosm of our imperiled democracy, in which issues of race, class and gender bump up against one another every day. Here, as elsewhere, it's a struggle to follow the money as well as "the mission." And it's no spoiler to say Gleason Street is losing its battle. The play, which moves mostly backward toward a polarizing event the previous school year, is framed as a real estate tour: We the audience are potential bidders being shown around the once-beautiful, now shabby carapace that was home to the school. (The Commonwealth School is hardly rundown; you have to use your imagination. Speaking of which, a great deal of imagination, not to mention work, has gone into the children's artwork and suggestive stacks of educational detritus that, in Cristina Todesco's scenic design, festoon the place.)
Although "Greater Good" takes place in a school, no children appear. The play is concerned with the governance of the institution, which is shared by a parent council and a third-generation Head of School who, obsessed with his xylophones, is almost too flaky to be taken seriously. Headmaster Gordon does seem to genuinely love the school his grandfather founded and to embrace its freewheeling, agency-endowing principles. On the other hand, he is sleeping with one of the parent council members, with whom he wants to run away from it all, and is more interested in introducing baking into the curriculum than in listening to tough ideas about how to save the school.
With Gordon so ineffectual and the school lacking a corporate board, it falls to the parent council to throw the worthy, flailing institution a lifeline. But here too, despite the members' shared belief in progressive education, class and racial tensions, as well as operative approaches, get in the way. So does a crazy, deflective insistence on following arcane procedural rules.
Tellingly, in such a philosophically like-minded group as the parent council, cash is a bigger divider than race, with whites and people of color among both the solvent and the struggling — those who favor massaging potential donors with a fancy "gala" and those who want to blow that approach right up. But whatever side the parents and educators are on, their concern is with figuring out how to keep the school, in contrast to its elitist counterparts, accessible to all, whether or not their families can come up with the $35,000 tuition. Not surprisingly, some of the wealthier parents feel they are carrying the place on their backs. The question is: how far should those backs be willing to bend for the "common wealth," the "greater good"?
Financial inequity seems to extend to the faculty as well. The two teachers we meet, Isa and Kyle, are both people of color and Kyle is transgender. Both love teaching and are committed to the progressive school's non-lockstep methods but are woefully underpaid (and brushed off by management when they raise the subject). We are told that there are "old lady teachers" somewhere in the building who get automatic raises, but we don't meet them.
If some of the characters in "Greater Good" are oversimplified, the issues addressed are provocative and troubling. Moreover, the structure of the piece (which has been supported by the Mellon Foundation's National Playwright Residency Program) proves both workable and intriguing. This technique of setting scenes simultaneously, with audience members viewing them in random order, isn't new: it runs from María Irene Fornés' 1977 experimental feminist work "Fefu and Her Friends" (an acknowledged "Greater Good" influence) to Alan Ayckbourn's more slickly commercial "The Norman Conquests" to such atmospheric, immersive installations as "Sleep No More."
In the case of "Greater Good," the play begins and ends with meetings of the parent council in a large basement room into which the entire audience can fit. Sandwiched between these two scenes (and a coda) are three suites of mini-dramas taking place in classrooms, hallways and offices on various levels of the school building. A few of these are more installations than plays. But each is played three times, so that the three sections of audience witness them in different order. All roads, however, lead to a much-alluded-to act of rebellion that iced the cake of the Gleason Street crisis.
Greenidge, who has been playwright in residence at both Company One and the Huntington Theatre Company, is the author of the Obie-winning "Milk Like Sugar" and the excellent "Luck of the Irish," both originally produced by the Huntington, and "Splendor," first produced by Company One. (Surreal elements characteristic of the latter also find their way into "Greater Good.") Most of the dramatist's plays deal with matters of race, class, gender and political discourse, though none have taken as radical — and enjoyable — a form as "Greater Good," its moveable feast cleverly orchestrated by director Steven Bogart and credibly acted by a mostly non-Equity cast, whose members find the whimsy as well as the urgency in the work.
Brooks Reeves' performance as the pedagogically enthusiastic Gordon bumps against the ceiling of over-the-top but still manages to be rapturous, spineless and hilarious at once. Christine Power is all elegance and grit as Val, the be-pearled president of the council, and Blyss Cleveland is cool and collected, diplomatic if eye-rolling, as Kim, a minority member of the privileged class.
Dominic Carter is an irrepressible Michael, who has made big bucks designing video games and is still trying to channel the Vesuvius of energy that got him into trouble as a kid in a conventional school. Shahjehan Khan is the other half of the manpower on the mostly female council, trying vainly to pilot his spreadsheets against the prevailing current.
As Christine, the mother of a scholarship student and nervously new to the council, Rachel Cognata is marvelously watchful and expressive. Becca A. Lewis brings a desperate if kooky ferocity to Fern, who, like Christine, was not to the manor born but will fight for her place at the table. Among the faculty, Raijene Murchison is a formidable Isa, a math teacher equally attached to her abacus, her foul mouth and her insistence on fair treatment. As Kyle, Dev Blair rocks a blithe if quivering assertiveness as well as blue dreadlocks.
A sociopolitical, philosophical work like "Greater Good" runs the risk of seeming like a tract. But that doesn't happen here. That's because, viewed up close and personal against the bricks and mortar of the Commonwealth School, the characters, well modulated by the actors, seem as real as their surroundings. I'd follow them anywhere — and moving through the schoolhouse world of "Greater Good," I did.
---
Presented by Company One Theatre in collaboration with American Repertory Theater, "Greater Good" is at the Commonwealth School through Aug. 17.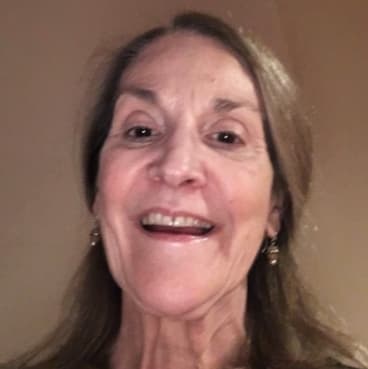 Carolyn Clay Theater Critic
Carolyn Clay, a theater critic for WBUR, was for many years theater editor and chief drama critic for the Boston Phoenix.