Local Asylum Seekers Face Longer Wait Times As Boston Immigration Officials Head To Border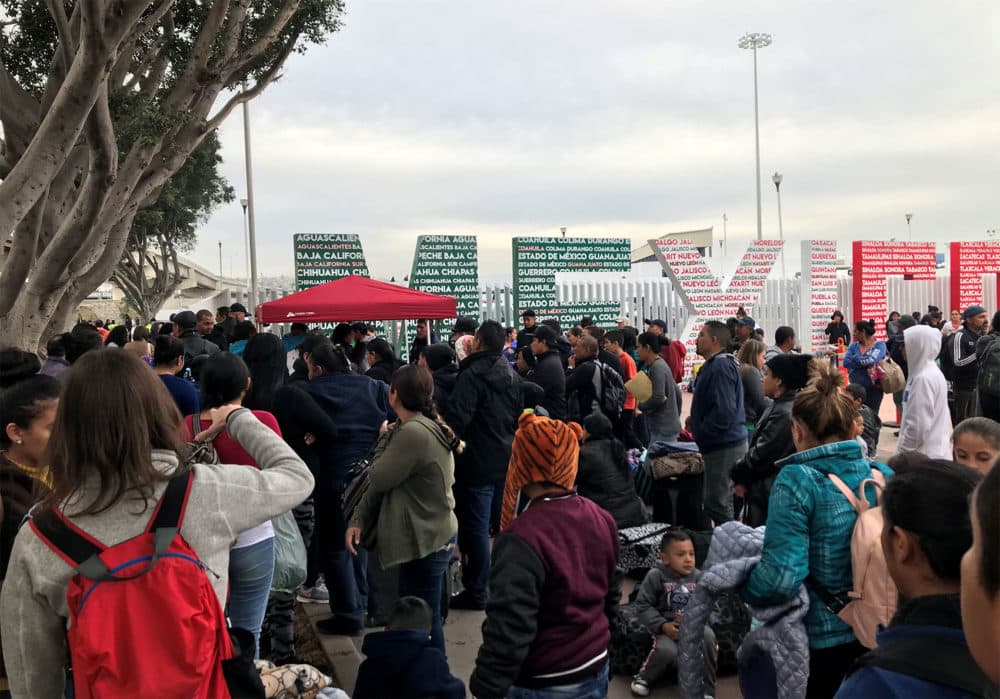 This article is more than 3 years old.
Asylum seekers in the Boston area can expect longer wait times, as local resources are being shifted to the southern border.
U.S. Citizenship and Immigration Services notified local immigration attorneys that asylum officers from Boston will be sent to the southwest border with Mexico to address the influx of asylum seekers there.
An email to members of the American Immigration Lawyers Association said a majority of the asylum officers in Boston, along with Newark and New Jersey, are being deployed to the border.
Cambridge-based immigration attorney Susan Church, who received the email, called this another attack on the legal immigration system by the Trump administration.
"All the time that these asylum officers are away at the border, interviews are not being conducted and that backlog is growing larger and larger and larger," she said.
Church estimates the wait time for asylum cases in Boston is between three and six years. That's expected to increase now with USCIS pulling local resources and diverting them to the Southwest border.
A USCIS spokesperson on Friday confirmed that the agency is not currently scheduling new cases for review in its Boston office, but agents are working on "a number of post-interview backlog cases and they are still scheduling expedite interview requests on a case-by-case basis." She also clarified that clarified that the officers in Boston would work on cases remotely rather than travel to the border. These kinds of staffing adjustments have been made in the past and are "always temporary," according to the spokesperson.
Sarah Sherman-Stokes, an immigration attorney and Boston University clinical professor, said longer wait times can undermine even the most legitimate asylum claims.
"The evidence of that persecution is harder to come by, witnesses might pass away or move, it might be harder to get medical records or police records after a certain period of time," she said.
The influx of asylum claims at the border is a crisis of the administration's own making, according to Sherman-Stokes.
"They've created this funnel that brings everybody to ports of entries, then they're telling them, 'In fact, you have to wait in Mexico,'" she said. "This is exactly the playbook that the administration has consistently followed: create a crisis, say they're not responsible and then purport to rescue us from the crisis."
The correspondence, signed by Susan Raufer, director of the Newark Asylum Office and Meghann Boyle, sub-office director of the Boston Asylum Sub-Office, says no new asylum interviews will be scheduled for the time being in the Boston office.
"We are disappointed not to be able to continue to cut into our backlog or to adjudicate affirmative cases. We appreciate your understanding," the email concludes.
Church says this will impact asylum seekers who are living in the community and who generally have very strong cases.
"They are asking the government for asylum in the U.S. before they're caught by ICE, before they're caught by Customs and Border Patrol, they're bringing themselves to the attention of immigration and asking for asylum."
Correction: A previous version of this story misidentified the federal agency involved in the asylum cases. It is the U.S. Citizenship and Immigration Services.
This article was originally published on August 22, 2019.