After A Short Presidential Run, Moulton Faces District Voters — And 2 Primary Opponents
03:23
Play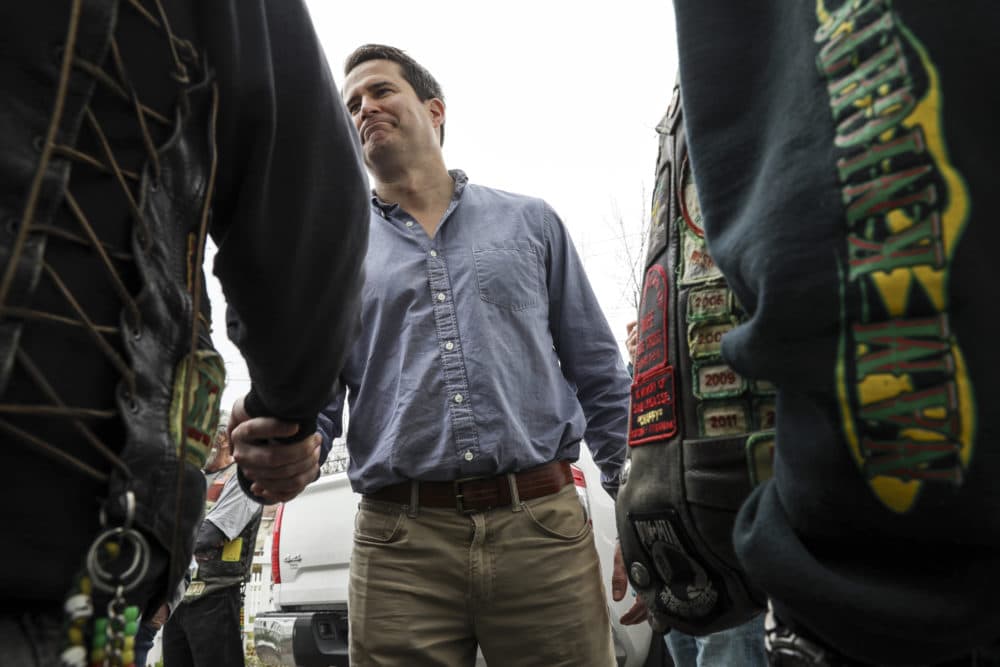 This article is more than 1 year old.
Massachusetts U.S. Rep. Seth Moulton is now focusing on his re-election to Congress next year.
On Sunday, before the Democrat returned to Washington, he was in his North Shore congressional district, reconnecting publicly with constituents for the first time since he dropped out of the 2020 presidential race Friday.
He sat at a picnic table in Newburyport holding his infant daughter in his arms, bottle-feeding her as we talked. He'd had a couple of days to figure out what he wishes he had done differently in his presidential run.
"Well, of course, I should have gotten in earlier, but the reason I didn't is right here in my lap, so I don't have any regrets," Moulton said. "The response I was getting on the ground was fantastic, but there weren't always enough people there.
"We had a town hall in Iowa just about a week ago," he added, "and someone said, 'Seth, you're amazing.' And he went through all the other candidates and how I match up against them. 'You're the nominee that we need, but we need 500 people here, not 30.' And he's right. So that's just the way it works sometimes."
Moulton received a warm reception at the Democratic picnic. One woman welcomed him home and thanked him for both his military and political service.
"I like Seth Moulton," said Emily Sheehan, of Newburyport. "I didn't feel like he had the support behind him for this run. I'd like to see him run in future years, and I like him as our representative quite a bit. I'd like him to stay as our representative."
"The response I was getting on the ground was fantastic, but there weren't always enough people there."

Seth Moulton, on his presidential run
Some constituents felt Moulton needed to address to them what critics saw as missteps in his political career.
"He has to reconnect with the district," said Charlie Tontar, chairman of the Newburyport Democrats. "I think he's a very compelling candidate, and he's been a good congressman. Some Democrats were upset with him for challenging Nancy Pelosi, the speaker [of the House], and I think he has to talk about that among Democrats, because he has to be facing a primary."
Both women running in the primary against Moulton came up to greet him at the picnic.
"We've got to put an emphasis on women," said one of his challengers, Jamie Belsito, who founded an organization that advocates for mental health services for mothers suffering from postpartum depression.
"I do feel like his attempt at a presidential run has really shown us that his sights are focused elsewhere, and he hasn't been with us here on the ground," said Moulton's other challenger, Salem City Councilor Lisa Peterson. "So many people are saying: 'Where is he?' "
The congressman pushed back against that idea.
"I've never lost touch with this district," Moulton said. "We've been getting extremely high marks on our constituent services."
Standing with his wife, Elizabeth, and daughter, Emmy, Moulton briefly addressed the crowd.
"So what I am looking forward to more than anything else is spending a little bit more time with Liz and Emmy, but I will also be spending much more time with you," he said before heading home to Salem.
From there, he took a flight to Washington, where on Monday, he restarts his campaign committee to elect veterans and other public servants to Congress.
This article was originally published on August 26, 2019.
This segment aired on August 26, 2019.