Cliff Notez Explores Duality, Race And Mental Health In New Album
In the front room of the Jamaica Plain collective known as White Haus, Boston hip-hop artist Cliff Notez sits on a throne of his own creation: a pink floral armchair with a baroque wood frame that he recently painted gold. Here, he reigns over creative chaos, the space scattered with canvases and spray paint cans and furniture of miscellaneous origin, an antique Kurtzmann piano in the corner, the walls dotted with murals and the abstract aftermath of a live-painting installation from a house party years ago.
It's a scene that suits him as he emerges as one of the Boston arts community's busiest multihyphenates. In addition to his musical career, he's a professor of hip-hop at Berklee, a professor of music marketing at Emerson, founder of the media production company HipStory, curator of the ongoing Sketchbook music series at Atwood's Tavern in Cambridge and organizer of this year's Boston Answering music festival. His short film "Vitiligo" was just released to the public after two years on the festival and university screening circuit.
He's working on more visual art, too. Today, the throne is just another seat in the space Notez describes as his "adopted studio home," but soon it will make its debut at the Oberon as a stage prop at the release show for his upcoming album, "Why the Wild Things Are." It's a shorter, denser, and more varied listen than his 2017 debut, "When the Sidewalk Ends," and incorporates a long list of collaborators from around the Boston area: STL GLD, Photocomfort, Anson Rap$, Latrell James, Anjimile, Optic Bloom, Forté, Mint Green, and Hasaan Barclay, among a slew of others.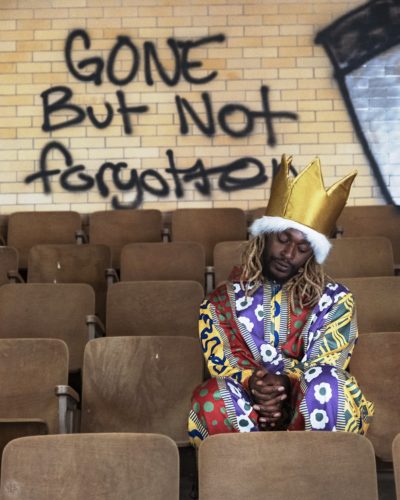 "Wild" was the operative word for Notez. While working on the album, he'd been watching Ava Duvernay's "When They See Us" miniseries, which tells the story of the five Harlem teens of color who were labeled as the "Central Park Five" and wrongly convicted for the rape and beating of a jogger in 1989. Their use of the phrase "wilin' out" as slang for hanging out as a group was redefined as "wilding" by the police and misrepresented by the media, which portrayed them as an out-of-control "wolf pack."
"I remember the major prosecutor being like, 'What is wildin'? What is wildin'?' That code-switching, it just clicked ... Wild is one thing to us and it means so much to so many other people, and I wanted to dig into that. I also really started getting frustrated with using the word 'crazy' as a negative term and wanted to start using the word 'wild' instead," says Notez.
The album is also a loose parallel to the children's book "Where the Wild Things Are," which was banned by many parents and teachers during the 1960s due to its sympathetic portrayal of anger and rebellion among children. "I was like, 'This is great, that's the story of black people and anger,' " says Notez.
Like "When the Sidewalk Ends," "Why the Wild Things Are" explores race, mental health, and the ways they intersect, but this time around, Notez aimed to take a more narrative approach, genre-hopping while exploring the dualities in his own life. "Rebel" links fury and fear: STL GLD's distorted roar "I think it's 'bout time we rebel" gives way to Photocomfort's haunting pop bridge — "lullaby and goodnight/ don't fall asleep or you'll lose your mind" — floating above a clash of rapped verses, industrial electronics, music-box chimes and earth-shaking bass.
Lead single "Happy" offers a shot of pop-radio-primed hip-hop; Notez lays out his identity as "a walking double-negative, oxymoron, double entendre." It builds a sense of defiant hope, even as a verse from Moe Pope interjects images of looming violence and materialism. "Get Free II" puts a deeper spin on a sample of Rob Base and DJ EZ Rock's "It Takes Two," reconciling with a choir singing "It takes two to make a thing go right/ It takes two to make it out this life."
"I think a big part of the album is embracing the duality of the different things that can be inside of you, saying you need to have these things inside of you to make it through the world," he says.
The album also explores new sounds, and dives further into ones he'd experimented with on the last release: "Voodoo" and "Venus Encarnate" pull R&B influences forward, he strips back the production to the simple acoustic-folk of the recurring "Losing Crown" tracks and soulful stomp-and-clap of "Get Free I." "Black Incredibles" blends Notez's spoken word ("Don't tell me I get one super power and I can only select one/ Don't tell me I can't be a genius one day and a beast the next one") with choir-backed hooks from Mint Green.
There's little transition between the tracks, but the episodic effect suits the album, reconciling a rollercoaster of events from Notez's recent life with a common theme of finding balance and validation amid the tension.
Beyond his public successes of the past two years — local acclaim of "When The Sidewalk Ends," the New Artist of the Year award at the 2018 Boston Music Awards, recognition of "Vitiligo" on the independent film festival circuit — he was struggling.
His multiple creative projects required an exhausting amount of effort to keep in motion. He'd made an album about mental health, and it was coming at the cost of his own. A six-year relationship had ended abruptly — one that he'd moved to Washington, D.C. for, which meant that the end of the relationship left him temporarily homeless.
"The end of last summer, when I got back from tour from the U.K. through this February, was probably the worst time of my whole entire life, which is weird because all these amazing things were happening," he says. He spent November in the Berkshires, in a month-long artist residency at MASS MoCA, where he made beats, painted, and wrote songs — 65 or 70, in total he estimates — and moved into White Haus after his residency ended.
In December, he performed at the Boston Music Awards and won Best New Artist, though he was "so out of it." A week later, his brother Brian passed away suddenly. They'd been close; his brother was a year older, they'd attended college together, and much of "When The Sidewalk Ends" had referenced his struggles with bipolar I disorder.
The night of his brother's funeral, Notez left the reception and went directly to the House of Blues to open for Ja Rule. But as he performed, he realized how much the songs were about his brother, "and I'm just like, I can't do this. I can't. Even if I get in a good space, just because of how I've learned to perform and really invest in this character that I bring on stage, I have to push myself back into depression when I do those shows," he says.
"I was speaking about this depression and it was coming into my life. It wasn't until I started speaking about peace that peace started coming into my life," he says. "Like, 'I'm not happy, but maybe if I make this music so I can perform it and put everything into that and try and make something that's more uplifting in some kind of way, maybe I can bring that into my life.' "