Christian Restrepo's Draped Designs Are Both Ethereal And Brutalist
Discovering beauty in the every day is what first inspires Boston-based Colombian-American maker Christian Restrepo to invent textiles using unexpected materials: Staples. VHS film. Even carpentry nails find new life when pierced through yards of fabric, which he then fashions into garments to envision how his new textiles move and breathe on the body.
"I have this notion of looking at things not for what they are but for what they could be," Restrepo says.
For a hint at what these materials could be, take a look at SIGLIO, what Restrepo calls his body of work. You'll find draped dresses and structured jackets studded with staples, equal parts ethereal and brutalist. Armor-like vests of horsehair stabbed with carpentry nails. Genderless gems — a shirt, maybe a coat? — that defy categorization. You'd just as easily expect to find the pieces in a gallery, though you can catch one-offs at December Thieves in Beacon Hill or commission pieces from him online.
His moldable "grapa" textile, created by stapling rows of metal staples into fabric, weaves through his career. But now, after his latest show at the MFA as part of Latinx Heritage Night, Restrepo is mining his past for inspiration and honing his vision for the future.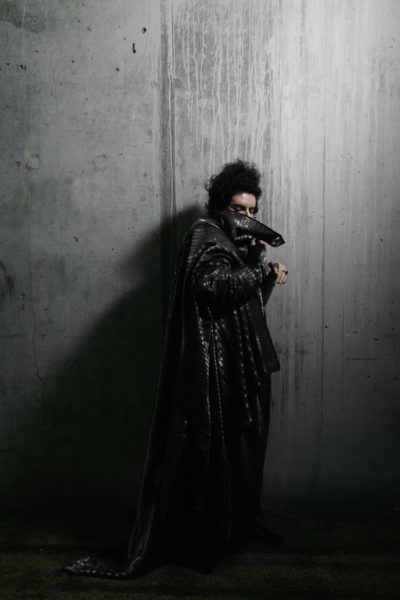 Born in Queens to Colombian immigrants, Restrepo lived in New Jersey, Boston, Texas and Florida in his youth. As a kid in Texas, he remembers exploring the sewing room of his grandmother, a tailor for Medieval Times. He followed the thread of creativity back to Boston, where he studied at Boston Architectural College for about two years before changing course. After some soul-searching, he started at MassArt in 2011 as an illustration major because he wanted to build worlds and tell stories.
He switched to fashion instead, drawn to the idea of storytelling in a more physical way. His passion for textile design surfaced while working on his thesis collection, when he experimented with materials from handmade paper to fibrous yarn. On a whim, he moved to New York City for a year after graduation, where a tight budget forced him to continue to remix and reimagine materiality. While stapling papers at his day job he noticed how beautiful the staples were, especially in the light.
But can you wear stapled fabric? The short answer is yes, his grapa textile is among his most wearable and durable creations. Though, wearability — he admits, toying with a test sleeve with porcupine rows of carpentry nails — isn't his focus. "The way I see my practice is that I'm a person that makes textiles, and then to see them on a larger scale I make them into garments," he says.
Which is why it makes sense that he dodges the loaded terms "artist" and "designer," opting for "maker" instead. He also feels too constrained by the usual idea that designers create collections under a time crunch every season. He moved back to Boston in 2016 and now works as the studio manager in the fashion department and as an instructor in the school of continuing education at MassArt. The job surrounds him with other creatives and the steady income means his creative practice doesn't need to fund his life.
Instead, he can experiment, weaving magic from the mundane.
Restrepo jots ideas and diagrams in the sketchbook he always carries with him. Hardware stores and fine art spark inspiration. An illustration by Anders Røkkum inspired Restrepo to bead crumbled silk chiffon with pyrite to capture the texture of the Swedish artist's work. He experiments with small textile swatches. Not everything works. A recent fascination with metal binder clips sent him riveting the things to fabric for hours until the bits fell off — but he builds off his failures.
"I really love my failures as much as I love a finished successful piece because the failures inform my practice," he says.
Last week's Latinx Heritage Night fashion show at the MFA, curated by the founder of Boston Fashion Week Jay Calderin and Evelyn Beato, saw Restrepo expanding that practice and stepping out of the shadows. He's worked primarily in a palette of blacks and grays, but the debut of his nine-look "Artefacto" body of work ended with three glimmers of gold.
"The three gold pieces are like me dipping my toe into like my Hispanic side. Which has always been there, but I never felt fully connected to it," he says.
There's perhaps a sense of seeking permission, here, a wrestling with the single box that society often wants to shoehorn whole identities into.
Restrepo talks of should and buts. He's the first in his family to attend college but then he went to art school. He's gay and Latino, and certainly not the first person to grapple with the cultural baggage and toxic, outdated stereotype of what a hyper-masculine Latino man "should" be.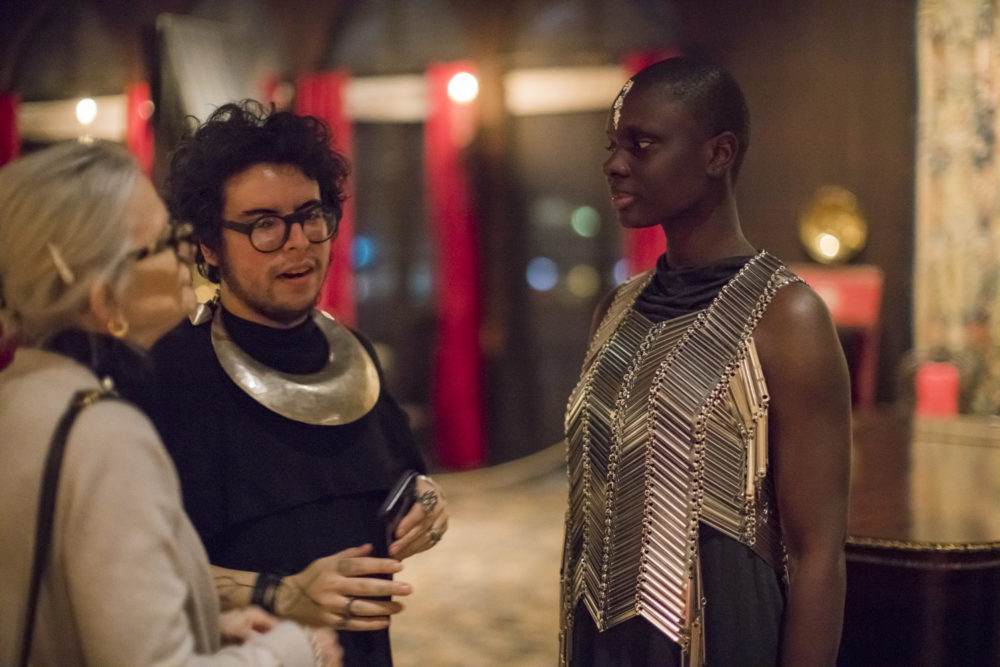 "I'm gay, and so it was funny being like the black sheep of the family," he says, "because of just being not like what a Latino man should look like, or dress like, or act like." What if you're not one thing? Are you ambitious enough, or "masculine" enough, or fill-in-the-blank enough to claim an identity?
The gold pieces, including a show-stopping jacket that's bonded with actual gold leaf, are a way to explore those questions. The combination of black and gold reminds him of the decor of his childhood home and the jewelry his parents would wear. His sleek mother would pair black dresses with gold jewelry and a red lip. Even now he wears his father's gold necklace with two charms — a pyramid and a small hand — from a bracelet his parents gave him as a child. He sees how gold threads backward from his parents and further into the past. "If you look at the pre-Columbian sections of museums, they always have these beautiful gold hammer-beaten objects," he says of his pieces that boast a more brutalist, metal vibe. "It resonates with me."
He's happy with how the gold-leaf textile worked out, though the wheels are already spinning on improvements. Maybe he'll create a swatch of the textile and coat it with clear silicon to prevent the leaf from flaking.
And he's reimagining even more, experimenting with his textiles as sculptural objects independent from the body and his garments as modular pieces, like jackets that can transform into shoulder bags.
He's redefining and remixing labels just as he does with everyday objects. There's no one defined use for anything. "It's all finding a balance and trying to understand what it's like being a human."