WBUR Poll: Two-Thirds Of Mass. Voters Approve Of Baker's Vaping Ban
There is clear public support for Gov. Charlie Baker's four-month ban on the sale of vaping products in the state, according to a new WBUR poll.
Last month, Baker took the controversial step in response to hundreds of reported cases of vaping-related lung illnesses and some deaths across the country. There has since been one death in Massachusetts and a growing number of likely cases of lung illnesses.
Two-thirds of Massachusetts voters approve of the vaping ban, while only a quarter disapprove, according to the WBUR survey.
And support for the ban is strong across all age groups, though young people ages 18 to 29 had the lowest levels of support for the ban — 49% approve of it, while 41% disapprove. Support for the ban gets stronger as the age of poll respondents increases. Three-quarters of voters over 60 support the vaping ban, according to the WBUR poll.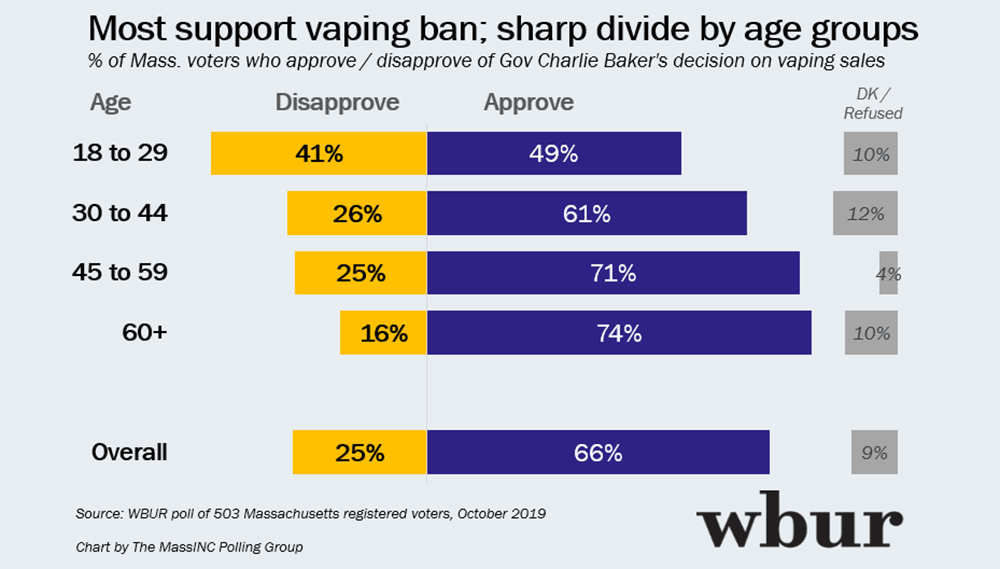 This variation by age could be explained by who uses the product and what information respondents may have about vaping, according to Steve Koczela, the president of the MassINC Polling Group, which conducts surveys for WBUR.
"We've seen in many studies now that the prevalence of vaping varies significantly by age," Koczela said. "I think this is something where younger people are more likely to use the product, more likely to know other people who use the product, whereas older people, their exposure to it is either their kids or grandkids or some of the more negative publicity that's surrounded vaping."
The live telephone survey of 503 registered voters was conducted Wednesday through Sunday. On Monday, a state judge allowed the temporary ban to remain in effect, saying that lifting it — as members of the vaping industry requested in lawsuits — would conflict with "public interest."
In declaring a public health emergency, Baker said the ban would give public health officials time to gather information about what is causing the mysterious illnesses. Many health organizations welcomed the ban as a necessary and urgent intervention. But some regulators criticized the ban, saying it would just push people to unregulated vaping products.
Meanwhile, the ban caught local businesses off guard, leaving them frustrated and concerned about their future. Some have already been forced to close because of the ban.
There has been much concern about the rise of e-cigarette use among teens and young people. Several states have banned flavored products, which many advocates believe entice young people to vape. The Trump administration has even proposed a federal ban on flavored vaping products. And just last week, e-cigarette maker Juul announced it would suspend sales of most of its flavored products, and signed a settlement to limit its marketing to young people.
The Massachusetts ban on vaping sales will be in place until Jan. 25, 2020. Since the ban was put in place, the state has clarified that local businesses can sell vaping products online or over the phone to out-of-state customers.