'We're Done': Boston-Area Shop Extinguished After Vaping Ban
Resume
Vape shop owner Stacy Poritzky's stores made $2 million in revenue last year selling nicotine vaping products in Massachusetts, but she's now closed four of her businesses.
"We're done," she says, standing amid boxes of inventory inside her Newton store, Vape Daddy's.
The growing public health crisis over vaping has claimed a new casualty — vape shops in Massachusetts — thanks to a four-month ban on selling all vaping products to in-state purchasers, ordered by Republican Gov. Charlie Baker last week.
Poritzky is left with $80,000 in vape juice, coils that heat the liquid and 20 different kinds of vaping devices that are now illegal to sell in the state.
She hopes to sell some of her inventory to shops in New Hampshire, but she's unsure if that's legal.
"Right now, we're just we're sitting on it. We can't do anything with it," she says. "We're in a really tough spot."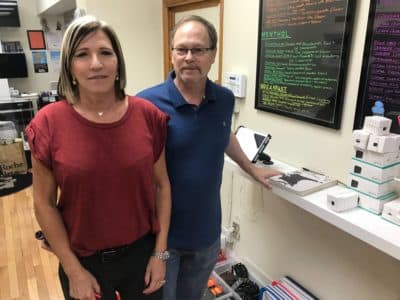 On Thursday, the Centers for Disease Control and Prevention said at least 18 people have died and more than 1,000 more have fallen seriously ill after vaping. A study published Wednesday in the New England Journal of Medicine compares vaping-related lung injuries to severe chemical burns.
Health officials suspect tainted black market vaping cartridges containing THC may be the cause of the outbreak, but some who fell ill reported only vaping nicotine.
Baker declared a public health emergency as he announced the ban on Sept. 24. Dozens of suspected cases of vaping-related illnesses have been identified in Massachusetts.
"One of the most difficult elements of this decision was, what about the store owners?" Baker said on Boston's WCVB-TV. "But the flip side of that is to continue to have the store owners sell something — when I just had a whole roomful of medical experts tell me that this is potentially extremely harmful and possibly fatal and nobody really understands why — just made no sense to us at all."
Several vape shop owners in Massachusetts are suing over the governor's ban.
Poritzky and her business partner David Bershad say the ban has upended their lives, along with the 10 employees they had to lay off.
This ban is the "most extreme" ban on vape sales in the U.S. and it prevents Poritzky from selling 96% of her inventory, she says. Other states banned flavored vape juices, but Baker's ban includes vaping devices as well.
In New York, for example, all flavors except tobacco and menthol were banned while devices remain legal to sell.
Rhode Island and Michigan have adopted similar regulations that specifically aim to keep teenagers away from vaping. And the Trump administration has also moved to ban the sale of most flavored e-cigarettes.
Poritzky says her shops might have been able to survive if the ban was less strict. Since her store only serves customers over the age of 21, she thinks she should be allowed to continue operating.
"Vaping is not a hobby. People have used that to quit smoking," she says. "Is it 100% safe? I would lay my life down that our products are 95% safer, less dangerous than cigarettes."
Bershad thinks the ban fails to address the core issue behind the vaping crisis since the CDC has reported 77% of people reporting pulmonary problems used tainted THC cartridges purchased on the black market.
"The black market on nicotine liquid is virtually nonexistent," Poritzky says. With the ban on vaping, she thinks a black market for the product could arise as more states introduce bans like nearby Rhode Island.
They fear their customers may start making their own nicotine juice or buying it on the street, which hasn't been the case up until now.
"I've spoken with at least 25 people since the ban went into effect who have told me, 'I'm back on the cigarettes … I couldn't get juice. I'm now smoking again,' " Bershad says. "To me, that's outrageous."
The owners of Vape Daddy's, both 60, are not optimistic that the store will reopen in four months when the ban is set to be lifted. Vape technology moves so fast, all of the devices on the shelves will be out of date.
For now, the business partners plan to keep one shop open and run it as a head shop, something Poritzky says they never wanted to do.
"I don't want to retire. I can't retire. What do I do?" Bershad says. "Wow, I'm not quite sure if it's hit me yet."
---
Peter O'Dowd produced and edited this interview for broadcast with Chris Ballman. Allison Hagan adapted it for the web.
This article was originally published on October 04, 2019.
This segment aired on October 4, 2019.