Eddie Murphy Returns To Form In 'Dolemite Is My Name,' A Raucous Biopic Of Comedian Rudy Ray Moore
This article is more than 3 years old.
The most fun I've had at the movies this year won't be coming soon to a theater near you. Netflix has been getting a bit better as of late about providing theatrical releases for their original pictures, but unfortunately, local playdates didn't pan out for "Dolemite Is My Name," a raucous, upbeat biopic of fantastically filthy comedian Rudy Ray Moore. Headlined by Eddie Murphy's warmest, most endearing performance since before email was invented, it's a bawdy, big-hearted romp best experienced amid the roars of a cackling crowd. You're going to want to invite your friends over to watch this one.
We first meet Murphy's middle-aged Moore in 1970, at the middling end of a music career that went nowhere, telling bad jokes as an emcee at a run-down Los Angeles comedy club. "Hey man," he wonders aloud, "How'd my life get so small?" But Rudy finds his second act after running into a neighborhood wino (Ron Cephas Jones) who spins tall tales in rhyming couplets about a mythical pimp named after a vitamin. Soon our hero has brought a tape recorder and a few bottles of hooch downtown to where the hobos gather around a flaming garbage can, playing the dozens and talking smack while Rudy gathers material for his greatest creation.
It's electrifying to watch Murphy don the tacky costume and bad afro wig as Rudy refines the character of Dolemite at home in his mirror, improvising and expanding on street jokes to make them even more ribald and ridiculous. For those of us who grew up on Murphy's comedy, it feels like a glorious homecoming. After all, he hasn't exactly made it easy to be a fan over these past several decades, and few actors are less adept at disguising their contempt for weak material. For so long, Murphy has seemed so surly and aloof, what a thrill it is to watch him reconnect with his joy of performance here, to once again bask in the glow of that naughty, contagious smile.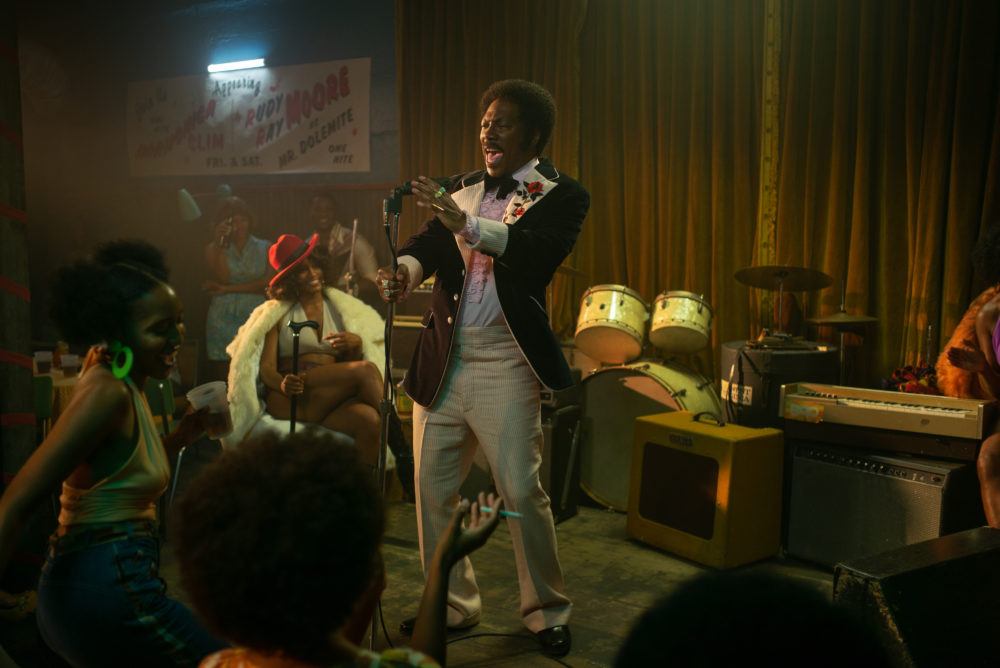 Eddie Murphy cusses again onscreen for the first time in 20 years, reclaiming ownership of a certain twelve-letter epithet he'd apparently handed over to Samuel L. Jackson for safekeeping on the set of "Coming to America." In fact, Rudy's Dolemite alter ego swears so much that his records have to be hidden under the counter at stores, or sold out of the back of his trunk after gigs on the Chitlin' Circuit. Rudy's elderly aunt wonders why he can't do clean comedy "like that nice Bill Cosby," but our comedian has bigger dreams. He wants to be in the movies.
The bulk of the picture is a fall-down funny chronicle of the making of 1975's blaxploitation classic "Dolemite," a film so winningly, rambunctiously inept it feels like outsider art. With his fast-talking hustle and apparently boundless optimism, Rudy recruits a motley crew of misfits to bring his nightclub character to the big screen, with all the "titties and kung fu" you could ever want to see in a movie. (The film hilariously frames Rudy's inspiration as a trip with his pals to see Billy Wilder's wan remake of "The Front Page," a film notably short on both desired quantities.)
Screenwriters Scott Alexander and Larry Karaszewski have been here before. Their 1994 masterpiece "Ed Wood" chronicled the exploits of the world's worst filmmaker with similar empathy and affection, and the two specialize in biopics about American oddballs — Larry Flynt, Andy Kaufman, Margaret Keane — you can't imagine anyone ever wanting to make a movie about. But then that's the surprisingly resonant force that drives "Dolemite Is My Name," Rudy's realization that nobody's going to put him on the big screen except himself. He's his own only chance to "get up there in the light."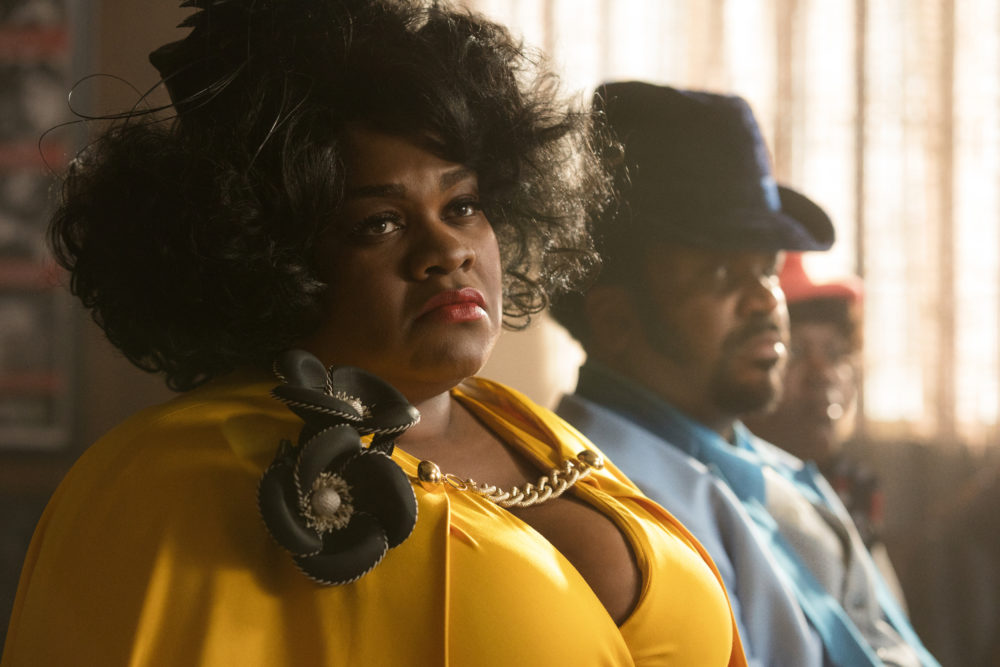 The crackerjack ensemble includes Keegan-Michael Key as a serious playwright recruited to script these silly shenanigans, along with Craig Robinson as musician Ben Taylor and the wonderful Da'Vine Joy Randolph as Rudy's raunchy comedy partner Lady Reed. Kodi-Smit McPhee plays one of the UCLA film students on the crew who had no idea what they were getting into, and speaking of comebacks that's Wesley Snipes stealing half the movie as D'Urville Martin, the foppish director and sloppy drunk who finds all this nonsense to be quite beneath him. Director Craig Brewer summons the same thrumming musicality he brought to his 2005 hit "Hustle & Flow," conjuring the infectious energy of outcasts coming together for a creative endeavor — only missing all that picture's icky misogyny. (The only pimp being glorified here is a put-on!)
I suppose one could complain that "Dolemite Is My Name" hews too closely to traditional biopic structures, and yes, it's probably about 15 minutes too long. Still, it's hard to think of the last time I saw a movie made with such a spirit of generosity. This is a richly inclusive picture suffused with so much kindness and fellow-feeling when it's over, you're walking on air. There's a gorgeous moment when Randolph's Lady Reed breaks down and cries because she's never seen anyone who looks like her in a movie before, and you realize how important it is for all of us to get up there in the light.
---
"Dolemite Is My Name" begins streaming on Netflix Friday, Oct. 25.