At Merrimack Rep, '70s Pop Meets The Killing Fields In Powerful 'Cambodian Rock Band'
Dengue Fever proves catching in "Cambodian Rock Band" (at Merrimack Repertory Theatre through Nov. 10). The show does indeed feature songs by the California band named for a tropical disease, which in the early aughts rebirthed the psychedelic rock that was a youthful bulwark of the Khmer Republic. That is, before the republic was overrun in the mid-1970s by the Khmer Rouge. Moreover, members of the cast of Lauren Yee's searing 2018 play double credibly as members of a burgeoning rock band cutting its first album as Phnom Penh falls to the ruthless regime. The show has been described as "part mystery, part history lesson and part unabashed jukebox musical concert." But the most urgent reason to see it is the intense, ingeniously unfolded story Yee unleashes between the buoyant if thunderous songs.
Winner of the 2019 Harold and Mimi Steinberg/American Theatre Critics Association New Play Award and several other prizes, the theater piece comes to Lowell in a joint production by Pittsburgh's City Theatre, Chicago's Victory Gardens Theater and MRT. (It played the other two venues earlier this year.) It opens on a stage bare but for musical equipment and rotating lights that pulse red, blue and sometimes white. A retro-looking band appears and powers through a couple of numbers with lyrics partly in English, partly in Khmer.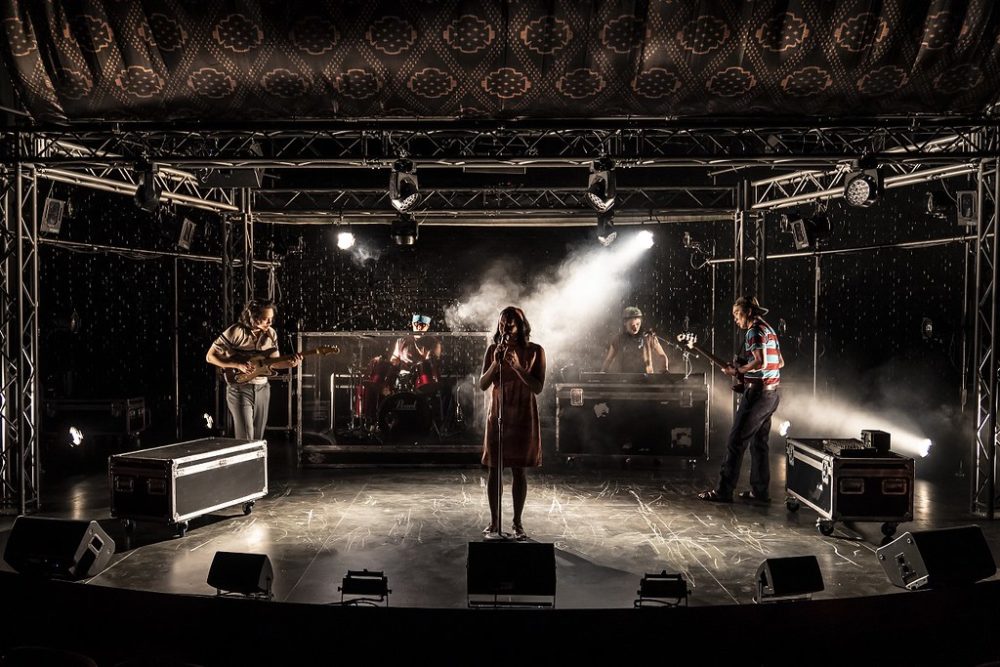 Then suddenly we are in a Phnom Penh hotel room, circa 2008. There Neary, a young Cambodian-American woman who has been in the city for two years working for an NGO, is surprised by her father, a fierce if somewhat doofy figure who escaped Pol Pot in the 1970s but doesn't talk about it. In fact, he's tried to protect Neary from his experience in all its excruciating detail. Now, the daughter and her Thai-Canadian boyfriend are in the thick of an effort to bring to justice a notorious Khmer Rouge henchman — real-life figure Kang Kek Iew, also known as Comrade Duch, who oversaw the notorious S-21 prison and was finally sentenced to life in prison in 2012.
Duch also serves as the dapper if insolent emcee of the theater piece. I know, shades of Joel Grey in "Cabaret" and the sinister Engineer of "Miss Saigon." And there are other echoes as well, most notably of Tom Stoppard's "Rock 'n' Roll," which similarly ping-pongs back and forth in time while connecting a totalitarian regime to the popular music of its time. But Yee does her predecessors proud, artfully weaving a poignant tale rooted in a horrific history that pushes father and daughter, mutually devoted but devoid of any understanding, through an emotional wringer and into a more honest relationship.
My only previous experience of Yee's work was a piece of "existential slasher theater" called "Hookman," which Company One and the Boston Center for the Arts' XX Playlab presented in 2012, when Yee was just 26. That I was unimpressed by that earlier effort just adds to the velocity with which "Cambodian Rock Band" blew me away. Far from seeming like a gimmick, the play's concert element captures the youthful exhilaration snuffed, along with a quarter of the population and any whiff of Western culture, by the Khmer Rouge (which was finally ousted in 1979, though it was decades before any of its leaders were tried and convicted).
The concert interludes, as we learn midway through the first act, recall not only the popular pop-rock of the 1960s and '70s but also the young life of Chum, Neary's father, who was a member of a band, the Cyclos, who were in the process of recording their first (and only) album when the Khmer Rouge rolled into Phnom Penh in the midst of Cambodian New Year's celebrations in April of 1975. Gradually we learn not only what happened to Chum but also to his band mates, some of it painfully interconnected, under the regime that deployed the chilling if quirky likes of Duch.
Marti Lyons is at the helm of the MRT production, which is infectious, moving and sometimes deliciously droll, its non-chronological trajectory clearly mapped out by both playwright and director. In this regard, Yee and Lyons are particularly well-served by the 50-something actor Greg Watanabe, who is utterly believable as both the middle-aged Chum, bobbing with his backpack as he tries to lure his daughter back to Cornell Law School, and as his bass-playing, rock-making younger self, awash in privilege, foreboding and the all-consuming musical noise.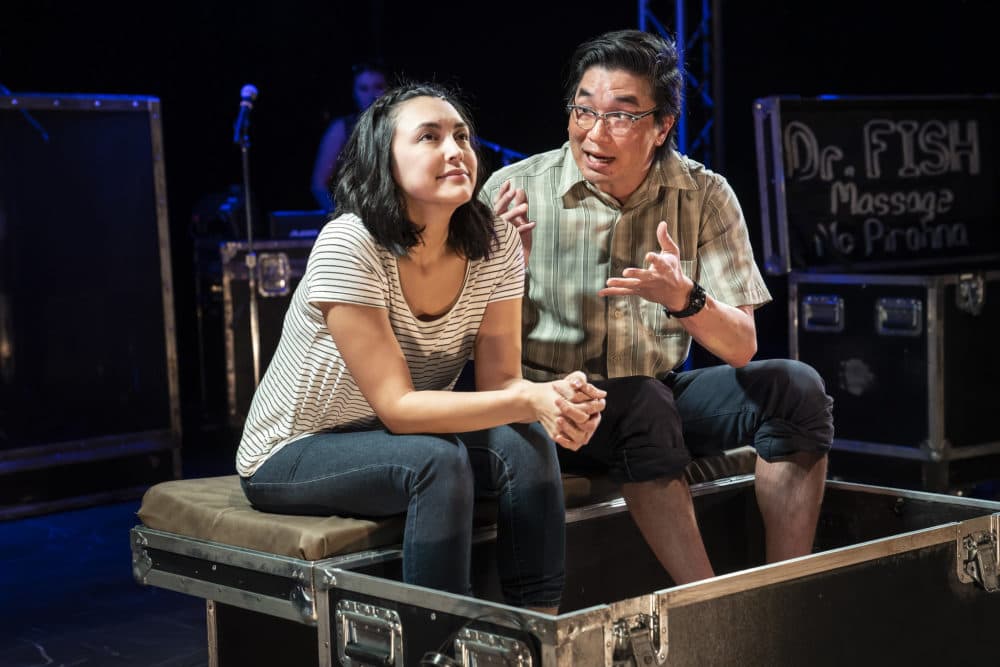 Also impressive is Aja Wiltshire as Neary, whose quest for justice gets transmogrified into an ugly if unmistakably human lust for revenge as she learns her father's story, with its heartbreaking "Sophie's Choice" of an ending. And in the concert flashbacks Wiltshire, jumping around in her tie-dyed sheath, almost swallowing her microphone, soulfully and energetically inhabits Sothea, the girl singer of the Cyclos, ripping through covers of Dengue Fever and Cambodian oldies.
As narrator/exterminator Duch, presiding over what he breezily insists is his show, Albert Park manages to be scary, charismatic, preening and icily entertaining all at the same time. He even evokes enough sympathy to make his cheerleading leap into the show's rambunctious musical finale less jarring than it might be. Dexterous guitarist and amiable actor Christopher Thomas Pow, along with deep-voiced keyboardist Eileen Doan and slacker/percussionist Peter Sipla, also do double duty as actor-musicians. All are excellent. In fact, if this theater gig doesn't work out, they might consider forming a band.