It's Election Day In Mass., As 58 Communities Head To The Polls
Voters are heading to the polls in 58 Massachusetts communities, deciding local races that the state's elections overseer said hinge on "some of the most critical issues affecting citizens where they live."
Among the municipalities with elections: Boston, Cambridge, Fall River, Lowell, Newton and Somerville. See the full list of cities and towns here.
Most polls close Tuesday at 8 p.m.
Speaking with reporters Monday, Secretary of State William Galvin stressed that local races determine what a community will be like to live in, with impacts on public safety, education, transportation and the issue Galvin said seems most notable this year: zoning.
"Zoning and land use development issues seem to be the preeminent issue throughout Massachusetts," he said. "As I've traveled the state over recent months, it seems when you speak to local officials or candidates running for local offices, almost invariably the first thing they talk about is development. In some cases, it's the lack of housing development, in some cases it's about the nature of the development that's going on and the effect it's having on their existing communities."
Development is indeed a key issue in Boston, where there are competitive races for five district seats on the city council, and eight candidates are vying for four at-large spots. (WBUR co-hosted a debate last month with the eight at-large candidates; read a recap here.) The results could create a historically diverse Boston City Council.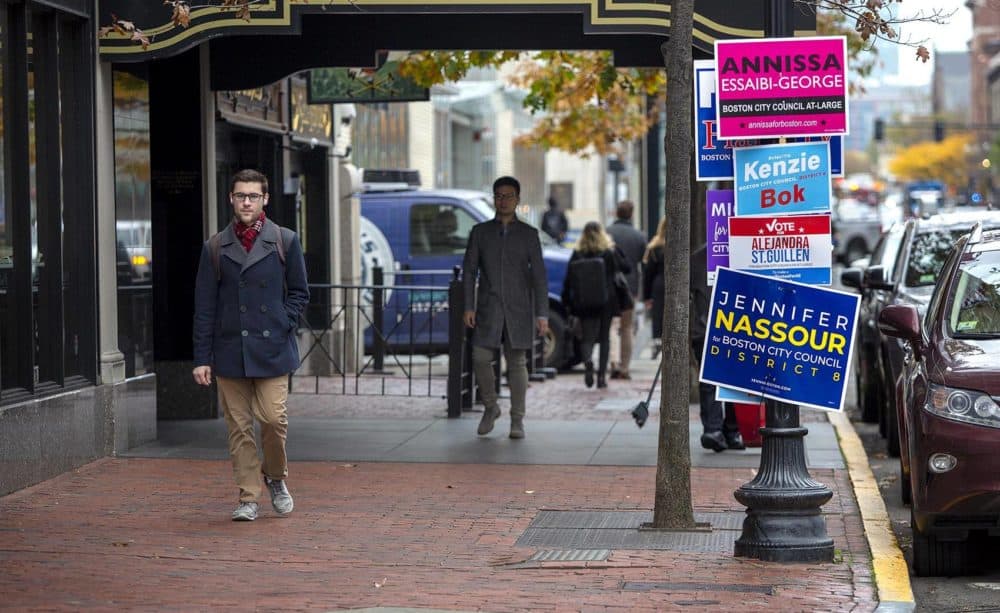 A slew of candidates are running for city councils and school committees in both Cambridge and in Newton.
Tuesday's lineup features 34 mayoral contests, including in Somerville and Fall River.
In Fall River, Mayor Jasiel Correia took a leave from his post and suspended his reelection campaign after his second federal indictment in a year, but his name remains on the ballot. In September's preliminary election, Correia finished a distant second to school committee member Paul Coogan.
On Monday, Galvin said his office has been in "frequent contact" with Fall River election officials and is aware of a write-in candidate there.
"We don't anticipate anything unusual," he said. "The reason the incumbent's name is on the ballot is he didn't choose to make this announcement and drop his campaign until after the withdrawal period."
Also on Boston's ballot: a nonbinding question asking voters if they support renaming Dudley Square as Nubian Square, in reference to one of the earliest civilizations in Africa.
In Lowell, voters will pick a new election system: either ranked choice voting, or a hybrid system of district and at-large councilors. The decision comes after the city in May settled a lawsuit with a coalition of Asian American, Hispanic and Latino community members, who claimed that Lowell's electoral system was diluting their votes.
Under a ranked choice system, voters rank candidates in order of preference and votes for the least-successful candidate are reallocated to others if no one earns majority support.
The group Voter Choice Massachusetts is also gathering signatures to put a ranked choice question before voters in next year's state elections.
With reporting by State House News Service's Katie Lannan, and WBUR's Benjamin Swasey, Arielle Gray and Shannon Dooling
This article was originally published on November 04, 2019.