At Boston Sculptors Gallery, Mags Harries Sets A Table For Community Action
Most tables require more than one leg to avoid toppling over.
Sculptor Mags Harries has taken 13 tables, sliced them up so they have only one leg each, and put them together so they create one big table that stands solidly, both as a piece of art and as a stable surface to eat a meal.
"Obviously there is a metaphor in here that one table with one leg will not stand up by itself," says Harries, a professor at the School of the Museum of Fine Arts who teaches sculpture and installation. "It is a metaphor for people getting together and creating something that functions. It might not function in the normal way, but it functions anyway."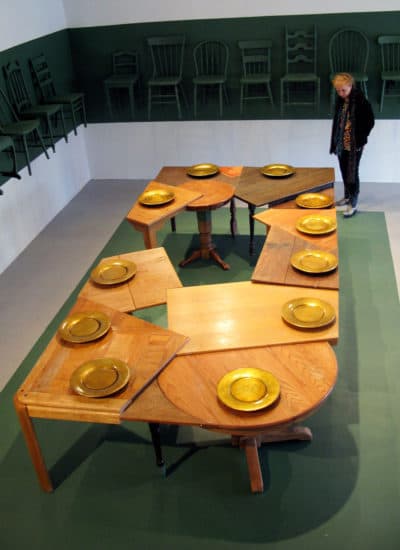 And that, in short, is the point of "One-Legged Table" (shown alongside the work of sculptor Fafnir Adamites) at Boston Sculptors Gallery beginning Nov. 6 through Dec. 8. Harries' work addresses not only issues around environmental distress, but also what we, personally, might do about it. While Harries presents iceberg sculptures from her series "Adrift," about "what we see and what we don't see" when it comes to climate change, the centerpiece of the show is "One-Legged Table," a three-dimensional puzzle that pointedly moves beyond art and into the sphere of action.
In November, Harries will sponsor three brunches around her table, in which people are invited to mull over what actions they might take to improve the environment in their own neighborhoods. The first brunch, facilitated by First Night founder Clara Wainwright, will focus on the theme of "broken/fix/reuse." The second brunch, led by artist Lajos Héder (Harries' husband), will consider "water use and abuse." Nicholas Dorian, a biologist who studies plant pollination at Tufts, is scheduled to speak. A third brunch, centered on the garden and community, will be facilitated by Lara Lepionka, founder and executive director of Backyard Growers in Gloucester.
"The message is that individual actions can change things," says Harries. "If people came up with an action like on a Wednesday no one uses a car, and they promote that in terms of their friends, then it's an action," says Harries. "And that's a very minor thing, but it makes people feel responsible, that they can personally do something that then could catch on. Very simple actions like that can precipitate a bigger action."
This is not the first appearance of "One-Legged Table." In 2008, Harries showed the piece at the Boston Center for the Arts in a show titled "Greed, Guilt and Grappling: Six Artists Respond to Climate Change."
"I am interested in coming up with an action that is achievable, not just talking," says Harries.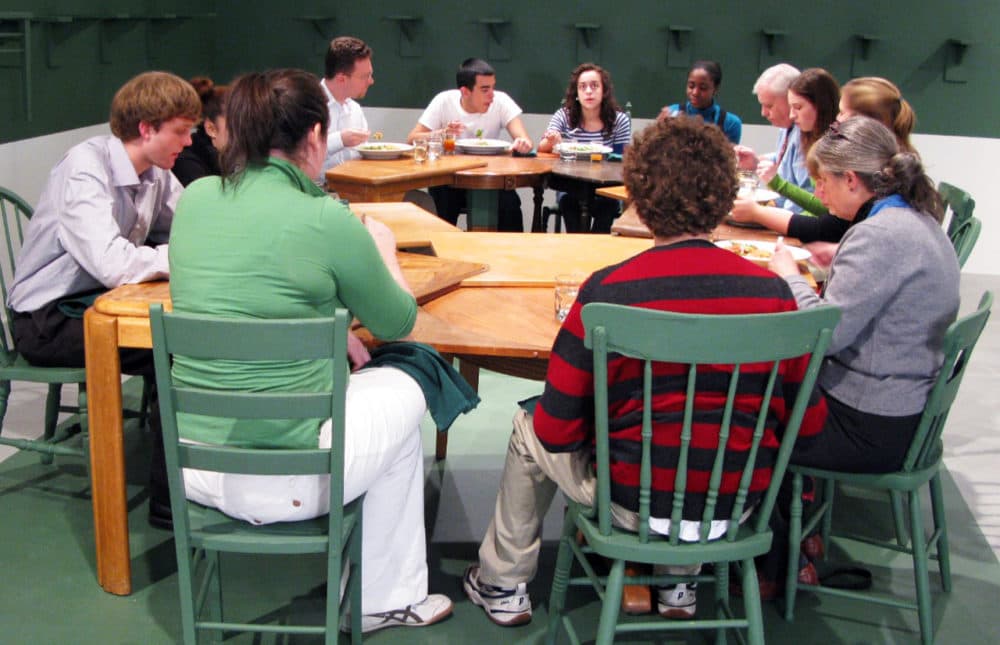 This time around, Harries intends to bring together not only artists and curators but scientists, activists and business people who she hopes might devise interesting interdisciplinary ways of tackling environmental issues on a local level. Lepionka's Backyard Growers, for instance, focuses on encouraging homeowners and students to grow their own fresh, organic produce. She is likely to encourage her brunch companions to plant a few veggies in their backyards. Nicholas Dorian, on the other hand, plans to talk of the need for city dwellers to support insects that pollinate plants by planting native flowers like milkweed, bee balm and goldenrod around their homes, while reducing pesticide use.
When the speakers and guests pull up their chairs at the planned brunches, they will select a chair from 13 "found" chairs that hang on the gallery wall, Quaker style. The chairs were part of an earlier "action" of Harries who collected them on the street after a major snowstorm prior to the first iteration of "One-Legged Table." They were the old chairs used to "reserve" parking spaces on some city streets after they've been shoveled out by exhausted (and maybe selfish) car owners.
"I felt that wasn't community," Harries says.
The table itself is composed of Craigslist treasures and is open in the middle allowing participants to be served from the center, so that the table might, as Harries puts it, "escape its own boundaries."
It was nearly 40 years ago that Harries stumbled on the idea of community "actions" as a form of art. She was on a trip in Morocco, when a travel guide offered to cook a meal for her and her group. After visiting the market, the man prepared a meal for the travelers but offered a plate of food to a homeless man, as well.
"That's a very simple action," says Harries. "If you buy a sandwich, you buy a second sandwich and give that other sandwich to a homeless person. It's a really simple action."
From that point on, Harries added actions to her work that includes traditional public art, often with a twist. She is well-known in Boston for her piece "Glove Cycle" of 54 bronzed gloves dispersed between the up and down escalators in the Porter Square MBTA station and the public art piece "Asaraton," a sculpture of discarded trash cast into bronze that was once embedded in the sidewalk near Haymarket to commemorate the market before it was unceremoniously removed this year. (The sculpture will be reinstalled in 2020, she says.) In this current show, aside from "One-Legged Table" she is also showing 13 small sculptures of icebergs made of cast resin and steel in which we glimpse ice rising above the water line, but we see what lies below too.
"The icebergs are fleeting forms, forever changing through melting and moving in the currents of the ocean," says Harries. "The warmth and time make them dissolve into the rising oceans. These iceberg pieces can be seen above and below the waterline. Though part of the same form, they are experienced very differently."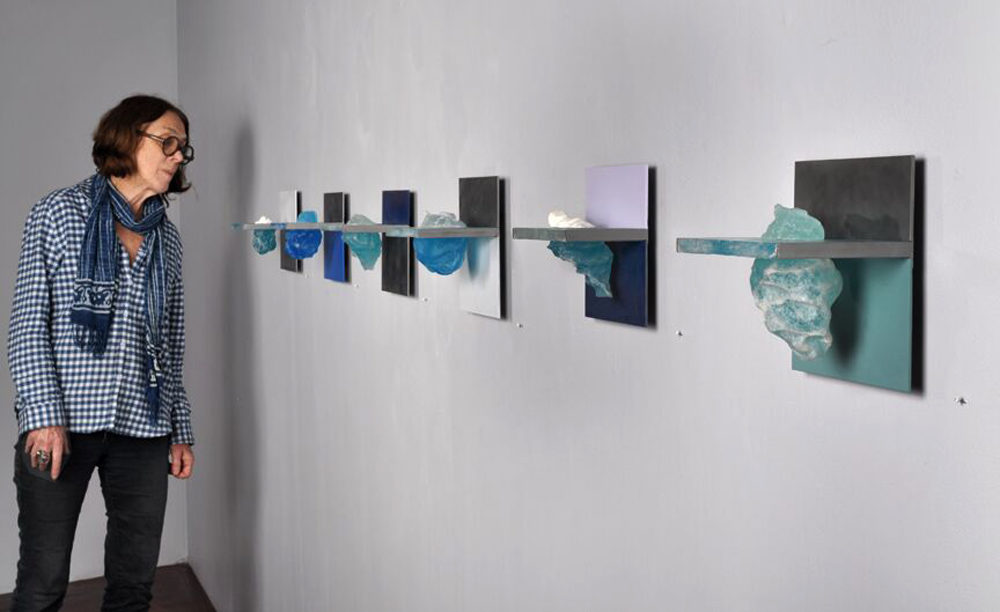 Harries says she didn't plan it this way, but the fact that her series of meals will happen in the same month in which Americans gather around their own tables for Thanksgiving dinner feels especially appropriate. While the rest of us give thanks and eat, then fight over politics or the deteriorating state of the world, Harries' brunch guests may find their way onto actually doing something about it all.
"Many, many things get decided over food," says Harris. "It is a great venue to actually bring people together."
---
Mags Harries and Fafnir Adamites are at the Boston Sculptor's Gallery from Nov. 6 through Dec. 8. An opening reception will be held Saturday, Nov. 9, 3 - 5:30 p.m.