Old North Church Will Remove Name Of Parishioner Involved With Slave Trade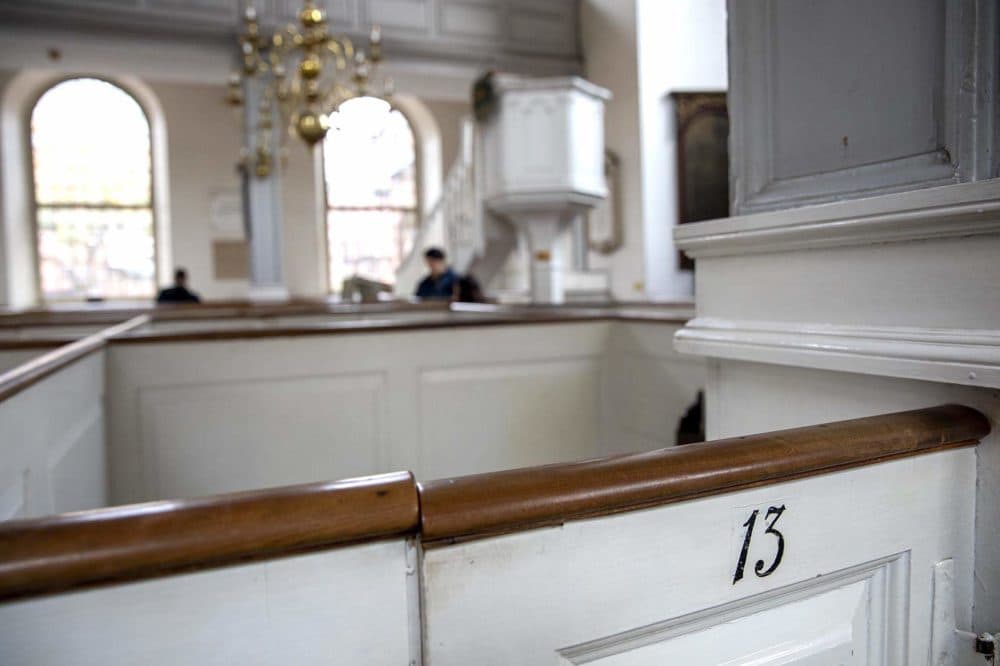 This article is more than 3 years old.
Last month, a research study uncovered a connection between former Old North Church parishioner and donor Newark Jackson and the slave trade.
Now, the iconic church is ready to change its tours and education program to reflect that revelation and delve deeper into its own history.
The church's board voted yesterday to remove Jackson's name from all outward-facing signs and the historic chocolate shop that has borne his name since 2013. He operated a chocolate shop in the North End in the mid-1700s and helped fund Old North's original steeple.
Jackson's name will remain on Pew 13, which he owned. But the pew's display and the church's tour will be revised to acknowledge his participation in a 1743 Caribbean voyage in which he smuggled about 60 enslaved people — including children.
"We have very much taken this story as part of our story," said Catherine Matthews, the church's education director. "It will reside where it should: in our education program. Education involves openness, transparency and a commitment to truth, regardless of what the truth is, as part of the comprehensive telling of our site's stories."
The brass plaque outside Pew 13 will not be altered, according to Old North Church, because Jackson did not originally own the pew when the church was built in 1723.
Matthews said the church is working with consultants on how to revise its education program in light of the Jackson revelations and will continue exploring connections between its early parishioners and the slave trade.
"This church was built by and for the wealthy," Matthews said. "It is not unreasonable at all to assume that some of the wealthier congregants may have had some sort of association with slave trade or slave ownership. That is something that we know and talk about here."
Matthews also said Old North will use this opportunity to shine more light on the history of its free and enslaved black congregation as well.